This page is part of © FOTW Flags Of The World website
Lindau County (Germany)
Kreis Lindau, Schwaben District, Bavaria
Last modified: 2017-11-11 by klaus-michael schneider
Keywords: lindau county | per pale | hand | gonfanon | fess(wavy) |
Links: FOTW homepage | search | disclaimer and copyright | write us | mirrors

---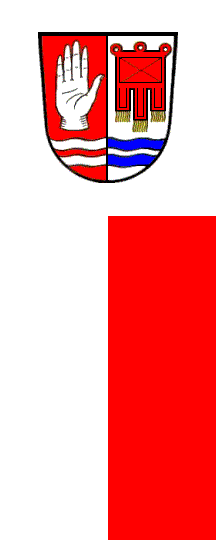 5:2


image by Stefan Schwoon, 16 Oct 2001
approved 22 Jan 1958, abolished 30 Jun 1972
---
See also:
---
Lindau County
Lindau is presently the only county in Bavaria without a flag, which is odd seeing as the old county Lindau did have one, and its territory hardly changed. Just the city of Lindau was incorporated in 1972.Source: Linder and Schmidt 2000.
Stefan Schwoon, 16 Oct 2001
Lindau County Banner until 1972
"White-red with the arms in white bannerhead. In 1973, the (previously county-free) city of Lindau was integrated into the surrounding county and the arms of the county were changed. The sinister half of the arms shows the arms of the Counts of Montfort, a red gonfanon, which is also used by the Austrian state of Vorarlberg, with which Lindau county shares a border."
Sources: Linder and Schmidt 2000, arms image from Stadler 1964, p.57
Stefan Schwoon, 24 Aug 2001
The old coat of arms was approved on 28 November 1956. The hand (...) was the symbol of the imperial convent of Lindau, which owned many estates in the Western part of the county. The banner [actually a Kirchenfahne or gonfanon] (...) is taken from the arms of the Counts of Montfort, who also held many parts of the county. The waves in the base of the arms are a symbol for the Bodensee [Constance] lake, on which the county borders."
Source: Stadler 1964, p.57
Santiago Dotor, 31 Jul 2003
Those new Bavarian flags make an interesting display. I especially like the heraldic content in them.
Something I picked up through stamp collecting was the fact that during the Allied Occupation of 1945-52, Kreis Lindau was administratively not part of Bavaria. It was included, for some reason, into the French Zone, and formed part of the state of Württemberg-Hohenzollern. As such it used the French-issued stamps of Württemberg (discontinued in 1949, when the federal republic was formed).
In 1952, when Südbaden (French Zone), Württemberg-Hohenzollern (French Zone) and Württemberg-Baden (US Zone) were consolidated into the new state of Baden-Württemberg, Lindau was returned to Bavaria.
This means that from 1945 to 1952 Lindau County also used the black-over-red colours of Württemberg-Hohenzollern.
Mike Oettle, 9 Aug 2003
It looks like the area around Lindau today is the only non-Baden-Würtemberger German coast of the Bodensee. Could it be that by adding Kreis Lindau to the French zone, all of the German Bodensee coast was brought under the same, French, jurisdiction?
Peter Hans van den Muijzenberg, 12 Sep 2003
Kreis Lindau was included in the French Zone of Occupation to provide a land bridge between the French Zones in Germany and Austria.
The exact status of the county between 1945 and 1955 is not clear to me. According to some sources, the area remained a part of Bavaria and formed a "Land" of its own within the French zone, according to other sources it had ties to Württemberg-Hohenzollern. Does someone else have a more definitive answer?
Mike's remark brings me to another issue: The official name of the land formed in the southern part of Baden from 1945 to 1952 is "Land Baden". Not "Land Südbaden". The term "Südbaden" is occasionally (and inofficially) used to provide a clearer distinction between this land and the larger geographical entity that is normally meant when speaking of "Baden".
This page and this one mentions this term.
Stefan Schwoon, 15 Sep 2003
Lindau belonged to the French Occupation Zone, but was still considered part of Bavaria, therefore having a special status. It was never part of Württemberg-Hohenzollern, and therefore never used the Württemberg-Hohenzollern flag. Quite the opposite: until the adoption of the Bavarian constitution (defining, inter alia, the Bavarian flag) on 1st December 1946, the Bavarian flag was not allowed in the American Occupation Zone, whereas the French had allowed the use of the Bavarian flag earlier (proclamation of the county president Groll, 8 May 1946). This led to the weird situation, that the Bavarian Prime Minister, Wilhelm Hoegner, was greeted with Bavarian flags during his visit to Lindau, 19 August 1946, but he was not entitled to use the flag in his part of Bavaria.
Source: Wilhelm Hoegner (1959) Der schwierige Außenseiter. München (Isar-Verlag), p. 262, 273.
M. Schmöger, 25 Sep 2003
What puzzles me about Lindau's status is a remark on the webpage of the county, which states that the county sent three delegates to the "Beratende Versammlung" (advisory assembly) of Württemberg (I suppose that either Württemberg-Hohenzollern or Baden-Württemberg is meant).
Stefan Schwoon, 25 Sep 2003
---
back to Bavarian District, County and Municipal Flags Index page click here