This page is part of © FOTW Flags Of The World website
Ambazonia / Federal Republic of Southern Cameroon
Separatist movement/state
Last modified: 2018-12-26 by bruce berry
Keywords: cameroon | cameroun | southern cameroon | ambazonia | bakassi |
Links: FOTW homepage | search | disclaimer and copyright | write us | mirrors

---
See also:
---
Background
Following the Treaty of Versailles, the German territory of Kamerun was divided on 28 June 1919 between a French and British League of Nations mandate. The French mandate was called Cameroun and was the larger territory in terms of area. The British mandate comprised two geographically separate areas called Northern Cameroons and Southern Cameroons, both of which were administered from the British Resident Commissioner in Nigeria.
Following the dissolution of the League of Nations in 1946, most territories were reclassified as UN Mandate Territories and administered through the UN Trusteeship Council. The objective of the trusteeship was to prepare these territories for independence.
Southern Cameroons was divided into two provinces in 1949 - Bamenda and Southern. Following the Ibadan General Conference (1950), a new constitution for Nigeria provided for the devolution of power to the various regions. In the subsequent election, Southern Cameroons elected 13 representatives to the Eastern Nigerian House of Assembly. In 1953, following unhappiness with the attitude of the Nigerians and lack of unity amongst the ethnic groups in the Eastern Region, the Southern Cameroons representatives declared "benevolent neutrality" and withdrew from the assembly. At a Conference in London held between 30 July and 22 August 1953, the British government agreed to the Southern Cameroons request to set up a separate region of their own. Southern Cameroons thus became an autonomous region with its capital at Buea. Following elections held in 1954, its own parliament met on 01 October 1954.
Following a UN organised plebiscite on 11 February 1961 where the alternatives were union with Nigeria or union with Cameroun, Northern Cameroons voted for union with Nigeria and Southern Cameroon voted for union with (formerly French) Cameroun. Southern Cameroons became part of Cameroon on 01 October 1961.
Jaume Olle and Ben Cahoon, 15 June 2012
---
Ambazonia
There is no doubt, that the flag of the independence movement in Southern Cameroon has 13 stars as reported in Flag Report No. 20 (October 2001) and confirmed by several photos. I believe that the image with 12 stars shown on Wikipedia is a mistake. The pigeon has a green olive branch in its mouth and proportion is 3:5. This flag was designed by the Southern Cameroons National Council (SCNC) and hoisted on 30 December 1999. The 13 stars represent the 13 counties (which the present government calls divisions) according to allafrica.com/stories/200507190788.html.
Jaume Olle, 09 June 2012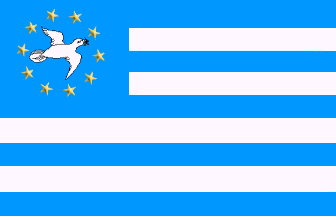 Image by André Pires Godinho, 02 Feb 2003

The official site of the separatist movement of the South Cameroon shows the flag as illustrated above.
André Pires Godinho, 02 Feb 2003

The latest edition of Whitakers Almanac states that secessionists declared the establishment of The Federal Republic of Southern Cameroon in December 1999.
Graham Knight 29 Nov 2000

The national motto of the Federal Republic of [Southern?] Cameroon shall be "PEACE WORK FATHERLAND".
The flag shall be of three vertical stripes of Green, Red and Yellow and charged with two intersecting gold circles in the middle of the Red stripe surrounded by four golden stars of equal size.
Nick, 29 Nov 2000

A look at http://www.southerncameroons.org will give you more details - but nothing about the flag. In spite of its name, Southern Cameroon is the northern and Anglophone part of Cameroon. A proposed flag for the Southern Cameroons National Council has nine alternating stripes of white and blue with a blue canton containing 13 stars circle and a dove.
Olivier Touzeau 29 Nov 2000

From Agence France Presse © 13 January 2000:

Cameroon security forces move in against separatists

YAOUNDE, Jan 13 - Security forces were deployed in large numbers Thursday after secessionist demonstrations and arrests in Cameroon's mainly English-speaking South-West Province, witnesses said. Residents of Buea and Limbe, reached by telephone, said that security forces were posted at strategic points in the two towns following the arrest of several secessionist activists at the weekend.

Members of the Southern Cameroon National Council (SCNC) held marches in the towns, using the flag of Cameroon from the first years after independence, with two stars signifying federalism and a bilingual republic. Today, English-speakers contest Francophone domination.
<...>
In a statement issued in Buea, retired ambassador Henry Fossung, recognised hitherto as the SCNC president, accused another wing of the movement led by Esuka Ndoki Mukete of seeking to "announce the creation of a Democratic Republic of Southern Cameroon". Ndoki Mukete reacted to this allegation by announcing his resignation from the movement, adding: "At no time have I used or recommended the use of force or violence in SCNC activities."
<...>
Cameroon, once a German colony, was parceled out into French and English protectorates. Part of the British Cameroons in 1961 voted to join a federation with French territory while the remainder decided to merge with neighbouring Nigeria. In May 1972, separate state institutions were abolished and the Federal Republic of Cameroon was renamed the United Republic of Cameroon.
David C. Fowler, 14 Jan 2001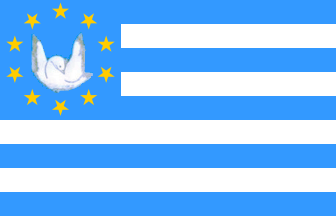 Image by Željko Heimer, 20 Jan 2006
An other variant of the flag is shown on http://kabuin.tripod.com/photo_gallery/index.album?i=5 as illustrated above.
Valentin Poposki, 28 Jul 2006
---
Bakassi Peninsula
Nigeria has agreed to hand over the Bakassi Peninsula to Cameroon. Nigerian flags have been lowered there. A group of the Bakassi Movement for Self-Determination (BMOSD), opposed to the decision, has decided to declare Bakassi Peninsula an independent republic. A supposedly "newly-designed" flag has been raised, although commentators cannot agree on this. Sun News Online mentions that "The anthem, and a flag, ... have been prepared a few years ago when they first considered self-determination as a home grown response to a possible loss of the peninsula ...".
BMOSD militants regarded their land as Nigerian but consider that Nigeria has let them down and thus do not want to keep any link with Nigeria either. Besides, Bakassa is said to have been enjoying a substantial degree of autonomy for a long time. The peninsula has a monarch and thus it is not merely a fantasy nation.
However, the most precise description I have been able to find so far is here which states : "the flag, a white-and-blue striped material, with 10 stars representing the community's clans"..
The description sounds strangely similar to the separatists flag of Southern Cameroons. Indeed, to add to the confusion, here is a quote from a forum (ICI Cemac website): "those who have proclaimed independence in Bakassi are Southern Cameroonians and not Nigerians. They have hosted our Southern Cameroonian blue and white flag and not any other flag". A South Cameroons website claims that Bakassi is South Cameroons territory. The flag hoisted in Bakassi has the same number of stars as that of Southern Cameroons but the explanation of that number, according to the above quote, should be different. Moreover, the flag drawn on the South Cameroons website has 13 stars... Yet the resemblance seems too obvious to be purely coincidental.
Thanh-Tâm Lê, 13 Aug 2006

---