This page is part of © FOTW Flags Of The World website
Belarus
Respublika Byelarus', Republic of Belorussia, Byelorussia, White Russia,
Last modified: 2023-08-19 by

zachary harden
Keywords: belarus | commonwealth of independent states | belorussia | byelorussia |
Links: FOTW homepage | search | disclaimer and copyright | write us | mirrors

---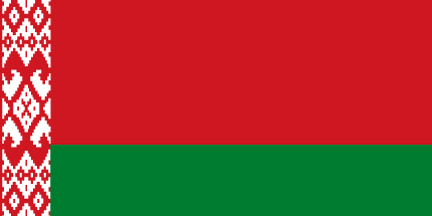 (1:2)

image by Mark Sensen, António Martins and Zachary Harden, 31 January 2004
---
Official Name: Republic of Belarus (Respublika Byelarus')
Previous Name: Belorussian (Byelorussian) Soviet Socialist Republic
Capital: Minsk
Location: Eastern Europe
Government Type: Republic
Flag adopted: 7 June 1995
ISO Code: BY
---
---
See also:
Other Sites:
---
Editorial Remark: It must be noted that all the opinions are the authors opinions and not of FOTW.Our site is non-political and concentrates only on vexillological issues.
---
Flag of Belarus is red over green (1:2) with white stripe along the mast (1/9 length). On the white stripe is a red ornament (the same as on the flag of Soviet era, but in inverse colors). Proportions of the flag are 1:2.
Petr Exner, 30 June 1995
From <www.by.undp.org>:
"Based on the decision of the May referendum (1995), the President of Belarus issued decrees .....On Approval of Regulations for National Flag of the Republic of Belarus. The National Emblem and National Flag are symbols of national sovereignty..... The National Flag of the Republic of Belarus is a rectangular color cloth consisting of two longitudinal stripes: red upper stripe and green lower stripe that are two-thirds and one-third of the flag width respectively. Close to the flagstaff there is a vertically placed red-on-white Belarusian decorative pattern which occupies one-ninth of the flag's length and the ratio of width to length is 1:2. The flag is fixed on the flagstaff painted golden with ochre. It is precisely these symbols that have been met with approval of 75.1% of people voted at a national referendum. Red color in a flag is from ancient days. That was the color of victorious standards of the Belarusian regiments that had gained victory over crusaders at Grunewald, that was the color of flags of the Red Army divisions and Belarusian guerrilla detachments that liberated the country from fascist invaders and their henchmen. Green is the color of hope, spring and revival, the color of forests and fields. Belarusian decorative pattern is a symbol of ancient culture of folk, its spiritual richness , the unity of folk singers and makers with people. The present National Emblem of the Republic of Belarus symbolizes historical adherence of the Belarusian people to constructive labor, their faith into triumph of justice and attainment of worthy place in the world community."
This is possibly a more reliable (or at least official Belarusian government) source, the Belarusian Mission to the UN Development Program. There is also an image of the flag in the site. I may be stating the obvious here, but using USSR-period sources for the current Belarusian flag is apparently a bad idea. A private site in Belarus <chronicle.home.by> citing Radio Free Europe/Radio Liberty, says the current BY flag is "almost identical to the Soviet era flag" i.e. not the same.
Joe McMillan, 15 Febuary 2001
Belarus flag colour shades from Album 2000 [pay00] are:
Pantone --- CMYK
R 1795c --- 0-90-100-0
G 370c --- 60-0-100-25
Santiago Dotor, 26 Febuary 2001
The flag of Belarus was changed upon the publication of an amendment to the state flag standard "STB 911-2008 - National Flag of the Republic of Belarus. Technical specifications." The modification, along with the rest of the standard, can be seen at http://www.tnpa.by/ViewFileText.php?UrlRid=52178&UrlOnd=%D1%D2%C1%20911-2008 (Russian) and was published on February 20th, 2012. The only change was that the red ornament pattern was made 1/9th of the width of the flag instead of 1/12th (so it covers the entire white section of the flag now). No other changes were made to the flag.
Zachary Harden, 10 April 2012
The protocol manual for the London 2012 Olympics (Flags and Anthems Manual London 2012) provides recommendations for national flag designs. Each NOC was sent an image of the flag, including the PMS shades, for their approval by LOCOG. Once this was obtained, LOCOG produced a 60 x 90 cm version of the flag for further approval. So, while these specs may not be the official, government, version of each flag, they are certainly what the NOC believed the flag to be.
For Belarus: PMS 1795 red, 3405 green. The vertical version is simply the flag turned through 90 degrees clockwise.
Ian Sumner, 10 October 2012
Recommended pantone colors of the National Flag:
Red: Pantone 1795 C
Green: Pantone 355 C
White: Process White (Source)
Zachary Harden, 11 September 2019
More discussion about the details of the colour and design can be found on the page about the 1995 version of the flag. - editor
---

image by Zach Harden, 31 January 2004
The finial that tops the Belarus flag.
Zach Harden, 31 January 2004
It says at http://president.gov.by/en/press10664.html:
"During ceremonies and other solemn events, the National Flag of the Republic of Belarus is used with a diamond-shaped top edge containing a five-point star. The star is analogous to the one depicted on the national Emblem of the Republic of Belarus. The top edges are made of yellow metal."
Zach Harden, 17 March 2011