This page is part of © FOTW Flags Of The World website
Leoberto Leal, Santa Catarina (Brazil)
Last modified: 2021-12-11 by ian macdonald
Keywords: santa catarina | leoberto leal |
Links: FOTW homepage | search | disclaimer and copyright | write us | mirrors

---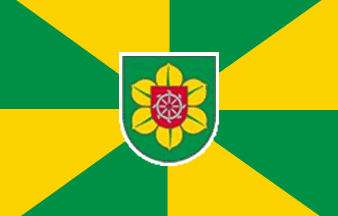 image by Dirk Schönberger, 1 July 2012
---
See also:
---
Municipality
The municipality of Leoberto Leal (3,365 inhabitants in 2010; 29,119 ha) is located 140 km west of Florianópolis.

The municipality is named for lawyer Leoberto Laus Leal (1912-1958), member of the Chamber of Deputies of Santa Catarina from 1955 to 1958, who was killed in a plane crash in São José dos Pinhais, together with former President of the Republic Nereu Ramos and Governor Jorge Lacerda.
Ivan Sache, 4 November 2021
---
Description of the Flag
Gyronny of yellow and green, with in the centre a white-edged green shield with a yellow flower bearing a red shield with a Catherine wheel in the centre.
Official website at http://www.leobertoleal.sc.gov.br
Dirk Schönberger, 1 July 2012
The flag of Leoberto Leal is prescribed by Municipal Law No. 119 promulgated on 1 February 1983.

Article 1.
The municipal flag of Leoberto Leal, elaborated by the heraldist Edison Mueller, shall have the following description: "Gyronny vert and yellow, charged in the center with the municipal coat of arms outlined in white".

Article 2.
The municipal flag, in compliance with the best Luso-Brazilian tradition, shall have the following rationale.
I - Gyronny, that is, the quadrilateral field of the flag divided into eight equal parts shaped like right-angled triangles, each named gyron, by four right lines crossing each other in the center, two connecting the quadrilateral's angles, either vertically or horizontally, and the two other equidistant from the two lateral sides.
II - Vert and yellow, considering that the colors of an armored flag shall be derived from the basic colors of the municipal arms, in the blazon's natural sequence, vert (green, in the shade known as Veronese green), or, and gules (matching light red). On flags, or is generally substituted by bright yellow and silver by white, the matching colors of the heraldic chromatic table. The upper gyron, at hoist, shall be green, the second, yellow, and so on. The bladed wheel shall be white.
III - Charged in the center, exactly covering the intersection of the lines forming the gyronny field,
IV - With the municipal arms prescribed by Law No. ... promulgated on ..., without its outer ornaments (mural crown and scroll), therefore reduced to the shield proper, which is described in heraldic language as follows: "Iberian shield. Vert a sextofoil or inescutcheon gules a bladed wheel, or St. Catherine's wheel, silver".
V - Outlined in white.

Article 3.
The features of the municipal flag shall obey the following rules
I - The flag's width shall be 20 units.
II - The rim of the wheel shall be inscribed within two concentric circumferences.
III - Outline excluded, the coat of arms shall be distant of 6 units from the flag's upper edge.
IV - The shield's field, in compliance with the usual shape known as Iberian of Portuguese, shall be constituted of a quadrilateral of 7 units in width on 5 units in length, united in base by a semi-circle of 3.5 units in radius.
V - The shield's center is determined as follows.
a) The shield shall be divided vertically into two equal parts, equidistant of 3.5 units from its flanks.
b) On this line, exactly 4 units from the shield's upper edge, point "C" shall be the shield's center.
VI - The sextofoil shall be inscribed within an imaginary circumference of 3.5 cm in radius, or 7 cm in diameter, whose center matches the shield's center.
VII - The centers of the small imaginaries circumferences that delimit, small points excluded, the sextofoil's petals shall be equidistant of 60 degrees from each other, in an imaginary circumference of 2.2 units in radius, or 4.4 units in diameter, whose center matches the shield's center.
VIII - Each sextofoil's petal, the small point excluded, shall be inscribed within an imaginary circumference of 1.05 unit in radius. The point of each petal shall be 0.25 unit in length.
IX - The maximum depth of the concave space that separates two adjacent petals of the sextofoil shall match a point of an imaginary circle of 0.6 unit in radius, or 1.2 unit in diameter, whose center matches the center of the shield and of the sextofoil.
X - The distance between the escutcheon and the shield's upper edge shall be 2.4 units; for its flanks, 2.1 units.
XI - The field of the escutcheon, whose shape exactly matches that of the main shield, shall be composed of a quadrilateral of 0.25 unit in width on 2 units in length, united in base by a semi-circular of 1.4 unit in radius.
XII - The center of the escutcheon is determined as described in Article V of this Law. After vertical division of the escutcheon, its center matches the point of the dividing line exactly located 1.6 unit from its upper edge. The escutcheon's center matches the shield's center.
XIII - The bladed wheel shall be inscribed within an imaginary circumference of 1.3 unit in radius, or 2.5 units in diameter, whose center matches the shield and escutcheon's center. The blades shall be 0.25 unit in length.
XIV - The rim of the wheel shall be inscribed within two concentric circumferences, the outer of 2.1 units in diameter, the inner of 1.6 unit in diameter.
XV - The hub of the wheel shall be inscribed within two concentric circumferences, the outer of 0.5 unit in diameter, the inner of 0.3 unit in diameter.
XVI - The imaginary axes of the wheel's rays form between each other angles of 45 degrees. The width of the wheel's rays shall be 0.2 unit.
XVII - The shield's outline shall be 0.1 unit.
XVIII - The two sides of the flag, in compliance with heraldic tradition, shall be equivalent, mirroring each other.

https://leismunicipais.com.br/a/sc/l/leoberto-leal/lei-ordinaria/1983/12/119/lei-ordinaria-n-119-1983-institui-a-bandeira-do-municipio-de-leoberto-leal-e-da-outras-providencias
Leis Municipais database

The coat of arms of Leoberto Leal is prescribed by Municipal Law No. 120 promulgated on 17 February 1983.

Article 1.
The coat of arms of the municipality, as proposed by the heraldist Edison Mueller, is blazoned as follows/
- Iberian shield, vert a sextofoil or charged with an escutcheon gules superimposed with a bladed wheel, or St. Catherine's wheel, argent;
- An eight-towered mural crown port and windows gules;
- The writing "LEOBERTO LEAL" or on a scroll vert.

Appendix
Blazon
[Description of Article 1 repeated verbatim]

Interpretation
An Iberian shield, with the point formed by a semi-circle, also known as Spanish or Flemish-Iberian.
The shield is also called Portuguese, because this specific and characteristic peninsular shape was widely used in the Middle Ages and, in Portugal, at the time of discovery and colonization of Brazil. The best Brazilian heraldists agree that this is the most appropriate shape for Brazilian civic symbols. In national heraldry, it evokes, like no other shield's shape could do, the historic origins and the characteristics of the population of Brazil, whose formation was mostly contributed by Portuguese as the primary ethnic component and as the language.

Vert means green, in the shade known as Veronese green.
The field vert of the shield represents the municipality's territory and the exuberance of the forests, the green pastures and the corn fields. Green also recalls the old name of the region where the municipality is located, Vargedo, when it was a simple district of Nova Trento, where the settlement of the area began.

Beside the popular fleurs-de-lis, different flowers of conventional design and elegant profile are used in heraldry; these are imaginary flowers, which do not accurately represent determined plant species: quadrifoil, cinquefoil, sextofoil, octofoil etc. They share round petals ending in a small point and a central opening (void) showing the field. Their proper name indicate the number of petals for each type, accordongly a sextofoil has six petals.
All these heraldic flowers can also generically represent any plant and, by extension, the particular flora of a region or agriculture in general.
Or is traditionally connected with wealth.
Accordingly, the sextofoil or on a field vert means that Leoberto Leal's income mostly relies on agriculture, mostly tobacco, onion, beans and maize cultivation.

The central escutcheon recalls the seat of the municipality, the radiating center of the prescriptions of the Municipal Powers and the natural point of convergence of civic and religious acts. Red, in heraldic language, gules, emphasizes the intensity of the inhabitants' elevated moral spirit, civic principles and relevant goals.
The escutcheon is charged with a bladed, eight-rayed wheel. Also called St. Catherine's wheel, it recalls the wheel used to martyr St. Catherine of Alexandria, which is celebrated on 25 November [...] as the state and municipality's patron saint.

The mural crown or surmounting the shield is, in Brazil, the proper and consecrated emblem of the political and administrative autonomy granted to the municipality by the Federal Constitution. It represents the town proper, as the seat of the municipality, which considers itself, on the model of medieval cities, as surrounded by protection walls and defended by towers. [...]

https://leismunicipais.com.br/a/sc/l/leoberto-leal/lei-ordinaria/1983/12/120/lei-ordinaria-n-120-1983-institui-as-armas-do-municipio-de-leoberto-leal-e-da-outras-providencias
Leis Municipais database

Photo
https://www.facebook.com/LegislativoLeobertoLealSC/photos/1544173509093480
Ivan Sache, 4 November 2021