This page is part of © FOTW Flags Of The World website
Bagé, Rio Grande do Sul (Brazil)
Last modified: 2020-07-13 by ian macdonald
Keywords: rio grande do sul | bagé |
Links: FOTW homepage | search | disclaimer and copyright | write us | mirrors

---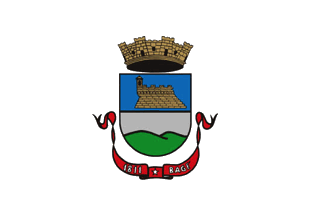 image by Ivan Sache, 12 July 2020
---
See also:
---
The municipality of Bagé (116,794 inhabitants in 2010; 4,905. 5 sq. km) is located in southeastern Rio Grande do Sul, 400 km of Porto Alegre.

Bagé was founded in a region once fiercely disputed by the Portuguese and Spanish colonial powers. On 12 February 1761, the Treaty of Madrid, signed in 1750 and establishing the border between the two colonial empires, was cancelled. In 1773, João Josť Vertiz y Salcedo, Governor of Buenos Aires, attempted to expel the Portuguese from the (Spanish) Province of Saõ Pedro de Sul; he ordered the building of Fort St. Thecla to strengthen the Spanish rule over the area conquered 10 years before. The Portuguese started on 28 February 1776 the siege of the fort, whose garrison surrendered on 24 March 1776; since they could not maintain a garrison in the fort, the Portuguese decided to demolish and burn down the fort. In 1801, the colonial government secured the border by allocating several plots of land to cattle-breeders. On 9 October 1809, Field Marshal Diego de Souza was appointed Captain General of Saõ Pedro; he was commissioned to intervene in the Plata area against revolutionary movements that had emerged in Buenos Aires and Montevideo. When Artigas' uprising broke out in Uruguay, Charlotte of Spain, the wife of King of Portugal John VI (1767-1826, crowned in 1816), asked her husband to support the Spanish colonial power. John VI ordered his troops to stay along the border and to enter Spanish territories when needed. The "Pacification Army of the Eastern Band", a 3,000-men force led by Diego de Souza, was stationed at the foot of the Bagé hills. According to the historian Tarcisio Antonio da Costa Taborda, the town of Bagé was officially founded on 17 July 1811 when Souza appointed Pedro Fagundes de Oliveira commander of the Bagé Camp, leaving there soldiers, merchants and women who had accompanied the army. Involved in several events of the War of the Ragamuffins, Bagé was made a parish and municipality on 5 June 1846 by Provincial Laws No. 64 and No. 65, respectively.
http://www.bage.rs.gov.br/historia.php - Municipal website
Ivan Sache, 7 January 2012
---
Symbols
A white flag with the municipal arms in the centre.
Official website at http://www.bage.rs.gov.br
Dirk Schönberger, 31 December 2011
The flag of Bagé was designed for the official visit of President of the Republic João Belchior Marques Goulart (1919-1976, President, 1961-1964), scheduled to 17 December 1963. The President had to inaugurate the new water supply system of the town; Mayor Pr. Boaventura Mielle da Rosa thought that a municipal flag was required for the ceremony. Dr. Tarcisio Taborda, designer of the municipal coat of arms, proposed to place it on a white cloth to make a municipal flag. The first copy of the flag was realized by Sapiran Bito. The flag was subsequently often used in official events; it was eventually made official on 5 October 1972 with the adoption of Municipal Law No. 1,706, based on a Bill tabled by Councillor Iolando Maurente. Article 1 of the Law describes the flag as "White field with the coat of arms in full colors, as prescribed by Municipal Law No. 548 of 9 May 1955."
http://web.archive.org/web/20070705081249/http://www.bage.rs.gov.br/pdf/leis/pmb_lei_municipal_1706.pdf - Law No. 1,706

The coat of arms of Bagé was designed for the celebration of the bicentenary of Diego de Souza. Councillor Dr. Tarcisio Taborda drafted a proposal of coat of arms with the help of the heraldist and historian Pr. Walter Spalding. The artist Irio Malafaia realized the first coat of arms, which was adopted on 9 May 1955 by Law No. 248, based on a Bill tabled on 1 April 1955. Article 1 of the Law blazons the arms as:
"Portuguese-shaped arms, per fess azure and argent. In the upper field, azure (blue), a fortified bastion with a watch-tower or. In the lower part, argent, the Bagé hills, vert (green). The shield surmounted with a four-towered mural crown or. Below the shield a scroll gules (red) with the writing or "1811 - Bagé".
The colors of the shield are the national and Rio Grande do Sul colors. The loyalty of Bagé to the institutions is represented by azure. Argent means nobleness and highness. Green represents the field's fertility and richness. Gold represents the ardor and strength. Red means courage and generosity. The bastion recalls Fort St. Thecla, the place where the first fighting for the incorporation of the territory to Brazil happened, and, therefore, the military origin of the town. The Bagé hills highlight the generous natural environment and namesake of the town. The mural crown is the heraldic representation of a big, fortified town. "1811" is the foundation's year of the town http://web.archive.org/web/20070705081324/http://www.bage.rs.gov.br/pdf/leis/pmb_lei_municipal_548.pdf

The use of the coat of arms is prescribed by Municipal Law No. 1,968 of 15 August 1978, based on a Bill tabled on 3 August 1978 by Iolando Marchado. The coat of arms should appear on all kind of material used by the municipal administration (Art. 1) and on the vehicles used by the municipal services, with the service's name written in black letters (Art. 2)
http://web.archive.org/web/20070327042331/http://www.bage.rs.gov.br/pdf/leis/pmb_lei_municipal_1968.pdf

Ivan Sache, 7 January 2012
Photo:
https://www.facebook.com/prefeiturabage2017/photos/a.674978679340064/795575640613700/?type=3&theater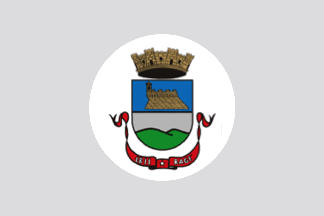 image by Ivan Sache, 12 July 2020
The flag is also used with a light gray field and the municipal coat of arms inscribed in a white disc.

Photo:
https://www.flickr.com/photos/lrpastorini/5252520189/