This page is part of © FOTW Flags Of The World website
Mato Grosso (Brazil)
Last modified: 2022-05-21 by ian macdonald
Keywords: mato grosso | star (yellow) | lozenge (white) | disk (green) |
Links: FOTW homepage | search | disclaimer and copyright | write us | mirrors

---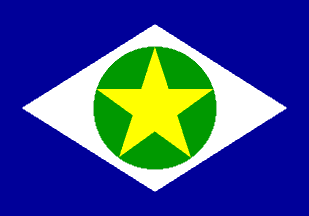 7:10 image by Joseph McMillan
Adopted 31 January 1890, reinstated 11 June 1947
---
Other sites:
---
Flag of the State of Mato Grosso
The flag was created on 31 January 1890. The blue represents the immense sky of Mato Grosso; the white peace; and the green the rich vegetation. The star symbolizes the state, and is yellow to represent the color of the gold that attracted to the first colonists.
Jaume Ollé, 28 June 1996
The following is the text of the 1890 decree on the Mato Grosso flag:

Decree No 2 of 31 January 1890
Art. 1 - The special flag of the Federal State of Mato Grosso shall be blue with a white lozenge, on the center of which shall be a green globe and a yellow star with its rays touching the circumference of the sphere.
The decree was revoked by state law 1046 of 8 October 1929 and reinstated by article 140 of the 11 July 1947 state constitution.

This is one of the oldest flags in Brazil, having been created by the first governor of the state, Antônio Maria Coelho, only 73 days after the adoption of the national flag of the republic. The colors and general design are the same as the national flag, but the arrangement of the colors is reversed (the field blue and white and the globe and star green and yellow. According to the International Association of Lions Clubs and the state government, the blue symbolizes the sky and the spiritual search for perfection. The white lozenge is said to be a Positivist symbol of reverence for the female principle. White signifies purity, the band of the zodiac, peace, political concord, virtue and optimism. The green sphere or globe expresses the sovereignty and the territorial dimension of the state. Green also characterizes hope and youth, and (nowadays) the need to preserve nature in harmony with socio-economic growth. The star is said to be another positivist symbol signifying humanity's turning to the firmament in search of symbols and answers to the many quests that arise across the centuries. The yellow recalls gold as one of the riches of Mato Grosso, as well as the bandeirante explorers. It also symbolizes light, culture, wealth, power and glory, and authority based on wisdom.
Source: www.brasilrepublica.hpg.ig.com.br
Joseph McMillan, 3 July 2002

Association of the lozenge and female principle can be tracked back to medieval alchemy. The positivists of the 19th century most probably reused that ancient symbol.
Ivan Sache, 4 July 2002
---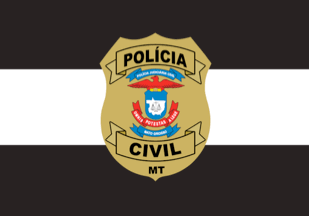 image located by Ivan Sache, 23 April 2022
Source: Manual de Identidade Visual da Polícia Civil do Mato Grosso
Here is the flag of the Civil Police of the State of Mato Grosso. It is presented in the PDF document "Manual de Identidade Visual Nacional da Policia Civil" from 2019. [It seems that all state police emblems and flags were changed in 2019 to include state two-letters code in them].

Valentin Poposki, 22 April 2022
The flag is prescribed in dimensions 90 cm by 125 cm, horizontally divided black-white-black with the police's badge in the center.

The badge features the writing "Polícia Civil", on two scrolls, at the top, "POLÍCIA", at the bottom, "CIVIL", both in black letters, Arial Black font.
The shield emphasizes protection and security promoted by the Judiciary Police, in addition to being responsible for distinguishing the law enforcement officer from other citizens.
Yellow color, similar to gold, signifying the work performed with excellence, honor and loyalty.

http://policiacivil.mt.gov.br/arquivos/File/padronizacao/ManualVisual.Completo.2019.pdf
Manual de Identidade Visual da Polícia Civil do Mato Grosso
Ivan Sache, 23 April 2022