This page is part of © FOTW Flags Of The World website
Brazilian Army Command Flags (modern usage)
Last modified: 2012-01-13 by ian macdonald
Keywords: army |
Links: FOTW homepage | search | disclaimer and copyright | write us | mirrors

---

See also:
---
Introduction
The command flags (insígnias de comando, chefia ou direção, literally ensigns of command, chiefship, and directorship) of the Brazilian Army are regulated by Ministry of the Army order [portaria] no. 793 of 4 July 1980. This order succeeded a previous order on the same subject of 1962, which in turn followed other directives, as is evident from the World War II flags, which follow a similar pattern to those in use today. The 1980 order has since been modified by order no. 370 of 16 July 1999 to take account of the disestablishment of the service ministries and their unification under a single minister of defense.

All command flags are 2:3 in ratio. Those of general officers and field grade officers (majors and above) are rectangular, while those of company grade officers are triangular. The sizes of the flags are 80 x 120 cm for hoisting on poles, 40 x 60 cm for carrying by troops, and 20 x 30 cm for car flags.

Unfortunately, the copy of the directive on these flags that is on line does not include the annexes spelling out the specific patterns. However, based on examples shown, and unit command flags shown in various issues of the Boletim Ostentiva do Exército, some of the patterns can be deduced. The flags of general officers are divided in half vertically. The hoist half of the flag indicates the type of organization commanded, while the fly half consists of green and yellow stripes indicating the officer's rank (the flag of the Commander of the Army is an exception). Other commanders of operational units generally appear to have flags of solid color with the branch insignia on the center, the number of the unit in the upper fly, and a sometimes a device further defining the type of unit in the lower fly. These same emblems are also used in the unit devices in the hoist of some of the general officers' flags.
There are presumably flags for the commanders of higher echelons of command above brigade: the chief of the general staff (full general), commanders of areas (full generals) and of military regions and army divisions (major generals), but I have seen nothing on their design. If the patterns are the same as were used in World War II, and are still used by the Brazilian Air Force, a full general should have four stripes alternating green and yellow and a major general, as noted above, three. Again, the symbol of the command should go in the hoist, but I have no information on the pattern of the background.

The directive also mentions flags for general officers who are not commanders, chiefs, or directors, but I have not found the pattern for these.
Sources: "Normas para a feitura de insígnias de comando, chefia ou direção," Portaria Ministerial nš 793 de 4 de julho de 1980, as amended by Portaria nš 370, de 16 de julho de 1999, cited at http://www.cdocex.eb.mil.br/insignias.htm (website of Centro de Documentação do Exército).
Note: The "Normas para a feitura" document is linked from the CdocEx page, but as it is a Word document, it is not a good idea to follow the link. Those who wish to see this document should google for it and use the Google-provided HTML version.
Joseph McMillan, 10 August 2005
---
Comandante do Exército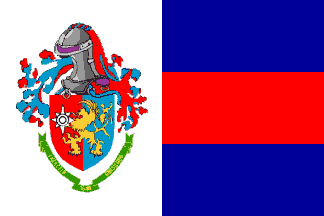 image by Joseph McMillan, 10 August 2005
The flag of the Commander of the Army is shown in the 1999 order. The flag is white in the hoist with the arms of the Brazilian Army in full color (these are the same arms shown on the Army standard). The fly consists of three horizontal stripes, blue-red-blue, the same as were in the flag of the Minister of the Army, the position that was abolished in 1999 and replaced by that of Commander of the Army. The directive specifies both the blue in the arms and that in the stripes as "azul-celeste," or sky blue, but the images on the Brazilian Army site clearly show the stripes darker.
Joseph McMillan, 10 August 2005
---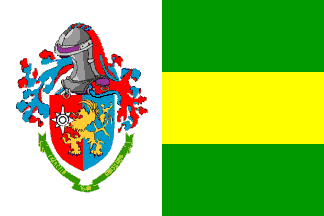 image by Joseph McMillan, 10 August 2005
The flag of the Chief of the Office (chefe do gabinete) of the Commander has the same design in the hoist but stripes of green and yellow in the fly consistent with the rank of the officer holding the position, three stripes for a major general (general de divisão) or two if the incumbent is a brigadier general (general de brigada).
Joseph McMillan, 10 August 2005
---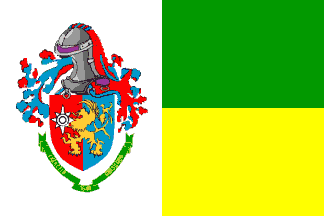 image by Joseph McMillan, 10 August 2005
The flag of the Chief of the Office (chefe do gabinete) of the Commander has the same design in the hoist but stripes of green and yellow in the fly consistent with the rank of the officer holding the position, three stripes for a major general (general de divisão) or two if the incumbent is a brigadier general (general de brigada).
Joseph McMillan, 10 August 2005
---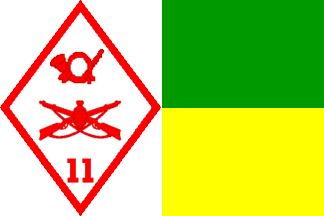 image by Joseph McMillan, 10 August 2005
Brigade commanders fly flags that are white in the hoist with the symbol of the brigade in red surrounded by a hollow red lozenge. The symbol usually consists of the insignia of the army branch to which the brigade belongs (crossed rifles and hand grenade for infantry, crossed lances for cavalry, bomb for artillery, castle for engineers, etc.) with the number of the brigade at the bottom. The fly is divided green over yellow to denote the commander's rank as brigadier general.
Joseph McMillan, 10 August 2005
---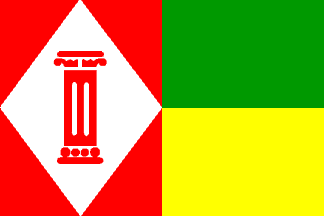 image by Joseph McMillan, 10 August 2005
Directors of directorates in the Army headquarters have flags with a red hoist and the device of their directorate in red centered on a white lozenge. The example attached is the flag of the Director of Personnel Support, with a red column. Again, the fly is striped to indicate the rank of the incumbent.
Joseph McMillan, 10 August 2005
---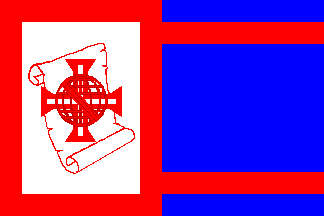 image by Joseph McMillan, 10 August 2005
The available examples for the flags of chiefs of army centers have the organizational emblem in the hoist in red on the middle of a white rectangle bordered in red. The fly is blue with two red stripes near the top and bottom. The example is the flag of the Center for Army Documentation (which, among other things, is responsible for army heraldry including these flags), a scroll surmounted by a cross of the Order of Christ and an armillary sphere. In some cases the initials of the center are inscribed in red below the emblem..
Joseph McMillan, 10 August 2005
---
Commander of an Army
image by Joseph McMillan
The commander of an army had the number of the army in Roman numerals, and three green and two yellow stripes. The illustration is the command flag for the 3rd Army, traditionally the most important, posted in southern Brazil near the Argentine, Paraguayan, and Uruguayan borders.
Joseph McMillan, 2 May 2001
---
Commander of Artillery of an Army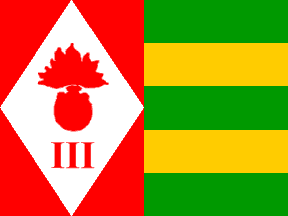 image by Joseph McMillan
Commander of the artillery of an army: a flaming grenade above the number of the army in Roman numerals; in the fly, three green and two yellow stripes.
Joseph McMillan, May 2001
---
Commander of an Army Corps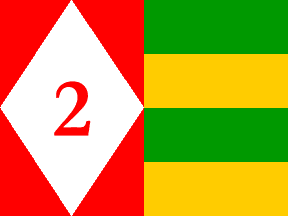 image by Joseph McMillan,
Commander of an army corps: the number of the corps in Arabic numerals; in the fly, two green and two yellow stripes.
Joseph McMillan, 3 May 2001
---
Commander of Artillery of an Army Corps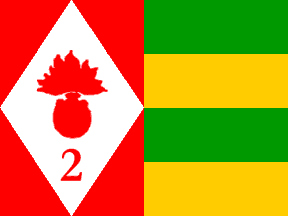 image by Joseph McMillan
Commander of corps artillery: a flaming grenade above the number of the corps in Arabic numerals; in the fly, two green and two yellow stripes.
Joseph McMillan, 3 May 2001
---
Commander of a Cavalry Corps
image by Joseph McMillan
Commander of a cavalry corps: crossed lances with pennons above the number of the corps in Arabic numerals; in the fly, two green and two yellow stripes.
Joseph McMillan, 3 May 2001
---
Commander of an Infantry Division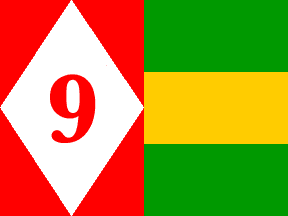 image by Joseph McMillan
Commander of an infantry division: the number of the division in Arabic numerals; in the fly, two green and one yellow stripe.
Joseph McMillan, 3 May 2001