This page is part of © FOTW Flags Of The World website
Province of Plovdiv, Bulgaria
Last modified: 2013-03-02 by rob raeside
Keywords: plovdiv | hills: 6 (green) | lions:2 (yellow) | sopot | lyre | lion | trakia urban district | hisar | kaloyanovo | karlovo | krichim | rodopi | sadovo | saedinenie | sopot |
Links: FOTW homepage | search | disclaimer and copyright | write us | mirrors

---
See also:
---
City of Plovdiv, Capital of the Province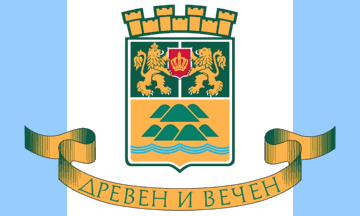 13:20, image by Mihail Shcherbak, 20 April 2005
The Plovdiv Municipality Council adopted the flag of Plovdiv on 29 August 1997 after the design of Gancho Ganchev, an artist. The ratio is 130:200 (64:72:64), fixed in cm. The height of the coat of arms is 73, the length of the ribbon (?) 140. Pantone values are adopted as follows: blue 319, green 357, yellow 143, red 208, blue 286 (for the river), light green 344 (for lion's? tongues and nails).
Stoyan Antonov, 25 May 2001
The motto "Dreven i vechen" means "ancient and eternal".
Željko Heimer, 22 April 2005
---
Coat of Arms of Plovdiv

The coat of arms is much older than the flag. It has been changed several times, I believe, and the current form is the one that appears on our town's official website ( www.plovdiv.bg ). The coat-of-arms has a wavy stripe symbolizing the river Maritsa that flows through the town, and also the seven hills in the town. The text on the ribbon below reads - "Ancient and Eternal".
Todor Georgiev, 19 September 2001
---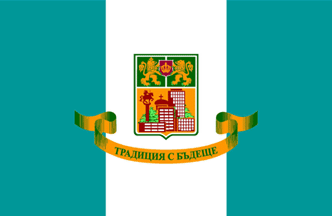 image by Dobri Mumdzhiev
---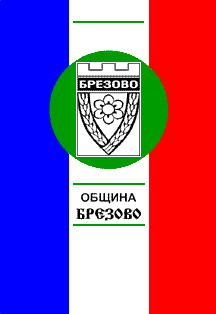 image by Stoyan Antonov
A vertical flag, blue-white-red flag with the arms in the centre on a green disk.
Valentin Poposki, 27 January 2013
---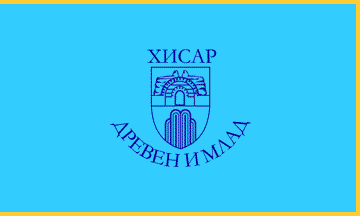 image by Stoyan Antonov
---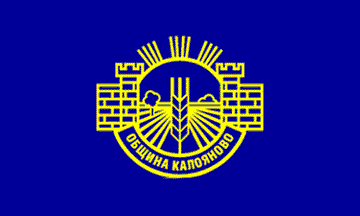 image by by Stoyan Antonov
based on Gabic Sole Trader
---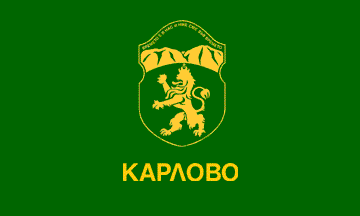 image by Stoyan Antonov
---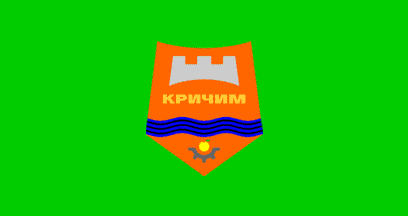 image by Stoyan Antonov
---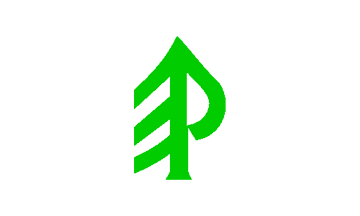 image by Stoyan Antonov
---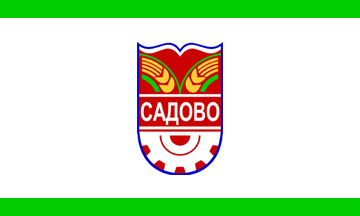 image by Stoyan Antonov
---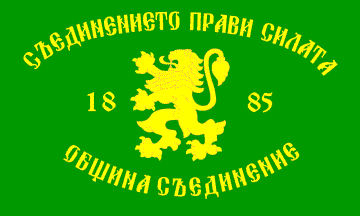 image by Tzilo Neychev & Nikola Vichev
Source: http://www.rootsweb.com/~bgrbshv/fl_plovdiv.htm
---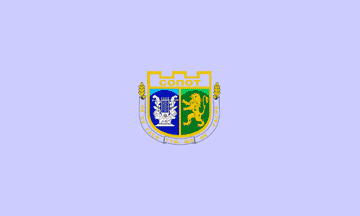 image by Jens Pattke, 30 April 2006
Source: http://www.rootsweb.com/~bgrbshv/fl_plovdiv.htm
The Town of Sopot is in Plovdiv Province. Sopot is the location of an international music festival and a memorial of Bulgarian history. The town of Sopot (12 000 inhabitants, 520 meters above the sea level, 65 km from Plovdiv) is located in the fertile sub-Balkan mountain valley of Karlovo (which is the western part of the legendary Valley of Roses), immediately under the steep southern slopes of the Troyan Balkan Mountain (Central Stara Planina). It is situated 5 km west of Karlovo, 136 km east of Sofia, 63 km north of Plovdiv and 61 km south of Troyan. The town of Sopot is the birthplace of the Patriarch of the Bulgarian Literature - Ivan Vazov. Sopot is an important machine-building center.
There is information about the settlement dating back to the Ottoman Rule. During the Revival period it was called Altun Sopot (Golden Sopot) because of its fluorescent industry and also thanks to the crafts and trade development. The citizens of Sopot manufactured abas, braids, fur and leather of high quality and traded them predominantly around the Ottoman Empire. The town was destroyed by fire during the Liberation days (1877) and its inhabitants were either slaughtered or expelled. The town was named Vazovgrad between 1950 and 1965 and later obtained its present name again.
Jens Pattke, 30 April 2006
Detail of Shield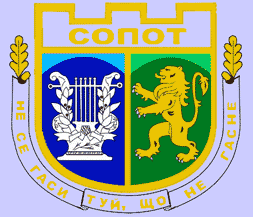 image by Jens Pattke, 30 April 2006
Sopot is the last municipality to be formed in Bulgaria. It was split from the Municipality of Karlovo on 5 Sep 2003. The symbols (flag and coat of arms) of the municipality were adopted on 1 Sep 2004. Their author is Vasil Vasilev from Sopot. I have also seen the flag of Sopot, but its colour is closer to very light blue than to the reported violet shades.
Stoyan Antonov, 1 May 2006