This page is part of © FOTW Flags Of The World website
Hemiksem (Municipality, Province of Antwerp, Belgium)
Last modified: 2019-01-09 by ivan sache
Keywords: hemiksem |
Links: FOTW homepage | search | disclaimer and copyright | write us | mirrors

---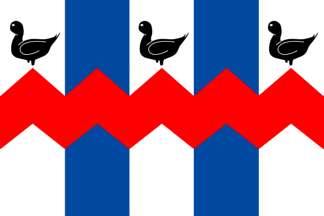 Flag of Hemiksem - Image by Arnaud Leroy, 30 April 2006
---
See also:
---
Presentation of Hemiksem
The municipality of Hemiksem (9,755 inhabitants on 1 January 2007; 544 ha; municipal website) is located on the Scheldt, neighbouring Antwerp in the south-west.
The main historical building in Hemiksem is the St. Bernard abbey (Sint-Bernardusabdij), bought by Cistercian monks in 1244. In the Middle Ages, the abbey was an important cultural and religious center. It was later sized, burnt down and sold. It was used as a prison and military headquarters until 1977. The municipality of Hemiksem purchased the abbey in 1988. The western facade and the towers were restored and house today branches of the municipal administration; other parts of the abbey are still waiting for restoration. A room of the abbey houses a museum dedicated to church ceramist Joseph Roelants, who has decorated several churches in Belgium and abroad.
Ivan Sache, 30 April 2006
---
Flag of Hemiksem
The flag of Hemiksem is vertically divided white-blue-white-blue-white with an horizontal serrated red stripe in the middle, surmounted by three black merlettes each placed in a white stripe.
According to Gemeentewapens in België - Vlaanderen en Brussel [w2v02], the flag and arms, adopted on 25 February 1988 by the Municipal Council, are prescribed by a Decree issued on 9 May 1989 by the Executive of Flanders and published on 8 November 1989 in the Belgian official gazette on.
The flag is a banner of the municipal arms, the merlettes being bigger on the flag than on the arms.
Arnaud Leroy, Pascal Vagnat & Ivan Sache, 30 April 2006
---
Merlettes and martlets
The appropriate word to use for the legless and beakless ducklings is "merlette" and not "martlet". Heraldry acknowledges three types of legless, beakless bird, occurring in three distinct regions. The "martlet" occurs chiefly in British armory (England, Scotland, Ireland) and is a form of swallow or martin. The "merlette<" is found in coats of arms from France and the Low Countries, and is a duck or duckling. In German heraldry one finds the "gestämmelte Amsel", which is a kind of lark.
Mike Oettle, 10 April 2007
Neubecker [neu97a] claims that the martlet was designed from elements of larks, swallows and swifts. He says that martlets can be seen on seals from 1185 onwards, but were already described as the charges of the shield of Lancelot du Lac by Chrétien de Troyes in his tale of chivalry, written before 1172.
Brian Timms explains further in his French/English heraldic glossary:
merlette: martlet
Acc. to B, the merlette is a swallow, depicted without legs, and later us. without a beak: "The French martlet is not a swallow, but a duckling. According to Théodore Veyrin-Forrer, Précis d'héraldique, Paris, 1951, Arts Styles et Techniques, p. 114, la canette représente la cane ou le canard; si elle est dépourvue du bec et des pattes, elle devient une merlette.
The reasons for the lack of beak and legs are either through artistic error in showing small charges, or a confusion with coupé, which does not mean cut off, but tufted, that is with feathers. In any case, "(heraldry) standardised, if it did not invent this conventionalised bird" (C).
The connection with Fr. merle, blackbird, is not obvious, although it may have been intended to portray a little blackbird. The word merlette means literally a female blackbird, and in this sense it occurs several times in the civic heraldry of France.
OED gives the meaning of martlet as swift, Cypselus apus (from Gk. apous, without feet), which, because it was rarely seen on the ground, was thought to have no feet. The swift in turn was confused with the swallow [thus the martlets, hirondelles, in the arms of Arundel, West Sussex].
The canette (qv.) is sometimes represented by the duckling and sometimes by the merlette.
Ivan Sache, 10 April 2007
It may be even less simple than that: In Portuguese heraldry, heavily influenced by English heraldry, we name merletas (from French merlette according to the usual "portuguezation" of -ette-ending loanwords) what looks exactly like English martlets, not at all like duck(ling)s.
António Martins, 11 April 2007