This page is part of © FOTW Flags Of The World website
Mistaken or Dubious Defaced Australian Flags
Last modified: 2019-12-07 by ian macdonald
Keywords: australia |
Links: FOTW homepage | search | disclaimer and copyright | write us | mirrors

---
See also:
---
Introduction
Below are listed examples of British ensigns misinterpreted as Australian ones, for which no hard evidence has been found for the Australian counterparts' existence.
Jeff Thomson, 10 June 2019
---
Customs flag reported from Port Moresby in 1949. Although strongly suggesting a British Blue Ensign and itself incorrect, it could be alternately interpreted post-war as being based upon the Australian Blue Ensign, which was in effect the post-war Flag of Papua anyway (with a bold black HMC added in this case). Of course if it was ever to have been produced in reality, the black HMC letters would need some white fimbriation to make them stand out. For example, an Australian Customs flag of the time with the white HMC in the lower centre could have smaller black letters laid over the white ones to produce this effect.
Jeff Thomson, 10 June 2019
---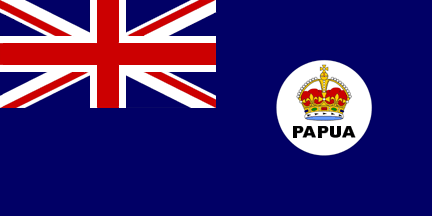 image by Clay Moss
Reported from Port Moresby in 1954. Means the British ensigns but taken by the Commonwealth government to mean Australian ensigns.
Jeff Thomson, 10 June 2019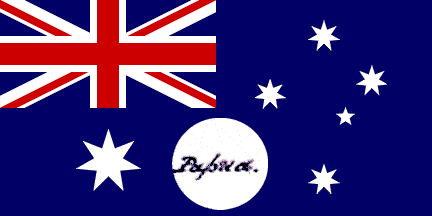 image by Ian MacDonald, June 2019
An Australian Blue Ensign version without the crown was known to exist circa 1908, and allegedly again around 1931 to 1942. A British Red Ensign counterpart of the British Blue Ensign version reportedly existed as a P&O Line courtesy flag, but there has been nothing found to indicate that an Australian Red Ensign version ever did.
Jeff Thomson, 10 June 2019
---
Flag report from Australian Army in 1954 includes an Army flag list with two Corps British Blue Ensigns (RAE and RAAOC) similar to their British Corps counterparts. Misinterpreted by Australian government as Australian Blue Ensigns but later corrected.
The PNG customs flag prescription of 1951 was not amended until well after PNG independence in 1975. Therefore the prescribed black letters on the Australian Blue Ensign's customs badge remained as T.P. & N.G.C. in law. Although certainly not impossible, assertions that such flags had the letters amended to T.P.N.G.C. or P.N.G.C. are not supported by the pre-PNG-independence legislation or any other reliable evidence. But in practical terms, as this just means deleting one or two characters, it's hardly a matter of profound importance.
Jeff Thomson, 10 June 2019
---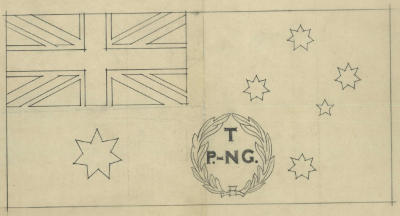 image provided by Jonathan Dixon, 20 November 2012

In two places in the FOTW PNG Historic flags pages, the 1949 drawing of an Australian blue or red ensign with a badge in the lower centre consisting of a garland-surrounded white disc with the bold black letters T over P.-NG. in the lower centre, but offset completely into the fly is shown. An alternative suggestion was to replace it with a bird of paradise badge. This was suggested as the first of a flag type to be authorised for any Australian territory with a separate administration, blue type for land and harbour craft use (and territory Administrator), red type for administration ships at sea. This suggestion was not put into effect as far as is known. In the early 1970s the territories began to introduce their own flags under their own authority, not in British Ensign format.

Also suggested was a Customs flag for the combined territories of New Guinea and Papua that had a white disc in the lower centre, upon which was the word CUSTOMS in bold black. Nearly forty years later the Australian Customs flag would have the word CUSTOMS in bold white, without the disc of course. This 1949 proposal faded away when the unified territory Customs Regulations 1951 prescribed a flag which was in effect the pre-war New Guinea Customs flag with two more letters (P and &) added.
Jeff Thomson, 10 June 2019
---
Flag researchers should be aware that the designs and appearances of most defaced Australian Blue Ensigns are uncertain and speculative. In several cases, it isn't even certain whether the defaced flag in question was an Australian Blue Ensign or a British Blue Ensign. In fact, it isn't even certain if some flags ever existed other than as a design prescription in legislation. Any descriptions or images for these flags should be taken with caution even if they are government-sourced, unless they are photographs of an actual flag in use. This especially applies to the more recent 'replica' flags produced by officers of government agencies whose boats (or boats of their predecessor agencies) once flew special ensigns. Despite generally being taken as authoritative because they are sourced from the agencies concerned, some replica flags are just an impression or a guess based upon a brief written or verbal description, and are most likely inaccurate.
Jeff Thomson, 7 December 2019