This page is part of © FOTW Flags Of The World website
Curuzú Cuatiá Department, Corrientes Province, Argentina
Last modified: 2021-12-24 by rob raeside
Keywords: curuzú cuatiá department | corrientes province | argentina |
Links: FOTW homepage | search | disclaimer and copyright | write us | mirrors

---
See also:
---
Curuzú Cuatiá Municipality

7:10 image by Ivan Sache, 7 May 2017

Curuzú Cuatiá (Argentina) is located in Corrientes. Flag adopted 7 April 1988.
J. J. Andersson, 04 Feb 2002

The town of Curuzú Cuatiá (36,390 inhabitants in 2001) is the capital of the Department of Curuzú Cuatiá (42,075 inhabitants in 2001; 8,911 sq. km. It is located in the south of the Province of Corrientes.

Curuzú Cuatiá is a Guarani name, which translates in Spanish as "Posta de Cruz" (The Cross' Post), a name used by the Spanish colonists and the Jesuits. The place was indeed a main road intersection, marked by a big cross surrounded by nine American carob trees, and a significant place of trade and exchange between Lower Paraná, Buenos Aires and Santa Fe.

The increase of the population around the crossroads caused a quarrel on the jurisdiction over the place between the administrations of Corrientes and Yapeyú, that started in 1797 when a chapel was built, attracting even more population.

On 14 November 1810, General Manuel Belgrano, Chief of the North Army, on his way to Paraguay, allocated the jurisdiction to Corrientes. Two days later, he proclaimed the Decree founding the town, arguing that the inhabitants deserved the erection of an independent parish as a reward to their merits, collaboration and service. The Decree fixed the limits of the town and the places where the school, the church and the administrative buildings were to be built. Respecting the local faith, Belgrano granted the name of "Nuestra Señora de Pilar de Curuzú Cuatiá" to the new settlement, which was granted on 9 October 1852 the title of "villa" and on 25 October 1888 the title of "ciudad". "Born with the Fatherland", Curuzú Cuatiá was proclaimed on 4 February 1942 an Historical Place (Decree No. 112.765).

The Municipal Decree prescribing the flag translates as follows:
"When General Manuel Belgrano marched from Santa Fe to the neighborhood of Curuzú Cuatiá and soon to Paraguay in the Paraguay Campaign [September 1810 - March 1811], he decided to give a basic military instruction to the troops recruited on the way. He split them into three "divisions", each of them being allocated a distinctive colour, made of yellow, red and blue fabric purchased in Santa Fe. Stationed at Curuzú Cuatiá, he united the three colours into a single flag, which was blessed there and subsequently lost in Paraguay when the Campaign failed.

The Municipality of Curuzú Cuatiá, by Decree No. 496 of 7 April 1988, decided that this flag (yellow, red and blue) should be the official flag of the town. It shall be hoisted as prescribed in the said Decree."
Ivan Sache, 26 July 2010

1:2 image by Ivan Sache, 7 May 2017
The flag seems to be used in proportions 7:10 and 1:2.
Photos
http://www.diariobicentenario.com.ar/2015/07/curuzu-cuatia-donacion-de-bandera-de.html - 7:10
http://www.curuzu.gov.ar/htdocs/noticias/2011/2011-10/2011-10-05/juegosevita.html - 1:2
Ivan Sache, 7 May 2017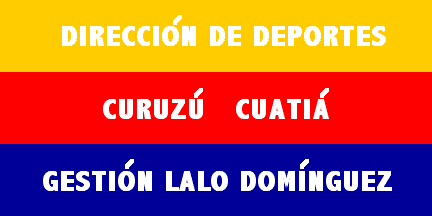 1:2 image by Ivan Sache, 7 May 2017
On 21 September 2016, Mayor Ernesto Lalo Domínguez offered to Daniel Ujhelly, a local athlete competing in an international event in Dubai, a town's flag with the writing "DIRECCIÓN DE DEPORTES / CURUZÚ CUATIÁ / GESTIÓN LALO DOMÍNGUEZ". On his way back, the athlete had the flag blessed by Pope Francis in the Holy See.

Belén Blanco, President of the local Asociación Belgranista, accused the Mayor of desecration of the municipal flag. The fact that the local flag is similar to an historical flag used by Belgrano, the hero of the national independence, may explain the complaint tabled by a cultural society defending Belgrano's heritage.
http://rompecabezasdigital.com.ar/noti/1083-competira-en-dubai-con-la-bandera-de-curuzu
http://corrientesahora.com.ar/entrega-de-bandera-de-curuzu-cuatia
http://rompecabezasdigital.com.ar/noti/1083-competira-en-dubai-con-la-bandera-de-curuzu
http://www.eldiariodecuruzu.com/notix/noticia/53389/1/83/unatletaconlabanderadecuruzuenelvaticano.htm
http://diariolarepublica.com.ar/new/actualidad/2016/10/25/acusan-a-la-gestion-de-dominguez-de-profanar-la-bandera-de-curuzu
Ivan Sache, 7 May 2017
Other sites: