This page is part of © FOTW Flags Of The World website
Andorra
Principality of Andorra, Principat d'Andorra
Last modified: 2022-09-10 by ivan sache
Keywords: andorra |
Links: FOTW homepage | search | disclaimer and copyright | write us | mirrors

---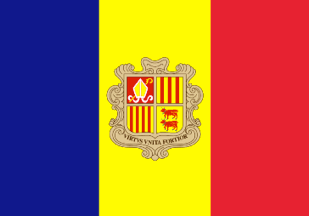 7:10 | stripes 8+9+8



image by Carlos Esparza and António Martins-Tuválkin, from an original World Flag Database image
Flag adopted 1866
---
---
See also:
---
Origin
I don't remember where I heard this legend (maybe FOTW?), but supposedly Andorra chose to add the CoA to its flag after several citizens of Chad visited the embassy of Andorra in Paris, confused by the similar flags.
J. Patrick Fischer, 18 Aug 2003
Andorra has used a CoA from at least 1939 (when Chad didn't exist), and Andorra had not had an embasy on Paris because it was still not an internationally recognized state, unlike today when it is the first independent Catalan state. Romania had arms both as kingdom and republic. The single confusion that I imagine is between Chad and Romania in 1989 and following years.
Jaume Ollé, 18 Aug 2003
When Napoleon gave to Andorra a constitution in 1806, the flag, in vertical French pattern, used the local traditional Catalan colours. In 1866 Napoleon III obtained the inclusion of the blue in the flag, supposedly to mean France's partial sovereignity in the country.
Jaume Ollé, 29 Aug 2003
---
Usage
Album des Pavillons 2000, page AN 1.1, shows the flag with arms – the drawing is very much like the one on FOTW. As far as I am aware, the flag without the arms is (was?) used in Andorra itself quite more often than the version with arms. In any case, I guess it is not wrong to have the flag without arms, and that could at least be mentioned in a note [in Album des Pavillons 2000]. Regarding the useage:
Smith 1980 indicates the version without arms as , and that with arms as . It also marks both versions as de facto () – i.e. that there is no legal document adopting the flag (not as unofficial) – and the version with arms as variation () i.e. that there are several flags of the same basic design that are used concurrently.
FOTW marks version with arms as , though the version without arms is a variation in both uses, I guess.
Album des Pavillons 2000 marks the version with arms as . Is there any army to be using this flag?
Željko Heimer, 31 Jan 2001
---
Flag Without Arms ("Civil Flag")

7:10


image by Peter Hans van den Muijzenberg, 21 Jan 2010
The flag of Andorra has been used from circa 1870 as a civil flag. The proportions are 2:3. The state flag (used on government buildings, etc.) has, in addition, the arms of Andorra on the yellow stripe.
Željko Heimer, 07 Nov 1995
Smith 1975 and Smith 1980 claim that the flag without the arms is the civil flag on land. Just the state flag has arms. So, it seems that general public should use the simple flag. However, as far as I know, there is no legislation in Andorra regarding the flag, so probably both versions are used interchangeably. Maybe influenced by similar tendency in neighbouring Spain, the version with the arms is now used more often – and also because the Chad/Romania problem. It may be that this is more showed outside of Andorra itself, resulting from the wish of many flag-hoisters (?) to have a different flag for each country.
Željko Heimer, 05 Mar 1997
As far as I can find out, there was no legislation defining the Andorran flag before (Title One, Chapter One, Article 5 of) the Constitution dated 4 May 1993, with further regulations dated 20 June 1996 (published 10 July) and those approved on 5 May 1999 upon which Željko obviously based his construction sheet. And none of these sources mention the existence of a plain civil flag.
Whilst I have little doubt that such flags have been in use over the last 150 years, the plain tricolour has (again as far as I can find out) no current legal existence (if it ever had) and therefore no regulated proportions (both internal and external) differing from those of the national flag (possibly because modern manufacturing techniques make the flag with arms very much less expensive than formerly?)
Christopher Southworth, 20 Jan 2010
There is a mention of a "plain flag" in both the Law of 10 June 1996 and the regulations of 5 May 1999.
Law of 10 June 1996 (Text in English at http://www.ompa.ad/angles/signes/Llei.PDF):
Annex 2. Traditional flag of Andorra

"(...) The coat of arms of the Principality of Andorra is placed in the centre of the flag, on the yellow stripe; however, it may be omitted, particularly when the flag is reproduced in certain small-scale or specific formats, such as tapes, where it may be represented solely by three adjacent stripes in blue, yellow and red.
The regulations [PDF] of 5 May 1999 also cite this "plain flag" (page 7):
En casos de cintes o de reduccions, s'utilitza la bandera sense l'escut, tal com es mostra a la fitxa 1.2.4 (aplicacions).
In cases of tapes or small-scale reproductions, will be used the flag without coat of arms, as shown on card 1.2.4 (applications).
This "card", or annex 1.2.4 is absent in the PDF file, so we would need the entire text to see what is represented there.

Obviously none of these states that this "plain flag" is the "civil flag," or at least it isn't called "civil flag."

Antonio Gutierrez, 20 Jan 2010

We now know that a plain tricolour was formally authorized in 1996 and that (if made according to the Law) it should follow the pattern of that with the coat of arms - in proportions of 7:10 with unequal stripes (although how many flags are actually made that way is a matter of conjecture).

Christopher Southworth, 20 Jan 2010

I'm not sure that we're really talking about a flag in 7:10, here; I fear the "tapes" may merely refer to ribbons.

Peter Hans van den Muijzenberg, 21 Jan 2010

I don't quite know what "tapes" the law is referring to either, but it is quite specific with regard to the flag - it says that the arms "...may be omitted, particularly when the flag is reproduced in certain small scale or specific formats etc." This does not create a special flag, but simply says that the flag as regulated may be (under certain circumstances) displayed without arms, and the flag is regulated in a ratio of 7:10 with the stripes in proportions of 8-9-8.

Whether this flags or reproductions of it will ever actually be prepared using the official figures is open to debate, but (at least as far as I can understand it) the fact remains that they should be.

Christopher Southworth, 21 Jan 2010