This page is part of © FOTW Flags Of The World website
Anglo-Boer war flags in South Africa
Flags used by the Boers during and after the Anglo-Boer War (1899-1902)
Last modified: 2023-05-20 by bruce berry
Keywords: paardeberg | vyfkleur |
Links: FOTW homepage | search | disclaimer and copyright | write us | mirrors

---
See also:
---
"Unity" Flags - Taungs Flag (also called the Vyfkleur)

image by Jarig Bakker, 03 Mar 2001

The Combined Republican Flag of the Anglo-Boer War - one of the so-called "Unity Flags" - had an orange stripe added under the entire "vierkleur" (four colour in Afrikaans). This is the so called "vyfkleur" (five colours).
Bruce Berry, 14 June 1996

In Burger's 'Sovereign Flags of Southern Africa', (1997) [bur97] are two 'vyfkleuren' (five-colours). The combined Boer armies sometimes used flags combining their colours. This flag was probably displayed by the Transvaal forces: the 'Vierkleur' (four colour) with an orange bar across the bottom. In use around 1899-1901.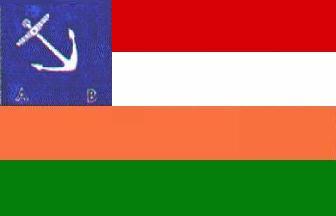 scan by Jarig Bakker, 11 Apr 2003
The other flags was red, white, orange and green horizontal stripes with a blue canton containing a white anchor, on either side of which were the capital letters A and B.
Jarig Bakker, 03 Mar 2001
---
"Unity" Flags - Steyn's flag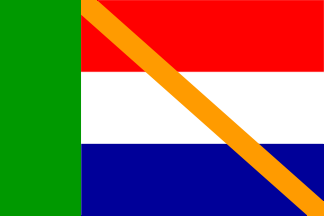 image by Martin Grieve, 17 Apr 2003

Here is example of the so-called "Unity" flags of the Anglo-Boer War (1899-1902). These were unofficial flags representing "Boer" forces fighting the British during the Anglo-Boer War. Because the soldiers of the two Boer republics fought side by side, they used a number of flags combining the colours of BOTH of the Boer republics (the Orange Free State and Zuid-Afrikaanse Republiek) and these have since become known as the "Unity" flags. The most famous is probably the so called "Taungs Flag" which was a Transvaal "vierkleur" with an extra orange horizontal stripe along the bottom. The most popular designs were variations of the old Zuid-Afrikaanse Republiek (Transvaal) vierkleur.

André Burgers (in his South African Flag Book) also mentions a flag made by a Boer Prisoner of War, H.J Steyn, in Diyatalawa camp, Ceylon (now Sri Lanka). This had an orange diagonal stripe on a vierkleur, but going from the top left to the bottom right in contrast to the Hindon and Maritz flags where the diagonal orange went from bottom left to the top right hand corners.
Bruce Berry, 17 Apr 2003
---
"Unity" Flags - van der Merwe's flag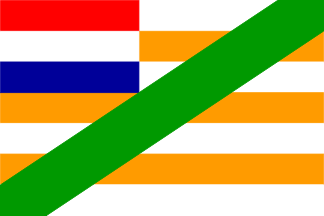 image by Martin Grieve, 17 Apr 2003

Another example of a "Unity" flag was an Orange Free State flag with a green diagonal stripe across it (from bottom left to top right). Burgers mentions this as being from a shoulder patch worn by Mrs JJ van der Merwe at a Concentration Camp in the town of Bethulie. It is unknown whether this design was ever made into an actual flag.
Bruce Berry, 17 Apr 2003
---
Battle of Paardeberg (1900)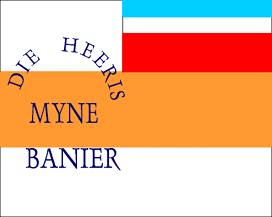 image by Jaume Ollé, 22 September 1997

This is the flag used by Boers in the Battle of Paardeberg during the Anglo-Boer War.
Jaume Ollé, 22 September 1997

According to my 'Allers Illustrerede Konversations-Leksikon', the battle began on 17 and ended on 27 February 1900, when the Boer General Cronje, with 3700 soldiers, surrendered to the British General Roberts.
Ole Andersen and T.F.Mills, 01 Nov 1999


---
Majuba commemoration

detail of photo, scanned by Carsten Linke, 10 Apr 2003

I have photos taken last month at a commemoration of the Battle of Majuba, South Africa, of 1881. The photos show well-known flags, as well as, at least to me, two unknown flags:

Photo Majuba Commemoration #1, left edge: a red-white-blue or orange-white-blue flag with unidentified emblem. I guess this could be the flag of an Afrikaner movement, party or organization. Is somebody able to recognize the emblem? On the right of the photo: Transvaal flag, but with a diagonal orange stripe from lower hoist to upper fly added.

Photo Majuba Commemoration #2: at the right again the flag with the diagonal orange stripe.

The Battle of Majuba was virtually the last battle between British troops and fighters from the South African Republic (aka the Transvaal) in what is called the First Anglo-Boer War (1880-81). The other Boer republic, the Orange Free State, did not participate in this war. Don't confuse it with the Second Anglo-Boer War of 1899-1902, fought between Great Britain on the one side and the South African Republic and Orange Free State coalition on the other.

Even though the Orange Free State is not directly linked to the Battle of Majuba, it is quite usual that at any Boer commemoration the distinctive flags of both former republics as well as flags shared by both in history are flown. It is therefore possible that the flag with the diagonal stripe is a variant of a common war flag.
Carsten Linke, 10 Apr 2003

I have an idea I've seen the "Vierkleur" with the additional orange stripe as a variant (probably Boer War period), and I have an idea the one with the diagonal stripe has a similar provenance, but I'm not all that familiar with either.

The one on the left is entirely unknown to me, but the unidentifiable "wapen" in the middle is of a type with the kind of badge (wapen) that the Boers are fond of devising, with all sorts of irrelevant details and lettering and not sufficient cohesion to allow identification from any distance. I notice a patch of orange in the hoist that looks as if it forms part of a rhomboid - a very strange blend.
Mike Oettle, 12 Apr 2003

---
Maritz war flag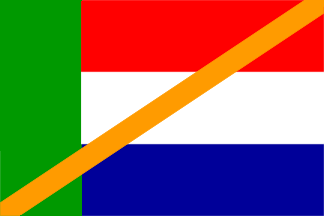 image by Martin Grieve, 13 Apr 2003

In his book on South African flags, André Burgers [bur97] shows a "vierkleur" with orange band from lower hoist to upper fly. This is the 'Maritz' flag which was used by Colonel Manie Maritz, one of the 1914 rebels who opposed South Africa's declaration of war against Germany. Maritz was part of the Union Defence Force (UDF) continent which was preparing to invade German South West Africa. He joined those who opposed the proposed invasion and joined General Kemp, and others, and retreated into the Kalahari Desert with the UDF in pursuit. The rebels retreated into German South West Africa and later went into exile in Portugal, via Angola.

The 'Martiz' flag is still in existence and is in the possession of the son of Col. Martiz, who claims that its design originated during the Ango-Boer War.
Martin Grieve, 13 Apr 2003
---
Hindon's war flag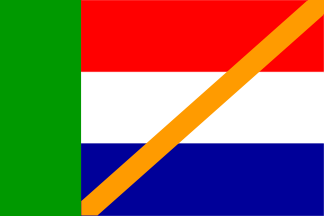 image by Martin Grieve, 13 Apr 2003

Another flag, from the same source, shows a "vierkleur" (four colour) flag with the orange diagonal starting out at the right hand side of the green vertical band. This is the flag of Oliver John "Jack" Hindon (1874-1919), a Scot and Boer General fighting against the British during the Anglo-Boer War. Hindon's girlfriend made the flag and gave it to him before the battle at Tabanyama, in an attempt to relieve the Siege of Ladysmith in Natal, commenced.
Martin Grieve, 13 Apr 2003

---