This page is part of © FOTW Flags Of The World website
University of Alabama (U.S.)
Tuscaloosa, Alabama
Last modified: 2022-09-10 by rick wyatt
Keywords: tuscaloosa | university of alabama | alabama | university | united states |
Links: FOTW homepage | search | disclaimer and copyright | write us | mirrors

---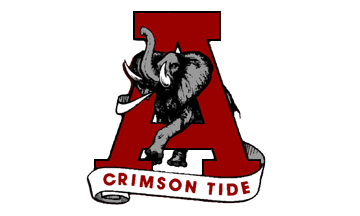 image by Clay Moss, 1 March 2008

---
---
See also:
---
Description of the flag
This particular flag served as Alabama's most popular logo flag for probably 25 years (1970?-1995?) or so until the University adopted a new set of logos. However, many of the new logos are uninspiring and unpopular and as a result, there is still quite a robust market for this design.

The red background and "crimson" letter A can be reversed color wise, but the white flag with the crimson "A" is/was the most popular. In the day and age of copyrighted logos, I'm fairly certain that the university got the rights to this logo somewhere down the road, but I'm not sure when.

The University of Alabama's official colors are crimson and white, and thus the crimson "A". The elephant is Alabama's mascot although the more popular name for the university's sports teams is the "Crimson Tide". This is a nickname made popular back in the early 20th century when a radio broadcaster announcing a football game, described Alabama's defense as looking like a "crimson tide" as it flooded over the opposing team's offensive line. The metaphor stuck, and thus the nickname.

Clay Moss, 1 March 2008
---
University of Alabama - "The University of Alabama (informally known as Alabama, UA, or Bama) is a public research university in Tuscaloosa, Alabama. Established in 1820 and opened to students in 1831, the University of Alabama is the oldest and largest of the public universities in Alabama as well as the flagship of the University of Alabama System. It is classified among 'R1: Doctoral Universities – Very high research activity'. The university offers programs of study in 13 academic divisions leading to bachelor's, master's, education specialist, and doctoral degrees. The only publicly supported law school in the state is at UA. Other academic programs unavailable elsewhere in Alabama include doctoral programs in anthropology, communication and information sciences, metallurgical engineering, music, Romance languages, and social work. As one of the first public universities established in the early 19th century southwestern frontier of the United States, the University of Alabama has left a cultural imprint on the state, region and nation over the past two centuries. The school was a center of activity during the American Civil War and the Civil Rights Movement. The University of Alabama varsity football program (nicknamed the Crimson Tide), which was inaugurated in 1892, ranks as one of the ten winningest programs in US history. In a 1913 speech then-president George H. Denny extolled the university as the 'capstone of the public school system in the state [of Alabama]', lending the university its current nickname, The Capstone. In addition, university alumni and faculty include 59 Goldwater Scholars, 15 Rhodes Scholars, 16 Truman Scholars, 36 Hollings Scholars, and 16 Boren Scholars. " Source: https://en.wikipedia.org/wiki/University_of_Alabama

Paul Bassinson, 19 June 2022
---
Parade Flag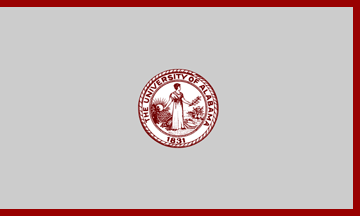 image by Clay Moss, 7 March 2008
This illustration is of a 3x5 foot University of Alabama parade flag that I saw in every Alabama football or basketball game as a youngster, and even into college for that matter. It was always carried by the University's joint ROTC flag corps and would, (for example), be marched onto midfield just before football games along with the U.S. flag and Alabama's state flag. From there, the University flag and Alabama state flag would be dipped at 45 degree angles for the playing of the national anthem. The U.S. flag of course would stay upright.

I never got that close to the flag, but it appeared to be very well made, possibly rayon, and the seal showed correctly on both sides. The only thing that really bothered me about the flag was that the seal appeared to be really small, and thus its size in my illustration. To be honest, I have no clue how big it was, or is if the flag still exists. I have also flanked my illustration with a "crimson" border in order to simulate crimson fringe. It seems to me that the flag may have had a crimson fringe, but I have to confess that I really don't remember. It could have been plain gray.

I have always wondered if this flag was Alabama's first "official" flag, and if perhaps it still is. With that said, I have never seen another copy of the flag anywhere.
Clay Moss, 7 March 2008
There is a 1974 photo of it at www.bamacadet.com/wst_page4.html bears out your point about the small size of the seal. Unfortunately the photo quality is not good enough for me to be sure of the color of the fringe, but I think you may be right about it being crimson.

A contemporary photo of the U of A color guard seems to show a different seal flag: www.flickr.com/photos/diamondduste/1501426804/in/pool-38905776@N00 - white, a larger seal, gold fringe, and possibly some additional element.
Ned Smith, 7 March 2008
I always figured that this was just the battalion color of the Army ROTC (reserve officer training corps) unit, although the design currently prescribed for such flags in Army Reg 840-10 would be yellow with the university seal in the center and a little Army ROTC logo in the upper hoist. I've never seen anything like that in use either at Alabama or anywhere else. I don't know about Clay, but since I've never seen this flag anywhere except in the ROTC color guard (not at commencements, not flying anywhere on campus, etc.), I concluded that it was just the ROTC's flag.
Joe McMillan, 9 March 2008
---
Detail of seal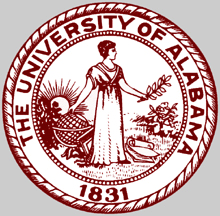 image by Clay Moss, 7 March 2008
---
More flags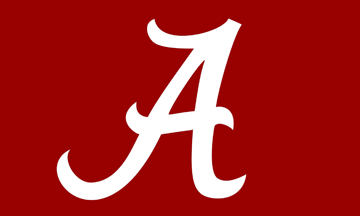 image by Clay Moss, 9 January 2015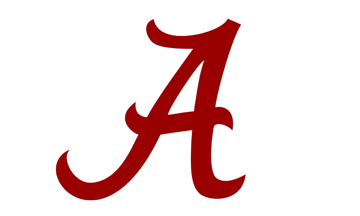 image by Clay Moss, 9 January 2015

These two simple flags with the logo script type "A" have been very popular now for quite a few years. This photo is of the flags being used at an Alabama football game, with the cheerleaders displaying both flags. Both flags are also available sized 3x5 feet and can be seen in the 100's of thousands in Alabama, particularly in Tuscaloosa, Alabama on game day.
Clay Moss, 9 January 2015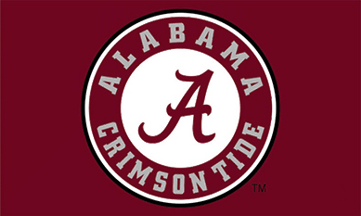 image located by Paul Bassinson, 19 January 2020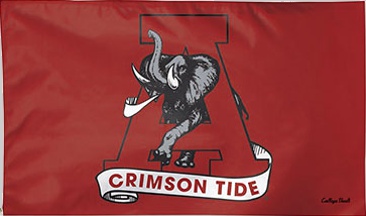 image located by Paul Bassinson, 19 January 2020
Red and white monogram "A" flags are pretty ubiquitous on campus.
The A flags:
https://www.facebook.com/bamafanpagegf
Dave Fowler, 19 January 2020
---
A wide range of supporters' flags can be found. Some of these are shown below.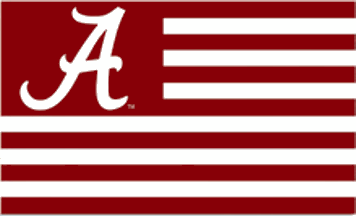 image located by Paul Bassinson, 15 August 2022
Source: https://www.universitysupplystore.com/outerweb/product_images/13167950l.jpg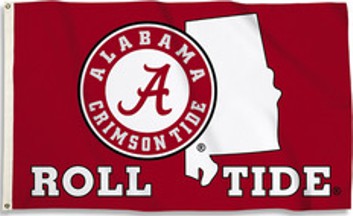 image located by Paul Bassinson, 15 August 2022
Source: https://www.universitysupplystore.com/outerweb/product_images/13167912l.jpg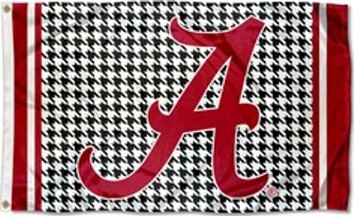 image located by Paul Bassinson, 15 August 2022
Source: https://www.collegeflagsandbanners.com/scart/public/database/product/images_products/113712_big.jpg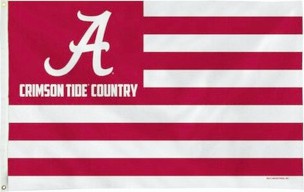 image located by Paul Bassinson, 15 August 2022
Source: https://i.ebayimg.com/images/g/SYsAAOSwVZhhShjz/s-l500.jpg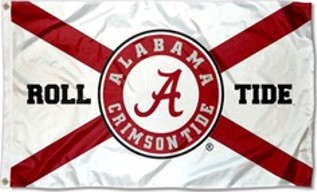 image located by Paul Bassinson, 15 August 2022
Source: https://www.sportsflagsandpennants.com