This page is part of © FOTW Flags Of The World website
Burlington, Vermont (U.S.)
Chittenden County
Last modified: 2020-05-23 by rick wyatt
Keywords: burlington | vermont | chittenden county |
Links: FOTW homepage | search | disclaimer and copyright | write us | mirrors

---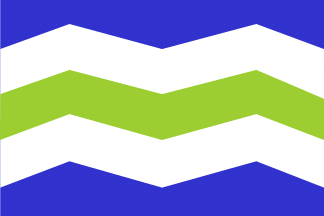 2:3 image by Rob Raeside, 25 July 2018
---
---
See also:

The new flag of Burlington consists of five horizontal stripes arranged in four zig-zags, blue-white-green-white-blue.
Vexi-News, 6 January 2018

The flag is interpreted to include a representation of:
The sky, representing looking back to our rich history and ahead to the unknown future with perpetual hope
Snow covered mountains - an indelible backdrop to our city
The Green Mountain State, Burlington's commitment to the environment, and education
The breakwater, which protects Burlington's spectacular waterfront
Lake Champlain, which sustains and enriches our community and lives.

Vexi-News, 6 January 2018
Public online voting ended on Friday, November 17, 2017. Residents were asked to rate the design and artist statements of the seven finalists from zero to ten. 1,427 residents participated in the voting phase; Owen and Lucas' design received the highest score. Owen and Lucas' design was one of 138 designs submitted for consideration.
Ted Kaye, renowned flag expert and the author of Good Flag Bad Flag, led the committee during the selection process. The committee was comprised of: Jeff Harkness, owner of HARK; Megan Charles, senior at Champlain College; Lila Woodard, a 10th grader at Burlington High School; Paula Willoquet Marcondi, Dean of Creative Media at Champlain College, Richard Dean, City Councilor; and Joyce Sheely, English teacher, and Burlington resident.
Vexi-News, 6 January 2018
Twin brothers Owen and Lucas Marchessault.
Vexi-News, 6 January 2018
The press release for the new flag is at http://www.burlingtoncityarts.org/btvflag. A YouTube documentary of the flag-raising event on 31 December 2017 is also posted.
Vexi-News, 6 January 2018
Here's a picture of the selection committee (https://www.burlingtoncityarts.org/sites/default/files/dsc06682.jpg, source: https://www.burlingtoncityarts.org/btvflag) showing the final seven candidates (in no particular order), out of a total of 130 proposals (source: https://www.burlingtoncityarts.org/burlington-flag), although other sources mention 138 (source: http://www.burlingtoncityarts.org/btvflag):
1. Submission #56 (https://www.burlingtoncityarts.org/sites/default/files/vermont-metro-gallery/btv_flag_elliotschneider.jpg, source: https://www.burlingtoncityarts.org/Vermont-Metro-Gallery/submission-56)
2. Submission #81 (https://www.burlingtoncityarts.org/sites/default/files/vermont-metro-gallery/flagfinal-doneggert.gif, source: https://www.burlingtoncityarts.org/Vermont-Metro-Gallery/submission-81)
3. Submission #74 (https://www.burlingtoncityarts.org/sites/default/files/vermont-metro-gallery/btv-flag-mauss-16.jpg, source: https://www.burlingtoncityarts.org/Vermont-Metro-Gallery/submission-74)
4. Submission #45 (https://www.burlingtoncityarts.org/sites/default/files/vermont-metro-gallery/btv_flag_submission_file.jpg, source: https://www.burlingtoncityarts.org/Vermont-Metro-Gallery/submission-45) (this was the selected proposal)
5. Submission #14 (https://www.burlingtoncityarts.org/sites/default/files/vermont-metro-gallery/flag_submission.jpg, source: https://www.burlingtoncityarts.org/Vermont-Metro-Gallery/submission-14)
6. Submission #126 (https://www.burlingtoncityarts.org/sites/default/files/vermont-metro-gallery/20171015_burlington_flag.jpg, source: https://www.burlingtoncityarts.org/Vermont-Metro-Gallery/submission-126)
7. Submission #83 (https://www.burlingtoncityarts.org/sites/default/files/vermont-metro-gallery/flag-2.jpg, source: https://www.burlingtoncityarts.org/Vermont-Metro-Gallery/submission-83)

The official flag design of the City of Burlington shall be freely available for public use and reproduction"

The flag was adopted at Regular City Council Meeting on November 27, 2017, "5. Deliberative Agenda", with a total vote of 11 Councilmen in favor.
Source: https://www.boarddocs.com/vt/burlingtonvt/Board.nsf/Public

There were some previous logos and Seals to identify the city, as follows:
- Official logo: https://en.wikipedia.org/wiki/Burlington,_Vermont#/media/File:BurlingtonVT_Logo.svg , source: https://en.wikipedia.org/wiki/Burlington,_Vermont
- Another official logo: http://www.nancyjenkins.com/agent_files/Burlington_Logo(1).jpg, source: http://www.nancyjenkins.com/Burlington-Vermont-Real-Estate
- Yet another official logo (same as the above, but with different color composition): https://www2.burlingtonvt.gov/Adopt-A-Drain/img/DPWLogo.png, source: https://www.burlingtonvt.gov/DPW
- Seal: https://www.burlingtonvt.gov/sites/default/files/images/cityseal/CitySeal_128x128.png, source: https://www.burlingtonvt.gov/ (Here's a bigger image: https://enjoyburlington.com/wp-content/uploads/sites/10/2016/05/COB-logo.png, source: https://enjoyburlington.com/event/committee-on-accessibility-open-forum/)

For additional information go to Burlington (official website): https://www.burlingtonvt.gov/
Esteban Rivera, 8 October 2018
---
Former flag
image by António Martins-Tuválkin, 1 February 2008

The flag of Burlington is divided horizontally. The upper section is medium blue, with a curved scroll in yellow with BURLINGTON in red. In the top half of the lower section is a mountain range in dark and medium green. Below it is a lake in light blue with four medium-green islands near the hoist. In the center of the flag is a quartered shield. The first quarter is royal blue with a white dove flying toward the hoist; the second is red with a yellow "lamp of knowledge" with a white flame; the third is yellow with seven dark green pine trees placed from top to bottom 2,2,2,1; the fourth is royal blue with five white narrow horizontal stripes charged with thin black stripes; overall are the two masks of the theater, tragedy and comedy, in white and outlined in black. In the center of the shield is a white globe centered in the mid-Atlantic Ocean (depicted in light blue) with the edges of North and South America, Greenland, and Europe and Africa depicted in dark green. Between the first and second quarters, above the globe and emanating above the shield into the center of the scroll, is a city hall image in white, outlined in black, with a yellow dome atop a tower (the new city hall is shown, as opposed to the image of the old city hall that appears on the city seal). The tower overlaps a yellow half-disk with four red conjoined triangles in a semi-circle touching its top on either side of the tower; the dome overlaps the scroll below the "N" of the city's name
James Croft, American City Flags, Raven 9-10, 2002-2003

The medium blue represents the sky, while the light blue symbolizes Lake Champlain, one of the largest lakes in the United States, on which Burlington is located. The mountain range is New York's Adirondack Mountains, the view from Burlington westward across Lake Champlain. The islands are the Four Brother Islands, with Juniper Island farthest from the hoist.

The first quarter's dove symbolizes peace and Burlington's connections to its sister cities: Yaroslavl, Russia; Puerto Cabezas, Nicaragua; Burlington, Ontario, Canada; and, since the introduction of the flag, both Arab and Israeli Bethlehem, Israel. The second quarter's lamp of knowledge represents the colleges and universities in Burlington: The University of Vermont, Champlain College, Burlington College, and Trinity College (which closed in 2001). It also represents the city's commitment to education and in particular its public schools.

The third quarter's pine trees represent the city's commitment to the environment and conservation. According to the flag's official description, the pine tree was chosen because it is "the state tree of Vermont", although the sugar maple is actually the state tree. However, the pine tree does prominently figure on the Vermont state seal and on the Vermont coat of arms. Two pine boughs flank the arms and are referred to as the "Vermonter's badge", as troops from Vermont wore such a badge in 1814 at the Battle of Plattsburgh. The fourth quarter's theater masks reflect the city's love of the arts. The globe represents the theme of "we are one world".
James Croft, American City Flags, Raven 9-10, 2002-2003


A group of students in the Paradise Project at Edmunds Middle School developed the flag. The project was conceived and led by Cara Wick, an eighth grader.
James Croft, American City Flags, Raven 9-10, 2002-2003

Students at the Edmunds Middle School in Burlington, Vermont.
James Croft, American City Flags, Raven 9-10, 2002-2003

The former flag was designed in 1990 by Cara Wick, of Edmunds Middle School.
Esteban Rivera, 8 October 2018

Burlington's flag is not mentioned in the City Code, although the Seal is. The assistant to the mayor said it was designed for the purpose of trading copies with sister cities in other countries, he thought. He promised to get more info about its symbols. It was designed about 10 years ago by 8th graders.
Dave Martucci, 7 May 2002
---
Reverse of flag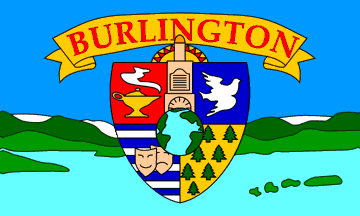 image by António Martins-Tuválkin, 1 February 2008

The flag's reverse is a mirror image except that the name is lettered correctly.
Dave Martucci, 7 May 2002
---
Detail of shield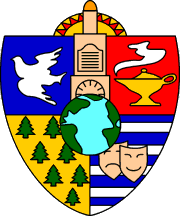 image by António Martins-Tuválkin, 1 February 2008
---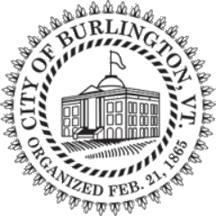 image located by Paul Bassinson, 31 January 2020
Source: https://enjoyburlington.com/
Paul Bassinson, 31 January 2020
---
Former flag? (probably mistaken identity)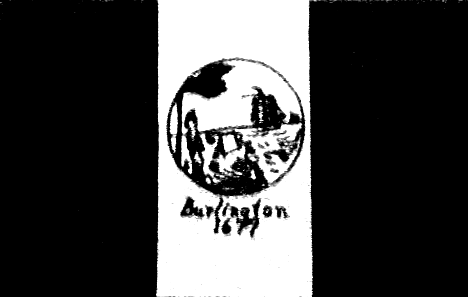 image by Dave Martucci, 7 May 2002
We had an old illustration (probably more than 20 years old) in black and white of three vertical stripes of dark-light-dark, with a seal-like emblem in the center showing a shore scene and a ship and below the inscription "BURLINGTON" and "1679". The colors are not known and no one at City Hall had ever seen the flag.
Dave Martucci, 7 May 2002
The image seems to read 1677 not 1679. Burlington, Vermont was not established until 1763; Burlington, New Jersey was first settled in 1677. Moreover the image on that flag resembles the seal of Burlington, NJ, and the city flag for Burlington NJ is a vertical triband of gold/white/gold with a seal. See www.burlingtonnj.us/ for image of the seal and a very small image of the flag
Ned Smith, 26 March 2005