This page is part of © FOTW Flags Of The World website
Staten Island, New York (U.S.)
Borough of Staten Island, Richmond County
Last modified: 2018-07-27 by rick wyatt
Keywords: staten island | new york | borough | richmond county |
Links: FOTW homepage | search | disclaimer and copyright | write us | mirrors

---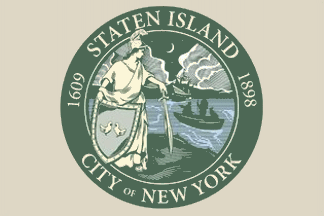 image located by Vexi-News, 7 October 2017

---
---
See also:
---
Description of the flag
From New York Times, 2 October 2017:
Nobody is taking to the streets in protest, but the borough president, James Oddo, actively disliked a banner that was created in 1971. It showed birds flying above a big hill, along with wavy blue lines representing the island's surrounding waters. Sounds bucolic, no? Not to Mr. Oddo. The slope reminded him of the unlamented Fresh Kills landfill, where New York City dumped its solid waste until the landfill closed in March 2001. (It was temporarily reopened after the Sept. 11 attacks so that rubble from the World Trade Center could be sorted.) The birds looked to Mr. Oddo like sea gulls ready to feast on garbage. "I always thought it was ugly," he said of the flag.

Mr. Oddo and a senior adviser, Emil Micha, came up with a new flag, which The Staten Island Advance reported last week had finally found favor at City Hall. It revives an old borough seal, the dominant feature being a female figure holding a shield and a downward-pointed sword. She looks out on the Narrows, where two vessels can be seen, one of them Henry Hudson's ship, the Half Moon.
Vexi-News, 7 October 2017
---
Previous flag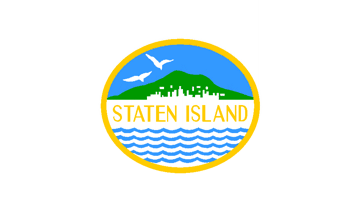 image(s) by permission of David B. Martucci
image(s) from American City Flags, Raven 9-10 (2002-2003), courtesy of the North American Vexillological Association, which retains copyright.
---
From: Staten Island Chamber of Commerce
OFFICIAL FLAG OF STATEN ISLAND:
The flag is on a white background in the center of which is the design of a seal in the shape of an oval. Within the seal appears the color blue to symbolize the skyline of the borough in which two seagulls appear colored in white.

The green outline represents the countryside of our borough with white outline denoting the residential areas of Staten Island. Below is inscribed the words Staten Island in gold. Under our borough name are five wavy lines of blue to symbolize the water surrounding us on all sides. Gold fringe outlines the flag.
Dov Gutterman, 29 October 2000

Staten Island became a Borough in 1977, when the Former Borough of Richmond changed its name. Even before that, there was interest in a Staten Island flag and a contest was held in 1971 that created the elements that were finally used in the present flag. The contest design had the emblem in a rectangular form and a sun in place of the two seagulls.

The flag was adopted in early 2002 (I'm still looking for the exact date) and has the Borough emblem in an oval form centered on a white flag. It consists of the island and it's buildings as seen from the Staten Island Ferry with two seagulls flying overhead, and some waves down below. In between the island and the waves is the name "STATEN ISLAND" in gold letters and the entire emblem is surrounded by a gold oval.
Dave Martucci, 24 November 2002

The flag was in official use on January 1, 1998, at the latest. I'm looking at photos of the inauguration ceremonies of that day now. The seal is more elongated, and almost pointed at the edges (think football). The water takes up a bit less than half the seal, the words resting on the center line. "Staten Island was formerly officially named the Borough of Richmond. It is still the same geographically as the County of Richmond, but it is unknown if the County (or any of the NYC Counties) has a flag."
Nathan Lamm, 1 December 2002

On this site:
www.gothamgazette.com/searchlight2001/straniere.html is an interview with Assemblyman Robert Straniere in which he speaks about the Staten Island flag. I have also traced the legislation he is proposing. Here is my summary:

The flag is the result of a contest held by Borough President Connor in 1971. It has flown over the Staten Island Advance and Chamber of Commerce buildings, and is on display in City Hall and Staten Island Borough Hall. Only the Borough flags of the Bronx and Brooklyn are referred to in state law. The flags of Manhattan, Queens, and Staten Island are omitted. So Assemblyman Robert Straniere has introduced a bill into the State Assembly, and his colleague State Senator John J. Marchi has introduced the same bill into the State Senate, to make the Staten Island Borough flag official in state law. Why? In Assemblyman Straniere's own words:

"So I have a bill in to make the flag that has existed for thirty years that few people know about the official flag of Staten Island, and actually I've been taking every opportunity to describe the flag and present the flag. The flag also is a symbol of our borough, and the makeup of the flag tells a lot about our borough."

Here is a link to the assembly bill, introduced in 2003; the Senate bill is identical. Note the official description is exactly the same as before, except the seal is introduced as "the seal" rather than "a seal", implying that it is -the- official seal of Staten Island rather than just a seal on a flag, but this innovation may just be a typographic error. The bill is slowly working its way through the legislative mill and I rather expect it will eventually pass unopposed, but it has not come to a vote yet.

Richard Knipel, 27 July 2004

It appears that the Staten Island flag may not fly anywhere in the borough, at this time. It doesn't fly above Borough Hall or the SI Chamber of Commerce (at least not above the main office on Bay St.) Today I drove by the main building of the Staten Island Advance (our local newspaper) and it doesn't fly there, either.
Thorsten, 13 August 2004
---
Former Borough of Richmond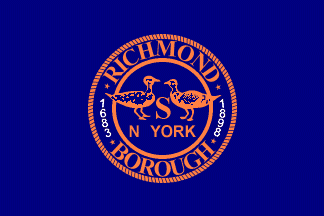 image by Blas Delgado Ortiz, 13 June 2001
The [first] flag of Staten Island, was adopted in 1848 and is blue with the seal (containing an 'S' for the Dutch Staten) in orange.
Mark Sensen, 3 June 1998
Staten Island's flag was more likely adopted in 1898 when the Borough of Staten Island was established. The flag described as an "S" on a white field may be obsolete.
Joe McMillan, 3 July 2000
Before 1975 it was the Borough of Richmond. The Borough of Staten Island is coterminous with the County of Richmond, they are geographically the same.

Richmond is the county name for the borough of Staten Island (notice the county name is English, the Borough name Dutch - a common occurrence). And yet, of all the boroughs, Staten Island was frequently known by its county name, even in place of its borough name. This was frequently seen on maps from the 1950's. The flag may well be legitimate, even though it has some errors (the two dates should not be together- the first is a county date, the second a borough/city date. Also, "S" and "N" for "Staten" and "New" are not complete, and...gulls???). But these may just be design errors, as may be "Richmond Borough" itself. In any event, the flag is no longer used.

The Richmond flag has two dates: 1683 and 1898. The first date is the establishment of the county government. The second date is when the five boroughs were incorporated into a consolidated City of New York.
Nathan Lamm, Al Kirsch, Ned Smith, Joe McMillan, June 2001
Staten Island was formerly officially named the Borough of Richmond. It is still the same geographically as the County of Richmond, but it is unknown if the County (or any of the NYC Counties) has a flag. Its flag was adopted in 1948, according to THE FLAG BULLETIN, Vol. II, No. 4, Summer 1963, page 46. It had a blue field with the seal of the Borough in the center, according to the article, in orange with the dates in white. While drawing this flag from the FB illustration (which was a line drawing). I have put the two seagulls and the stars and encircling rings in white with the name of the borough in orange and the other two inscriptions "N YORK" and "S" (standing for the Dutch word "Staten" which is a kind of governing body, originally headquartered on the island by the Dutch) in blue on the orange center. This coloring is strictly unofficial pending further research.
Dave Martucci, 24 November 2002
I can now say for sure the sea gulls were orange. The New York Times published a pictorial article on 27 April 1958 that states such. So now I'd say everything about the seal is orange except for the two dates in white, but I repeat this coloring is strictly unofficial pending further research.
Dave Martucci, 13 July 2015
This article in Raven, 2002 - 9, p. 243 appears to have white seagulls on orange. I'm not sure about this: On the one hand an orange seal on blue doesn't seem all that readable, on the other you'd expect the seal to be a bicolour. Well, the seal itself ought to appear on quite a few documents, thus that part ought to be fairly easy to find. Further research is indeed indicated, it seems.
Peter Hans van den Muijzenberg, 10 August 2015
I have contacted the present Borough Historian of Staten Island and the Borough had/has a different seal than what appeared on the flag. That seal was a variant of the County Seal, which has colonial origins. So the Richmond Borough flag did not have the Richmond Borough Seal on it, it had a variant of the Richmond County seal on it. Confused yet? The County Seal is apparently little used and the only image of it I have found so far is a carving on the old county court house. The historian did not know anything about the Richmond Borough Flag. The search continues...
Dave Martucci, 10 August 2015