This page is part of © FOTW Flags Of The World website
Plymouth, Massachusetts (U.S.)
Plymouth County
Last modified: 2020-06-13 by rick wyatt
Keywords: plymouth | massachusetts | plymouth county |
Links: FOTW homepage | search | disclaimer and copyright | write us | mirrors

---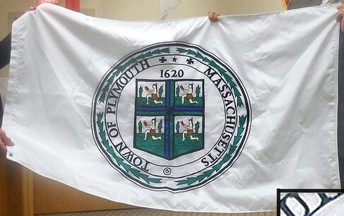 image based on www.state.ma.us/bsb/images/Plymouth.jpg
---
---
See also:
---
Description of the flag
A white flag, with the town seal in the center. The seal consists of a shield quartered by a black-blue-light blue-green edging, showing in each quarter a kneeling native in front to two trees. The town and state names are inscribed on a white ring around the shield and outside that are leafy branches. Plymouth is in Plymouth County.

From the town homepage www.townofplymouth.org/
"Most Americans are familiar with the story of the pilgrims' voyage across the Atlantic aboard the Mayflower, and their landing at Plymouth Rock. Today, Plymouth Rock is just one of the sites that tell the story of Plymouth."
Dov Gutterman, 18 December 2002

A new image and more details about this flag are provided at www.wickedlocal.com/plymouth/news/x2107491067/New-Plymouth-flag-unveiled#axzz26F9lkHTm
New Plymouth flag unveiled
by Frank Mand

A colorfully embroidered flag recently installed in the Mayflower Room at Town Hall offers much more than meets the eye, for those who care to take a closer look. It's the official town flag of Plymouth, unveiled to the public at the most recent meeting of the Board of Selectmen. It replaces an unofficial flag that has been displayed in the Mayflower Room, where the selectmen meet, for as long as most staffers can remember. This present, official town flag has actually been around for 17 years.

It was designed in 1995, in response to a request from the State House to display flags from every municipality in Massachusetts as part of the celebration of 200th anniversary of the laying of the cornerstone for that now iconic gold-domed building. When that request was made Pamela Hagler, the town's procurement officer, determined that since there was nothing suitable in existence at the time, a new flag needed to be designed. The flags that were created - a larger version still resides in Boston - were based on the town seal with additional input, Hagler said, from historians at Pilgrim Hall Museum.

The flag has as its center a shield of sorts, divided into four equal segments by a cross, in which four figures, each on one knee, seem to be making an offering. On the official town flag that offering is a vague, brown, almost rectangular shape, presented by a Native American on one knee with a single feather protruding from the back of his head. Some say that offering - on this new flag at least - is supposed to be corn, and others insist it is a tobacco leaf.

At first glance the four figures on the flag look very similar, but there are subtle differences. And on many depictions of the original seal that can be found in reference books or three-dimensional re-creations, those differences seem even more pronounced. Just examining this flag you can't help but wonder what, if any, meaning lies hidden in the arrangement and symbols. Are these figures supposed to represent four separate Native American leaders? Four tribes? Four seasons? Do their offerings reflect, as we have been taught to believe, the practical knowledge that the native people shared with the Pilgrims?

A little more research provided interesting, if conflicting ideas. There are, for example, a variety of references suggesting that the four figures are each holding what they refer to as the "burning heart of John Calvin." Still used by the town of Plymouth, the seal of the Plymouth Colony was designed in 1629. It depicts four figures within a shield bearing St George's Cross, apparently in Native-American style clothing, each carrying the burning heart symbol of John Calvin. The seal was also used by the County of Plymouth until 1931.
- Samuel Adams Drake (1833-1905). Nooks and corners of the New England coast. p. 267. New York: Harper and Brothers, 1875.

In 1629, the Plymouth Colony adopted a seal that featured a shield with a Saint George's cross on it, in between the arms of which is a scene repeated four times of a human figure on one knee holding up something in offering (sometimes described as a heart or as a flame) between two trees.
- David Martucci, "Flags of New England"

It's true that the Pilgrims were Calvinist Christians, following the precepts of the famous Protestant reformer, John Calvin. But a little more research shows that same John Calvin - who had his own seal for his personal documents - used the symbol of a heart held by a hand: not a burning or flaming heart. Furthermore, it is generally accepted that the Pilgrims tried to keep their religious fervor under the radar, when dealing with those who sanctioned and funded their expedition, aware that their religious beliefs were not popular amongst the ruling class in England. Were the Pilgrim leaders involved at all, in the commission of that first seal, or was it the so-called "Adventurers" who were funding what was supposed to be a for-profit expedition? Even if the Pilgrim leaders had been involved directly in the procurement of the original seal, would they have deliberately announced their religious beliefs on the seal that was required on all official documents, including the charter that established their colony?

Historian Samuel Eliot Morison had another opinion. Town Clerk Laurence Pizer, who is well known for his knowledge of Plymouth history, pointed out that the renowned historian - in his 1952 version of William Bradford's Of Plymouth Plantation - had specifically addressed the debate over the meaning of the colony's seal. "Attempts by several antiquarians to read significance into the meaning of the four naked kneeling figures and the doubtful object (bouquet, bunch of tobacco leaves, plumed heart?) that they are holding," Morison wrote in the introduction, "have been unconvincing." If the Pilgrims had been consulted, Morison goes on to say, they would never have used kneeling figures. If they had wanted to represent themselves presenting something, Morison believes codfish or beaver would have been the likely choice. "In my opinion," Morison concludes, "the Seal had been prepared by a die-cutter in London for an individual or corporation who did not pay up, and was then bought cheap by the Adventurers (the group that funded the expedition) and fitted with a new date and inscription."

Has the town been using a used seal to authenticate documents for nearly 400 years?

Wherever your opinion lies, if you look around Plymouth there is a seal (or a flag) that should suit you:
- The official town flag displayed in the Mayflower Room offers a depiction of what are clearly native people, offering a shape that is most likely a tobacco leaf.
- What appears to be the exact same circa 1995 flag, in a display case on the first floor of the Town Hall, has a depiction of those same native people, but they are holding a flaming shape.
- The seal that is embossed on the cover of a late 20th century edition of Morison's version of Plymouth Plantation shows four stylized humanoids holding some kind of three-leafed plant.
- The seal depicted in a 19th century Massachusetts book has four figures who are not necessarily Native Americans, holding what could be a large apple or a heart as big as their heads, or a birthday cupcake.
- The sculptor of a three-dimensional re-creation of the seal that is on the wall of the new Registry of Deeds off Obery Street offers naked, brown-skinned humanoids offering flaming hearts.
- The artist responsible for another depiction of that same seal - contained in glass in the Registry building - shows each of the four Native Americans holding out an empty bowl.
- There is also a floor mat inside police headquarters on Long Pond Road, which was apparently inspired by the original seal.

Take your pick.

Thanks to Plymouth Procurement Officer Pamela Hagler, Town Clerk Laurence Pizer, and Plymouth County Register of Deeds John Buckley, for their insights and suggestions.
José Manuel Erbez Rodríguez, 12 September 2012
---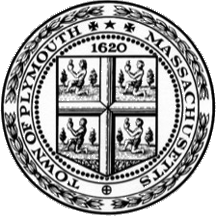 image located by Paul Bassinson, 3 May 2020
Source: https://images.squarespace-cdn.com
Paul Bassinson, 3 May 2020