This page is part of © FOTW Flags Of The World website
Amherst, Massachusetts (U.S.)
Hampshire County
Last modified: 2021-05-01 by rick wyatt
Keywords: amherst | massachusetts | hampshire county |
Links: FOTW homepage | search | disclaimer and copyright | write us | mirrors

---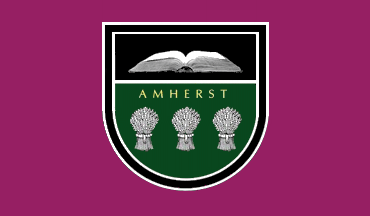 image located by Valentin Poposki, 17 May 2012
---
---
See also:
---
Description of the flag
Quoting Scott Merzback, Daily Hampton Gazette, 17 January 2012:
A town flag designed by renowned Hatfield illustrator Barry Moser could soon be flying in the Great Fall of Flags at the Statehouse in Boston. After nearly two years of discussing how to come up with an acceptable official flag for Amherst, which included a contest in which residents could submit designs, the Design Review Board and Historical Commission Tuesday agreed to recommend to the Select Board one of nine designs provided by Moser.

The flag depicts a U-shaped heraldic shield, which is akin to a coat of arms, set against a maroon backdrop. At the center of the shield is the word "Amherst" spelled out in yellow letters. Above this is an open book, to represent the town as a place where higher learning takes place, and three sheaves of wheat below, indicating Amherst's agricultural roots.
[...]
One reservation, said associate planner Nate Malloy, was that Amherst's farms grew crops other than wheat. "Wheat was not harvested in Amherst," Malloy said. But members of both boards are confident that people who view the flag would understand that wheat is just a symbol for agriculture. They were reluctant to put another crop, asparagus, in its place, because that is more closely associated with Hadley.

The process of creating a town flag was begun by Select Board member Diana Stein in June 2010. The original rules required that the elements of the town seal, the book and the plow, be incorporated into the design. The Select Board received eight submissions, followed by an online vote by the public in November 2010 to choose the top three designs. A review by the Design Review Board and Historical Commission in December completed the process. While the two boards selected elements from three of the submissions to incorporate into the final design, none of the designs was considered strong enough to merit moving forward. Moser, whose involvement in project was initiated through contact by Select Board member Jim Wald, will be asked to refine some details of the design over the coming weeks, first by inserting the town's founding date and also by providing information about the specific Pantone colors that should be used. Moser is best known for completing the first illustrated edition of the Holy Bible since the mid-19th century, and won the National Book Award for Design in 1983 for Lewis Carroll's "Alice's Adventures in Wonderland."
gazettenet.com/2012/01/17/moser-design-selected-for-amherst-town-flag - with an image of the flag.

The contest organized in 2010 is presented below. The original submissions are also presented on Jim Wald's blog, 2 November 2010 (arranged in a different order when compared with the original survey website, now closed).
tofindtheprinciples.blogspot.fr/2010/11/run-what-up-flagpole-and-see-who.html

Ivan Sache, 17 May 2012
---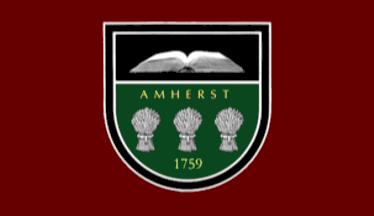 image located by Paul Bassinson, 9 May 2019A more red variant was seen at http://4.bp.blogspot.com and article http://onlyintherepublicofamherst.blogspot.com/2013/01/town-flag-almost-ready-to-flap.html
Paul Bassinson, 9 May 2019
---
Flag contest
The Town of Amherst, Massachusetts, is having a flag contest: www.amherstma.gov/index.aspx?NID=1
Valentin Poposki, 10 September 2010
In "The Republican", 8 November 2010, Diane Lederman recalls that Amherst "is one of about 35 communities that doesn't have a town flag hanging in the Great Hall in the Statehouse." Accordingly, the Select Board held a contest, with 30 October 2010 as the deadline, yielding eight submissions. Then they decided to post the eight entries online and ask the residents to vote. They also sent the proposals to the Design Review Board and the Historical Commission, with results expected for 1 December. Based upon recommendation by the board and the commission, the Select Board will select the winning design by 17 January 2010.
www.masslive.com/news/index.ssf/2010/11/amherst_residents_invited_to_h.html

The municipal website shows the flag proposals and asks the visitors [not only the Amherst residents!] for their first choice, second choice and third choice.

Proposal No. 1.
Blue flag with the town seal, in colors. The town seal shows an open book and a plough.

Proposal No. 2.
Violet flag with a white ascending diagonal stripe, a white open book in canton; along the hoist, a vertical white stripe charged with the writing "AMHERST / MASSACHUSETTS / 1759". The book recalls Amherst- based Amherst Collage, University of Massachusetts and Hampshire College. The colors are those of Amherst College.

Proposal No. 3.
Horizontally divided blue-green flag, with a white fimbriation and the town seal, in black and white, in the middle.

Proposal No. 4.
Landscaped flag showing University of Massachusetts against the Mount Holyoke range with the town seal inside the sun.

Proposal No. 5.
Variant of proposal No. 2. The ascending diagonal stripe, brown with a white border, is charged with three white spears, derived from the coat of arms of Lord Jeffrey Amherst, the town's namesake.

Proposal No. 6.
Horizontally divided white-violet-white-violet-white flag, a canton quartered per saltire white-violet charged with the town seal, in black and white. The colors have been selected to accommodate those who are color-blind. The five stripes represent the five area Colleges.

Proposal No. 7.
Red flag with a white open book and a plough (from the town seal) and the white writing "AMHERST MASSACHUSETTS" in the bottom.

Proposal No. 8.
Variant of proposal No. 2. The ascending diagonal border is black and brown, with a white fimbriation. The stripe represents University of Massachusetts.

http://216.34.99.34/survey/317307/1708 (no longer active)

Ivan Sache, 12 November 2010
---
Other proposals for the flag
The proposals submitted by Barry Moser are shown on Jim Wald's blog, 10 January 2012. They all include the "U-shaped heraldic shield", hereafter referred to as "shield".

Proposal No. 1. Buff field, black shield with a plow over a book, all in white, "AMHERST" in blue letters written above the shield.
Proposal No. 2. As No. 1, but shield and writing shifted to the flag's hoist.
Proposal No. 3. Blue field, black shield with a wheat sheaf surrounded by "17" / "59" over a oil lamp, all in white.
Proposal No. 4. As No. 3, with "AMHERST" in dark blue letters added below the shield.
Proposal No. 5. Blue field with a white triangle, apexes in the lower left and right corner and in the midpoint of the upper edge, in the middle, the same shield as No. 3 and No. 4.
Proposal No. 6. Violet field, shield horizontally divided orange-black, in the orange part a white book, below it the Roman numeral "MCCCMLIX", in the black part, a white wheat sheaf; the shield shifted to the flag's hoist.
Proposal No. 7. As No. 6, Roman numeral transferred to the upper part of the black field, the wheat sheaf replaced by a plough.
Proposal No. 8. As No. 7, Roman numeral transferred to the flag's field, right of the shield, the plough vertically mirrored, handle at hoist.
Proposal no. 9 (eventually accepted). Violet field, shield green with a chief orange, in chief a white book, in the green part three wheat sheaves surmounted by "AMHERST", all in white, the shield centered.
tofindtheprinciples.blogspot.fr/2012/01/something-new-new-to-run-up-flagpole.html

Ivan Sache, 17 May 2012
---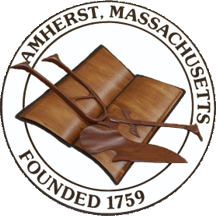 image located by Paul Bassinson, 3 May 2020
Source: https://www.amherstma.gov/images/CivicAlerts/1/TownSeal.png
Paul Bassinson, 3 May 2020
---

image located by Paul Bassinson, 20 March 2021
Image obtained from https://www.facebook.com/AmherstMApolice/photos/3506572339358286
Paul Bassinson, 20 March 2021