This page is part of © FOTW Flags Of The World website
Peoria, Illinois (U.S.)
Peoria County
Last modified: 2019-08-09 by rick wyatt
Keywords: peoria | illinois | peoria county |
Links: FOTW homepage | search | disclaimer and copyright | write us | mirrors

---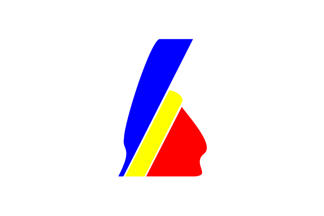 image located by Aleksandar Nemet, 1 September 2009
Source: en.wikipedia.org
---
---
See also:
---
The City
On January 5, 1680, French explorers, soldiers and fur traders Henri de Tonti and (René-Robert Cavelier, Sieur de) La Salle, along with 30 men, built a small fort on the east bluff of the Peoria river valley and christened it Fort Crévecoeur (English: Broken heart) because of the tribulations, including desertions, that they suffered during its construction. The fort was the very first European building ever constructed in the Midwest, however it was destroyed afterwards. Later, in 1813 Fort Clark, Illinois was built. When the County of Peoria was organized in 1825, Fort Clark was officially named Peoria.

Some other sources mention 1691 as the establishment date when it became permanent. The city is named after the Peoria tribe. The settlement was incorporated as a Town in 1835 and incorporated as a City in 1845.
Sources:
www.peoria.org
www.peoriahistoricalsociety.org
www.peoriahistoricalsociety.org
en.wikipedia.org
en.wikipedia.org
en.wikipedia.org

Esteban Rivera, 19 January 2018
---
Description of the flag
The City of Peoria, Illinois, uses an unofficial flag - white background with an "Indian Head rainbow" logo on it. It can be seen in Wikipedia: en.wikipedia.org/wiki/File:Unofficialpeoria.svg. There is proof that the flag is used in several photos, the one with clearer view is here: web.archive.org/web/20050424195000/www.peoriapd.com/s3.JPG.
Aleksandar Nemet, 1 September 2009
---
Adoption of new flag
The flag reported by Aleksandar Nemet dates as far back as April 24, 2005, on a picture during a parade by the Peoria Police Department from their defunct official website at www.peoriapd.com/, available in its new location at www.peoriagov.org. This old flag featured a Peoria tribe Indian with three colors in equally vertical divided stripes, first blue (over a feather silhouette, then yellow and the face in red. It was even featured in City's services, such as its Police Department Badge and Fire Department Badge.

There was an initiative back in 2008 to change their old logo, as follows:
The City of Peoria will hold a community forum on June 2, 2008, at 6:00 p.m., to give the community the opportunity to have input about a new logo for our City. The forum will be held at the Peoria Civic Center in Room 220.

Our objective is to develop an overall identity theme linked to the City itself, and to provide consistency and clarity in the way the City communicates with the public through its graphics, signage, advertising, and marketing. The common theme and graphic image would better define and communicate the City's assets and benefits of its programs and services.

The Mayor and City Council Members believe that an important aspect of designing a new logo is having input from the entire community. The City wants to know what you think. We want to know what you believe are the important qualities about our City and the things we should consider when the logo is designed.

We have also designed a web survey that we encourage you to take prior to the June 2nd forum. It will only take a few minutes to complete and will provide us with important information to use in the designing of the new logo.
logopeoria.com.
The City Council approved funding for the design of a new City logo on March 25, 2008. In the City Council Minutes, pages 9-10 it reads: "Interim City Manager Henry Holling explained that development of the 2008 City of Peoria Budget included funds for design of a new corporate identity or logo. He stated it was felt the Indian Head logo, adopted in 1975, had served the community well but needed to be refreshed, updated and revitalized, in order to reflect the progressiveness, growth, energy, diversity and vision of a modern urban community. He said those in the private sector recognized that an ounce of image is worth a pound of performance and many locally based firms had redesigned their logos two or even three times in the past 30 years. He said the Marketing Committee established to select a firm to redesign the city's logo consisted people both within and outside the City's employment. Interim City Manager Holling said he was informed that the Indian Head Logo expense in 1970 was $30,000, which equated to $118,000 in today's dollars. Motion to approve Converse Marketing to perform design service for a logo and rebranding for the City of Peoria was was approved by roll call vote: Yes (10), Nay (0). Mr. Jason Sires representing Converse Marketing, thanked the Council for the ability to be involved with the process of redesigning the City's logo"

The sources allocated for that project were $30,000 (dollars). The company hired for that purpose was Converse Marketing which is a "Market research, business strategy, advertising and communication design (company), which finally came up with the new logo for the City"

The voting was online from eight proposals. The chosen logo is seen here:
peoriachronicle.com
Sources: peoriachronicle.com
www.conversemarketing.com

The new logo was approved by the City Council on December 9, 2008, as follows: "The City Council on Tuesday night chose a new logo for Peoria to replace the Indian-head logo. The new logo is pictured to the right. It's blue, green, and yellow, and features (in respective order from left to right) the silhouettes of The Twin towers, Commerce Bank (official website: www.commercebank.com ) building, and Murray Baker bridge. The city paid Converse Marketing $30,000 to design the new logo.

The City Council Minute states (pages 7-8) that a motion to approve a new logo for the City of Peoria was approved by roll call vote: Yes (8), Nay (2), after Jane Converse and Jason Salyers of Converse Marketing presented the proposed new logo and brand message along with tagline options (branding) for the City of Peoria..."
Source: peoriachronicle.com

The new flag features the new logo, plus some additions (on the right it reads CITY OF, and below PEORIA, all in blue capitals, the city's name in bigger size) over a white horizontal background as seen here (second flag from top to bottom): mediad.publicbroadcasting.net
(source: peoriapublicradio.org). In this picture the flag also displays the word "ILLINOIS" below the city's logo.

Here's a variant (0:12-013) not featuring the State's name: www.youtube.com

For additional information go to Peoria (official website): www.peoriagov.org/

Esteban Rivera, 19 January 2018
---
Seal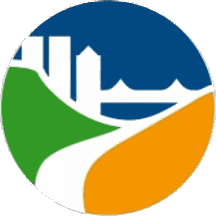 located by Paul Bassinson, 10 July 2019
Image obtained from https://suvchicagolimo.com/
Paul Bassinson, 10 July 2019