This page is part of © FOTW Flags Of The World website
Peachtree, Georgia (U.S.)
Last modified: 2022-07-15 by rick wyatt
Keywords: peachtree | georgia | fayette county |
Links: FOTW homepage | search | disclaimer and copyright | write us | mirrors

---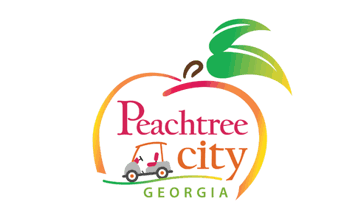 image by Masao Okazaki, 8 June 2022
---
---
See also:
---
"The area that is now Peachtree City was first settled by Woodland Era Indians about 2,000 years ago. In 1775 William McIntosh, Jr., son of a Scotsman and Creek Indian woman, was born. He later became Chief of the Lower Creek Indian tribes that lived in Georgia. McIntosh believed that the Indians and white settlers could live in peace. In 1821 he ceded Creek land to the Federal Government, part of which became Fayette County. McIntosh was killed by fellow tribesmen in 1825, after which his two wives and several of his children stayed for several months at the Ware plantation, located in what is now Peachtree City. In honor of Chief McIntosh, many towns and roads in Fayette County were originally given Scottish names. McIntosh High School is also named in Chief McIntosh's honor. In the 1950's a group of real estate developers amassed over 12,000 acres in Fayette County to build a planned community. Peachtree City was chartered March 9, 1959. The city was planned to be developed into villages, each with its own shopping areas, recreational facilities, and elementary schools. Peachtree City's current villages are Aberdeen, Braelinn, Glenloch and Kedron. In the original plan Peachtree City was expected to have between 75,000 and 80,000 residents. In the mid 1970s, the Land Use Plan was revised to allow for between 40,000 and 50,000 residents."
From: Official Peachtree City website
Ivan Sache, 7 March 2007
---
Description of the Flag
Peachtree has used a new logo and flag since 2019.
Video: https://www.fox5atlanta.com/news/peachtree-city-council-shoots-down-defamation-resolution
Flag closeup: https://images.foxtv.com/static.fox5atlanta.com/
Logo: https://www.facebook.com/photo/?fbid=10157198715278867&set=a.531356304875740
Masao Okazaki, 8 June 2022
---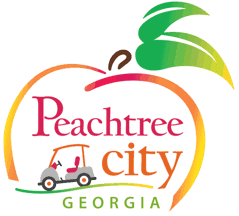 image by Masao Okazaki, 8 June 2022

---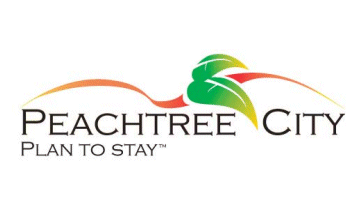 image by Randy Young, 9 June 2014

According to Cindy Morley, "The Fayette Daily News", 2 March 2007, the Peachtree City Council agreed to fund up to $775 for five new city flags. The city flag (the first ever for the city) will bear Peachtree City's newest logo on a white background. "We will fly one in front of city hall and put the four others in reserve right now," said Betsy Tyler, spokesperson for Peachtree City ".

The source shows a big image of the city logo. The very same logo shows on the city website [1] lacks the TM sign. I suppose (hope) that the TM sign will also be omitted from the flag.

Ivan Sache, 7 March 2007
I came across photos of the flag of Peachtree City, Georgia, online while researching law enforcement agencies in the state of Georgia. Peachtree City, Georgia, is a municipality in Georgia's Fayette County. It is the largest city in Fayette County. The flag of Peachtree City is white with the city's official logo printed in the center. The logo itself features two stylized peach tree leaves and what appears to be a red or orange ribbon. Below the ribbon are the words "PEACHTREE CITY" in black, and below that the trademarked phrase "PLAN TO STAY." The flag can be seen in a photograph on the city's Wikipedia page,en.wikipedia.org/wiki/Peachtree_City,_Georgia (en.wikipedia.org/wiki/Peachtree_City,_Georgia#mediaviewer/File:Official_Peachtree_City_flag_in_Peachtree_City,_Georgia.jpg).

Randy Young, 9 June 2014
Variant without slogan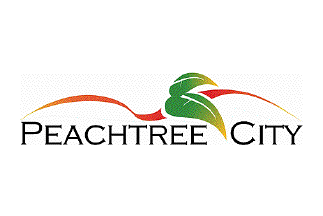 image located by Franc Van Diest
---
Previous flag proposals
Based on www.peachtree-city.org/, a white flag with two narrow vertical blue bars at hoist and fly, and city logo was being proposed as the city flag.
Franc Van Diest, 28 January 2002
City staff is seeking input from citizens on the proposed design of a new City Flag.
Dov Gutterman, 30 May 2002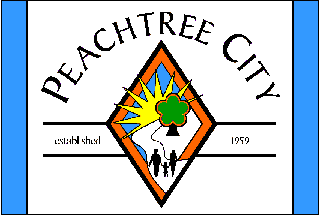 image located by Franc Van Diest
Even if the above-mentioned image did not become an official flag, I have since found evidence that there was in fact a prior flag, one that predated the above 2002 proposal. So the 2007 one was not "the first ever".

From the 27 Feb 2007 online edition of the Atlanta Journal-Constitution: "Though Peachtree City used to have a flag many years ago, the city has not flown a flag at City Hall for a decade or more [emphasis added], said Betsy Tyler, city spokeswoman."
www.ajc.com/Metro/content/shared-blogs/ajc/fayettetalk/entries/2007/02/27/does_peachtree_city_need_a_fla.html

From the Peachtree City Council minutes of 16 Nov 2000:
"Tennant said that he travels often and has noticed that other cities have local flags flying at their City Hall. He learned that in the past, that Peachtree City had a flag as well [emphasis added], and he suggested it was a good idea to consider again. He suggested the City hold a local contest for school children to design a new city flag. Brooks pointed out that the last flag was chosen by a design contest. After a brief discussion, Council felt the contest should be open to all residents of the city. Tennant made a motion to instruct the Recreation Commission to organize a design contest for a new City Flag. McMenamin seconded the motion. Motion carried unanimously." www.ptcgovernment.org/govt/councilminutes/2000/111600.htm

And from the The Citizen Online of 22 Dec 2000:
"Instead of having a citywide contest to design a new city flag, the Peachtree City Recreation Commission wants to hire a professional design firm to do the job."
"Randy Gaddo, the city's director of leisure services, said it was determined that a flag design contest among citizens wouldn't get the desired results. Instead, the commission will hold a public hearing on the proposed flag design before it recommends to the city council that it be adopted."
.....
"The city previously had a banner [again, emphasis added] that was designed using a contest among citizens, but a copy of the banner has not been found, Gaddo said." thecitizennews.com/archive/main/archive-001222/news/ptc-03.html

In summary, from the evidence we currently have:
at some undetermined point in the past Peachtree City had a flag designed by contest from the public; design unknown to us

by 2000 it was no longer in use, and the City planned to introduce a new one; design possibly produced by a professional design firm, and most likely the proposal which was introduced to the public in 2002 and which is shown on FOTW; unknown if it was ever officially adopted, but comments from news report in 2007 suggest probably not

New design adopted in 2007, reconstructed image sent to FOTW mailing list.
Ned Smith, 8 March 2007
---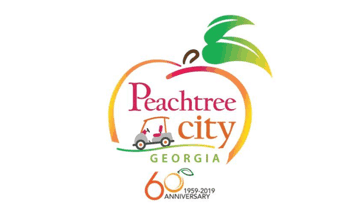 image by Masao Okazaki, 8 June 2022
The city used a 60th anniversary flag in 2019.
https://thecitizen.com/2019/03/05/youre-invited-to-peachtree-citys-birthday-celebration-this-week/
Masao Okazaki, 8 June 2022