This page is part of © FOTW Flags Of The World website
Andalusia, Alabama (U.S.)
Covington County
Last modified: 2021-07-21 by rick wyatt
Keywords: andalusia | alabama | covington county |
Links: FOTW homepage | search | disclaimer and copyright | write us | mirrors

---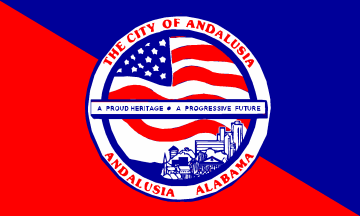 image by Eugene Ipavec, 14 July 2010
Based on image provided by city
---
---
See also:
---
Description of the flag
Andalusia uses a diagonally divided blue (upper fly) over red (lower hoist) flag with the city seal on it.
Dov Gutterman, 23 October 2002
The flag of the City of Andalusia, Alabama, is diagonally divided from top left to lower right, blue over red, with big seal in the center. However, there is also another flag of the city of which I received documentation with an official description, but no image unfortunately:
Gold represents a priceless past and a valuable heritage.
Green is symbolic of growth and the future of community.
White is the color of courageous legendary Andalusian horse, Destinado, whose remains lie beneath the tree which once stood on the public square at the present site of the Prestwood Building. According to the legend, on the trunk of this tree were carved the letters "ANDALUSIA".
Blue stands for the water of the Conecuh which was a source of transportation and trade for the pioneer. It is also indicative of rising waters which flooded the lowlands of Montezuma and led to the move to higher ground where Andalusia, Alabama was founded. A definite Aztec Indian influence is exemplified in the name of the first settlement, Montezuma.
The shield and pikes reflect the special significance of the Spanish explorers who once came through South Alabama.
The Three Notch tree is synonymous with the area's journey through history. The Three Notch Trail was first an Indian pathway through the forest and later a trading route for the Spanish making their way into Indian territory from Pensacola. The trail, cut and established as a roadway by the army to support its garrison of troops stationed at Fort Mitchell in the Creek Nation, today is represented by two of the main streets in Andalusia. The trail also led settlers to the falls on the Conecuh River.
The plow symbolizes the importance of homesteaders and farmers who settled in the community.
The pine boughs portray the timber industry which played a significant role in the economy and in bringing the railroads in 1899.
The train represents an event which with its coming at the turn of the century transformed a village of approximately 250 to a bustling town in just a few short years.
The date 1844 was the first official mention of the town as evidenced by the establishment of the post office on July 18, 1844. Andalusia was first incorporated in 1884.
In 1984 Andalusia Chamber of Commerce officials along with Covington Historical Society members cooperated to establish and recommend to the Andalusia City Council that this city flag be adopted. The City of Andalusia officially adopted this city flag on November 6, 1984 about the time of the 100th anniversary of Andalusia's first incorporation. The original hand-sewn flag is housed at the Three Notch Museum, formerly the Central of Georgia railroad depot, on Historic Central Street in downtown Andalusia (Covington County), Alabama."

The document for the second flag, and image of the current flag courtesy by Angela Petty, Executive Administrative Assistant, City of Andalusia.

Valentin Poposki, 12 October 2009
---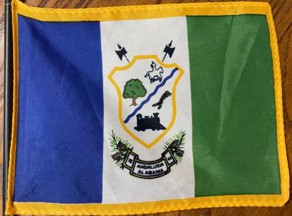 image located by Dave Fowler, 20 March 2021
The photo in this article shows a different city flag. It is hard to determine from the article what if any this flag has with the one pictured above. Curiously, the article mentions a motto, "A Proud Past – a Promising Future," which is similar to the motto on the flag above, ""A Proud Heritage – a Progressive Future."
https://www.andalusiastarnews.com/2021/03/19/remember-when-the-andalusia-city-flag-story/:
REMEMBER WHEN: The Andalusia City Flag Story - The Andalusia Star-News | The Andalusia Star-News
Colonel J. T. Raley, executive vice-president of the chamber, who had served in the military in Europe in his career suggested, "Why not a city flag?" He recalled that every little town and village in Europe had a flag. We began developing ideas to establish a city flag to be used in the schools, at parades, at civic functions not only to promote the city but also to help preserve our proud past.

By this time, Dr. Jim Krudop had become president of the chamber in 1984. The Historical Committee of the chamber along with the Covington Historical Society called several town meetings. Input was received by the many citizens who attended including descendants of Chief Red Eagle, otherwise known as William Weatherford. It can be said that Attorney James Prestwood and Historian Sidney Waits had some colorful suggestions as well as ideas proposed from other local history enthusiasts.

A final design was selected after local artist, Roger Powell, made sketches to consider and choose from Joe Wingard, charter CHS president, played an important role in the wording of the description of the city flag's colors and symbols. After everything was decided on, the City of Andalusia officially adopted this city flag on November 6, 1984 about the time of the 100th anniversary of Andalusia's first incorporation.

The original hand-sewn flag is presently housed and displayed at the Three Notch Museum, the converted and restored Central of Georgia train depot (Circa 1900). Flags were ordered and presented to all of the city and county schools. A number of miniature flags have been given to elementary school classes and students who have toured the museum each spring. They have helped teach the county's children about our heritage.

As we Remember When, be reminded that each color and design on the flag symbolizes something significant regarding this area's history. Visit the Three Notch Museum on Historic Central Street to see the original Andalusia city flag on display that represents "A Proud Past – a Promising Future."
Dave Fowler, 20 March 2021
---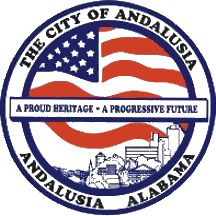 image located by Valentin Poposki, 4 October 2019
Source: https://cityofandalusia.com/
Paul Bassinson, 6 April 2019