This page is part of © FOTW Flags Of The World website
Unidentified Flags or Ensigns Page 3 (2017)
flags submitted in 2017 - Page 3 of 4
Last modified: 2023-04-15 by

zachary harden
Keywords: ufe | unidentified flags | 2017 |
Links: FOTW homepage | search | disclaimer and copyright | write us | mirrors

---
Please note our Policy for Submissions and Enquiries.
Below is a series of images of flags that have been provided to FOTW; some we have recognized, and some we have been unable to recognize. If you can help us identify any of these flags, please let us know! Contact the:

UFE Editor.
Identification Key:
= Positive ID (Positive Identification)
= Tentative ID (Tentative Identification)
= Some Speculation
---
17-20. Unknown Flag from Movie Colossus Positive ID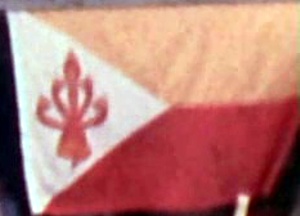 This flag has been identified and is now located here at Discussions about Unidentified Flags Appearing in Movies.
---
17-21. Unrecognized Pennant Positive ID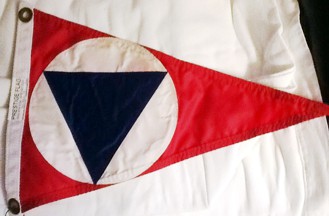 Image from Bobbe Rose, 20 April 2017
We recently purchased a sailboat and found this pennant on board. We are unable to ID it and hope that maybe someone out there recognizes it. The triangle is deep blue but hard to tell in the photo.
Bobbe Rose, 20 April 2017
I don't recognise this pennant, but the maker is Prestige Flag, which I think is in San Diego, California, so I am guessing it is likely a US yacht club.
Rob Raeside, 21 April 2017
Good guess. Assuming it's upside down in the photograph, it could be the Shennecossett Yacht Club, located in Groton, Connecticut, USA.
Peter Hans van den Muijzenberg, 2 April 2017
---
17-22. Unknown Shipping Company (AG/UFE) Positive ID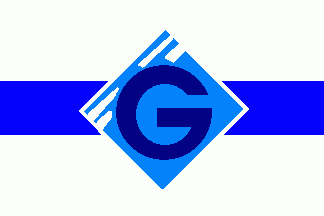 Image from Klaus-Michael Schneider, 16 May 2017
A white flag with central dark blue stripe, over all a light blue diamond four times frayed white and charged with a dark blue "G". Via its IMO and port of registry (St. Johns). I found out that the ship was registered in Antigua and Barbuda. (spotted on 26 April 2017 in Brønnøysund) Does anybody know this shipping company?
Klaus-Michael Schneider, 16 May 2017
Can the same data perhaps be used to trace the company?
Peter Hans van den Muijzenberg, 16 May 2017
Sorry, at least I can't. That's why I asked the list.
Klaus-Michael Schneider, 16 May 2017
Well, let's see. Took a bit of tweaking to get the right search words, but:
- It's the "Niklas G".
- Its time-share operator is Meriaura.
- Meriaura also time share a Nikar G.
- Mentioned for the Niklas G and Nikar G both is GERDES REEDEREI.
- Reederei Gerdes Gruppe is at this website.
- The site uses as its logo a flag that apart from the shades is identical to your drawing.
Peter Hans van den Muijzenberg, 25 May 2017
Didn't see that Norwegian flag. Wonder why they fly the Antigua and Barbuda flag?
Klaus-Michael Schneider, 30 May 2017
---
17-23. Unrecognized Tibetan army flags Some Speculation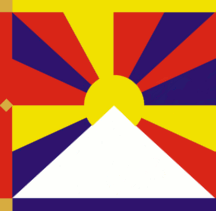 #17a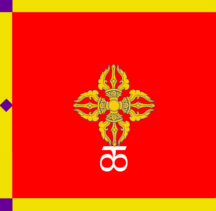 #17b
Images by Corentin Chamboredon, 18 April 2017
[I missed this thread when first posted because it wasn't identified as an UFE enquiry, so it is slightly out of order. We are also, unfortunately, dealing with incomplete short-handed sentences that don't including subjects in the replies - Ed.]
In a color film made by Lowell Thomas in Tibet in 1949, I discovered two unknown Tibetan army flags - a blank mountain flag and a possible Chadang regiment flag - in the footage.(source)
First, from 1:51 to 2:04, we see the flag (#17a) with a blank mountain I had reported. And the mountain is indeed deprived of its usual lions and other symbols. Also, as in the flag I had previously reported, it has three borders of different color: yellow at the upper border, red at the hoist border, blue at the lower border. What is great is that I now know that this flag has twelve stripes with three of them being yellow. Which makes, clockwise from the lower hoist : blue, yellow, red, blue, red, yellow, red, blue, red, blue, yellow, red.
From 2:04 to 2:10 in the film, we can see the regular regimental flag of the Khadang regiment. As the Tibetan flag stresses, it looks like this flag is made of brocade. It also has three borders of different colors, but they are not exactly the same as those we can see on the film by Ilyia Tolstoy and Brooke Dolan in 1943 nor on the "blank mountain" one above (#17a). Here the lower border is still blue, but the upper border seems to be of a different shade of yellow (maybe golden?) than the stripes of the field, and the hoist border seems to have yet another shade of yellow with blue or green ornamentations (maybe text as the flag here). The two squares and lozenge are yellow, of the same shade of the stripes.
Then, between 1:05 and 1:17, we can see a flag (#17b) flown above a gate, east to the Potala. From the various maps of the city I have checked and how close the palace it seems to be, I think this flag was flown on the eastern gate of the Shöl area. Shöl was the administrative village at the foot of the palace, a compound which included the Army headquarters (or Magchigang in Tibetan).
This second flag (#17b) is square, with a red field. In the middle, there is a yellow double-vajra and a white "cha" letter underneath. The flag has a yellow border on three sides with two purple squares on top and bottom and a lozenge in the middle. It looks very similar to this flag shown on a black and white photograph and it also has some similarity with this flag I previously reported (source) from a 1945 film by James Guthrie. But the differences are also very clear: the flag filmed by Thomas has a different shape and color, and displays an additional letter, a border with squares and a lozenge. In contrast, the flag filmed by Guthrie is clearly rectangular and orange, without letter (as far as I can see).
There is a four years gap between these two films, a period which saw massive political changes in Tibet. So I don't know if this simply shows two different versions of the same flag, or if they were two different flags used in the same time. The "cha" letter is somehow intriguing since it would indicate that this flag belonged to the Chadang regiment which was transformed from an artillery regiment to a police regiment in 1948. But the Chadang regiment was, if I'm correct, based in the Jokhang complex in the very center of Lhassa, a place which doesn't match with the surroundings shown of the film.
Source: Tibet Encyclopedia (German version).
Corentin Chamboredon, 18 April 2017
There is another particularity to flag (#17a): the sun in the center emits no rays. There are twelve color stripes, but no rays seems to come out on them.
On second thoughts, this flag has differences with the flags I made on Khadang regiment of Tibetan Army (Tibet): the few color images I could find of this regimental flag showed it with two yellow stripes. See the documentary "The Lost World of Tibet" at 19:33, or Tolstoy's film from 14:12 to 14:45). Another difference is that in "The Lost World of Tibet", the flag has a blue stripe on its lower fly, while this blank flag has a red stripe instead (as in Tolstoy's film).
Corentin Chamboredon, 18 April 2017
There are some traces, of the pattern [on the blank white mountain on #17a], but I can't make out whether it completely faded, or whether what we see is the pattern on the other side. This blank mountain looks blank. Empty. Not a trace. This is truly just a mountain, not a mountain with charges removed or shining through.
Peter Hans van den Muijzenberg, 18 April 2017
Yes, the weather was apparently very bright, and we see nothing: no visible sewing which could indicate there was something before, no transparency letting us see the reverse.
Now, I wonder what this flag without charges could represent. It seems a little strange for a flag of a military unit, since they tend to show each unit's individuality. Or maybe this blankness was considered a particularity by itself... Are there any other examples in foreign countries of such blank flags? I only remember that French royal military flags had something close: the "drapeau colonel" of units had a white field with a white cross, but I was told the cross was sewn, so somehow visible if you were close enough.
Corentin Chamboredon, 19 April 2017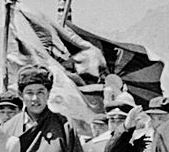 Image from Corentin Chamboredon, 19 May 2017
I found a slightly less blurry image, and I send a crop of these two Tibetan flags, including the one which clearly belong to the Kadang regiment.
It may be better than the images at Kadang regiment of Tibetan Army, since those show the flag of another regiment (the Khadang one).
Corentin Chamboredon, 19 April 2017
---
17-24. Unknown Naval Flag Some Speculation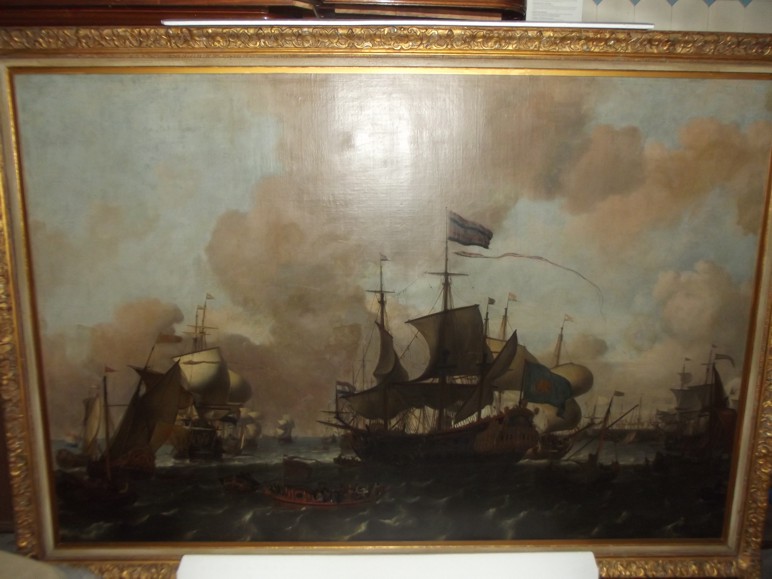 original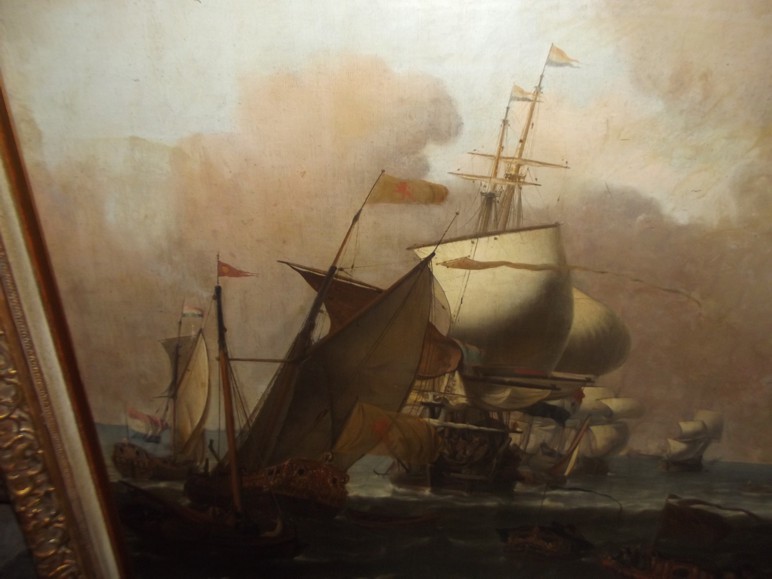 left detail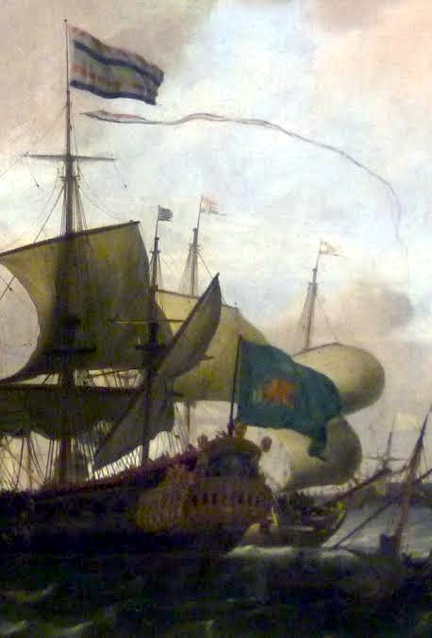 center detail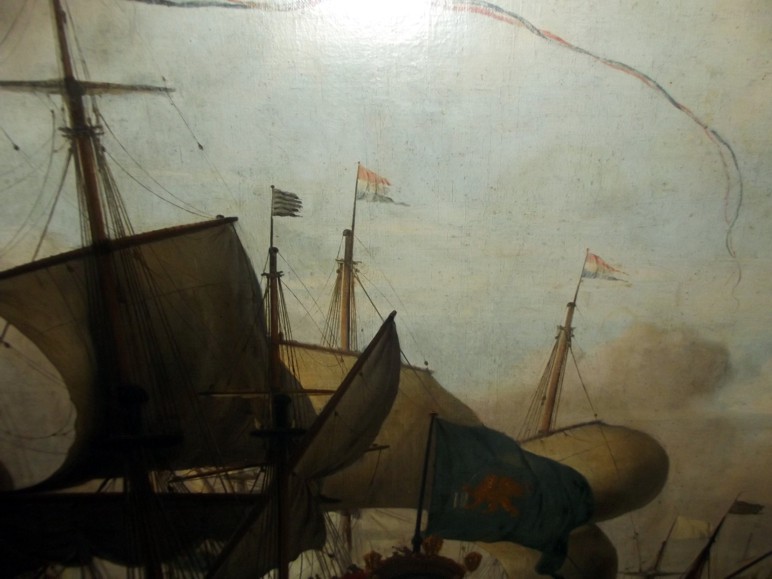 center-right detail
Images from Jan-Hendrik Gerdau, 20 May 2017 and 6 October 2017 (details #1, #2, and #3)
There are two flags on a painting depicting a historical war ship. Can you help me identify these flags.
Jan-Hendrik Gerdau, 20 May 2017
Based on the multiple stripes and the streamer below the mainmast flag, I think this is a Dutch scene. However, I cannot identify the flags definitively.
Rob Raeside, 20 May 2017
It looks like a Dutch naval flag on the top. but does it have an image in the central white stripe? So far I haven't seen naval flags like these before, but it looks like the big blue flag at the stern holds a Venetian lion. The Netherlands and Venice at one time were both republics, but why would they fly both these flags on one ship? Can we see a better quality image if possible?
Jos Poels, 20 May 2017
Do we have the URL or the source for this picture by Jan-Hendrik Gerdau?
Esteban Rivera, 27 May 2017

Speculative image by Pete Loeser, 27 May 2017
The top flag almost looks like the Vereenigde Oostindische Compagnie, or flag of the Rotterdam Administrator, unless my old eyes deceive me. See Flags of the United Dutch East Indies Company on my website, or on the Netherlands East India Company on our website. I can't even guess at the other flag, but I bet it is of Dutch origins. This looks like a mystery for Peter Hans.
Pete Loeser, 27 May 2017
Well, possibly a flag of an admiralty, but that's not the same thing as the flag of a VOC Chamber. I also can't even guess at the other flag, perhaps even Schiermonnikoog, for all I know. This, and the fact that it's a painting is all we have. There's not enough detail to be sure of the flags; we can't make out the charge on the blue flag, for example. But it may well be that that information is simply not in the painting at all. If the ship is only shown as a small part of the painting, it may simply not have the resolution to show such detail.
This one is probably going to need more context. If there's more information available about the painting and what it portraits, then that might help us guess about where to look. Otherwise, a naval expert shown enough of the ship might be able to date the model, and possibly determine its origin, as the context.
Peter Hans van den Muijzenberg, 27 May 2017
Isn't Schiermonnikoog the Dutch island that somehow keeps moving a bit or changing shape? I wonder if that means they have to keep changing seals and flag designs also? Last I'd heard was the island has a flag with a lot of horizontal stripes in the Dutch national colors surrounding a stripe of green; Ah here it is.
Pete Loeser, 28 May 2017
I don't think any of the Frisian Isles have the shape of the island on their flags, thus the flags wouldn't change because the islands do. Schiermonnikoog shrunk for a while, but then expanded again. It's still within its former boundaries, but an inattentive border drawer managed to draw the border of the municipality and province according to its smaller size, hence the island has since grown out of its municipality and province. Recently, the border has been moved to more or less correct this. Our unknown naval flag has a green sheen over the middle stripe; that's why I mentioned Schiermonnikoog.
Jan-Hendrik hopes to provide more images soon.
Peter Hans van den Muijzenberg, 28 May 2017
Referring to the blue unidentified flag flying from the stern, I noticed there might be yet another unrecognized ensign flying under the blue one. It is below the blue unidentified (the one that appears to have a possible sphinx or Venetian lion emblem on it) and has a white field with a shield near the upper hoist that looks to me a little like it might be of Spanish or Italian origin? Maybe something like the shield on the old Banner of Castilla y León, but on a white field? It also might possibly be displaying some sort of early version of the modern Italian naval shield, maybe one of the "Sea Republics" (Repubbliche Marinare)? Although this all is pure speculation, perhaps this might ring a bell for somebody more familiar with historical Spanish and Italian naval flags. Was there ever a sea battle involving Dutch, Venetian (Italian), and Spanish ships? I ask this because the painting seems very busy as if of a sea battle. It would be nice to have more context, or at least a date.
Has anybody heard from Jan-Hendrik or been able to find out any more information about the painting?
Pete Loeser, 9 September 2017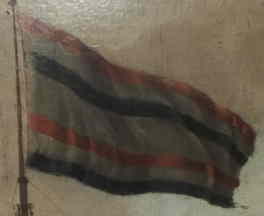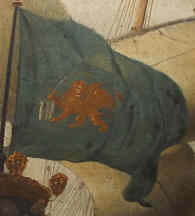 Images from Peter Hans van den Muijzenberg, 6 October 2017
Yeah, nice trompe-l'oeil, isn't it? What appear to be edges of a flag are really rigging and the edges of the sail in the background. The charge is actually one of the lanterns in the foreground. But together, to the eye trained to see flags, they give just the clues of being a flag.
I've uploaded the files Jan-Hendrik provided in the file section in the XX/UFE folder. These give us much more detail. He also provides the detail that the ship is D'Atlas. I don't know the ship, hence can't tell what battle this is. I include cropped, scaled, and reduced images showing the two flags, though.
The one design appears to be RWN-W-RWN, having black stripes rather than having blue stripes. (The flag on the mizzen appears to be RWN as well.)
The other is blue with the lion of St. Mark at war. The latter says "Venice" to me, though we don't have the exact same design. Would anyone speculate on the time this flag might have been valid?
Peter Hans van den Muijzenberg, 6 October 2017
It says the same to me - Venetian flag did appear with blue field as early as in some of the portolanos, and also appeared as such in some of the flag charts from 17th to 19th century.
Tomislav Todorovic, 6 October 2016
---
17-25. Sweden - UFE Positive ID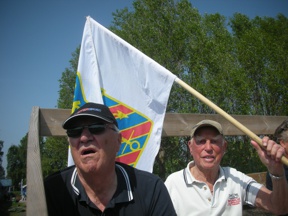 Image from Esteban Rivera, 25 June 2017
On June 23 I spotted this flag (source). The picture was published on June 3, 2016 by Peter Miles on his website "The Itinerant Football Watcher" and it was taken durng a game between local club IFK Österåker FK (a football club that currently plays in "Division 3 Stockholm Norra" which is the fifth tier of Swedish football) and another team.
Esteban Rivera, 25 June 2017
I just identified this flag as the flag of BKV Norrtälje. The flag is the logo on a square white flag. BKV (Bollklubben Vargarna) Norrtälje) is a Swedish football club located in Norrtälje. The team was established in 1933 and currently plays in Division 2 Norra Svealand, which is the country's fourth tier division. It changed its name to BKV (Bollklubben Vargarna) Norrtälje in 1993 when it moved to Norrtälje. For additional information go to BKV Norrtälje (official website).
Esteban Rivera, 25 June 2017
---
17-26. Unknown Naval Pennant Some Speculation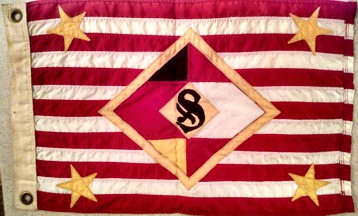 Image from Dallas Pope, 27 July 2017
Like many others, I enjoy flags and write to you as a last resort. The flag in the attached picture is what I am trying to identify. The flag is apparently American-made and measures 12 x 18 in. It is made of a nylon material and is well stitched. There are no markings other than the size dimensions on the grommet seam. The grommets do not appear to have much if any wear. The flag appears to date from the 60s or 70s as determined by the muslin or cotton grommet seam. Based on the colors, I first thought that it had a USMC meaning to it. I have shown this to many of my friends in the militaria community, and the best guess is that the center script may be the key to identifying it. One person suspects that the script in the center is Kenghi and that this flag may have been used for a naval escort in Okinawa. That's quite a stretch, but I have nothing else to go on.
I would appreciate any thoughts or ideas that you may have. I'm also sending some of your unknown Flags to the members of my collectors group to see what their thoughts are on them. Maybe we can also help you. Thanks in advance.
Dallas Pope, 27 July 2017
This is a beautiful flag, but I have no idea what it is! Dallas sent the flag photographed hanging vertically, and I rotated it and flipped it - so it may well be upside down. Do let us know if your group can get some identifications on our long list of unknown flags!
Rob Raeside, 27 July 2017
I think Rob got it right, as the black symbol in the middle is a distinct form of a capital "S", which is not inversable. Furthermore, the 2x3 checkered pattern inside the diamond can be interpreted as the flags of Germany and Austria (or of any other red and white horizontal triband, such as Bremerhavens, side by side. The background with 13 red and white horizontal stripes suggests an U.S. flag (or of an entity with ties to the U.S.), though, and the four golden stars on the corners, pointing to the nearest vertical edge, could be either decorative or meaningful.
I'd start searching for houseflags of shipping companies based in Bremerhaven that sail(ed) to New York City.
António Martins-Tuválkin, 27 July 2017
Maybe this is a flag composed of two superimposed flags, in which the two of them are "cut". My point is, the middle emblem that is featured in a diamond shape with an "S" in capital black letters in a (Germanic style), features both a German flag on the left and an Austrian flag on the right. So perhaps it is a shipping company flag of German-Austrian origin.
Esteban Rivera, 9 September 2017
Let us summarize. We think we have an American striped colour/banner, with a Gothic script centre suggesting Germany and Austria, combined with what is either an "S" or an "&", with four stars in the corners (They could be stars of command, though they ought to all be upright for that.), and made in the USA around 1970.
So either it's for a German and Austria community of some kind in America, or something aimed at Germany and Austria. What do we think about the stars in the corners?
Peter Hans van den Muijzenberg, 22 October 2017
---
17-27. Anti-fascist Organization Flag, Australia Positive ID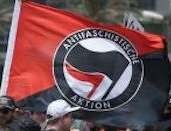 Image from William Garrison, 1 August 2017
Hopefully you can identify this red, black and white flag used in Australia by an anti-fascist group named: "Antifaschistische Aktion&quot c. July 2017. I took a quick look at the FOTW website for Australia, but didn't notice it. (image) (source)
William Garrison, 1 August 2017
This is actually a flag - one of many variants - of an organization from Germany called the Anti-Fascist Action. Being sold online, their flags often appear in other countries, even those where German language is not spoken (except if taught as a foreign language, that is)
Tomislav Todorovic, 2 August 2017
Also active in France as "Anti-Fascist Action" using same design - see eight entry down on Political Flags of Extremism - Part 1. Similar movements emerged all over Europe (Denmark, Netherlands, Sweden, Czech Republic, Slovakia, and Spain) in the 1990s. They are based on the German Communist Antifaschistiche Aktion movement of the 1930s which was crushed by the Nazis after they got into power in 1933. Their main goal is to get rid of extreme-rightist and neo-Nazi movements, stopping at nothing, including street violence and illegal acts.
Pete Loeser, 2 August 2017
Also found on FOTW (here).
Ivan Sache, 7 August 2017
---
17-28. Some Unidentified Flags on China Positive ID on two Some Speculation on two remaining flags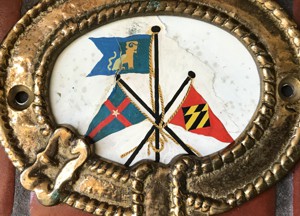 #28a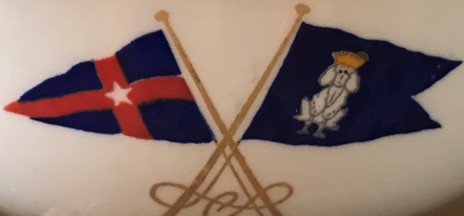 #28b
Images from Bruce Jones, 10 August 2017
I need some help with these unidentified flags.
A buckle (#28a): I believe this is a private signal over crossed yacht clubs, NYYC on the bottom left. But the other two I do not know. My sister found this near Marblehead, MA
A two-handled cup (#28b): Now, this one I know, but want to confirm with you if possible. I have a set of china with this. I think it is from the mid 1950s, the Yacht: "The Trail" which was in New York and Miami Beach. Owned by Mr &amp Mrs James L Oakes. Suzie had a passion for her white poodles.
Bruce Jones, 10 August 2017
The red pennant likely has a Maryland connection.
Rob Raeside, 10 August 2017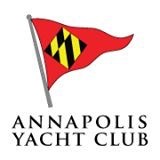 Image from Jonathan Dixon, 11 August 2017
The bottom right red pennant with gold and black diamond referring to the Calvert arms would be the burgee of the Annapolis Yacht Club. Perhaps the buckle has something to do with the Annapolis-Newport Race?
Jonathan Dixon, 10 August 2017
Thanks, that was a great suggestion. Found it.
Bruce Jones, 11 August 2017
Great! And that is one we don't have!
Rob Raeside, 11 August 2017
Actually do we know anything about the two blue ones with dog-like animals on them? Both seem different.
Pete Loeser, 16 February 2019.
---
17-29. Unknown Pembrokeshire Flag c1886 (Wales) Positive ID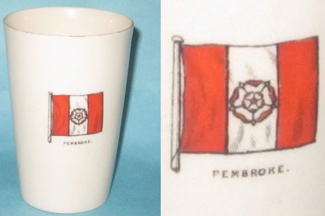 Image from David Wiscombe, 4 September 2017
I am seeking information about this flag. The China beaker it decorated was made by the W. H. Goss of Stoke-on-Trent. The Registration Number 60863 on the piece was first used in 1886. Probably made for sale by a local agent. Possibly connected with the 1887 Queen Victoria's Jubilee? The Beaker is 4.3" high
David Wiscombe, 4 September 2017
I have not seen this flag before, but it bears a rose with some similarities to the one reported for the flag of Pembroke County.
Rob Raeside, 4 September 2017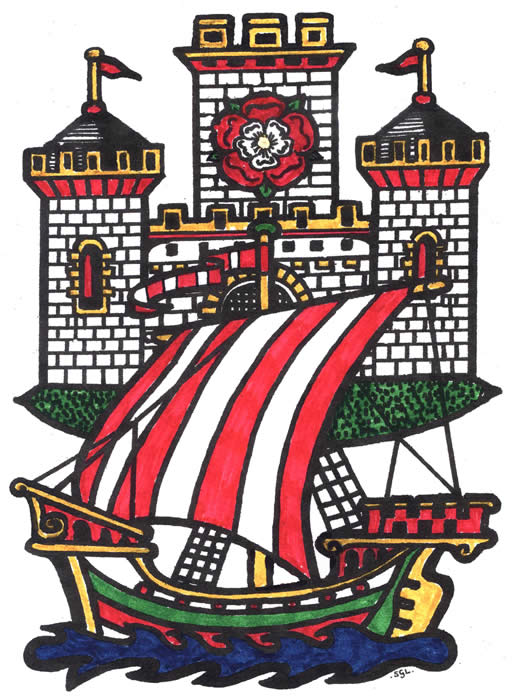 Image from David Wiscombe, 11 September 2017
I think I may have a lead. The Pembroke Museum website has a logo design. It contains what appears to be a version of the Pembroke seal with a rose added. The ship shows a main sail with red &amp white pales. These are the essentials on the Pembroke Flag (about two-thirds down page).
David Wiscombe, 11 September 2017
Another lead - Pembroke College, Oxford, has a Boat Club. But what did they use in 1886? The Goss Factory produced boat club flags. I have only seen references to St. Johns and University Colleges, Oxford. They are rarely seen and I had forgotten about them.
David Wiscombe, 11 September 2017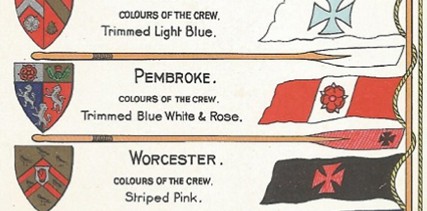 Image from Rob Raeside, 13 September 2017
Here is the flag as used by the Pembroke College (Oxford University) Boat Club. See also our Oxford University page and links therein. I think David may have pinned it.
Rob Raeside, 13 September 2017
Have the same Wadham College (Oxford) coat of arms depicted as UFE13-43h. The same blades can also be seen here.
A complete set of blades, flags and arms of Oxford colleges can be seen here.
Klaus-Michael Schneider, 4 February 2019
---
17-30. Alf Monsen Shipowner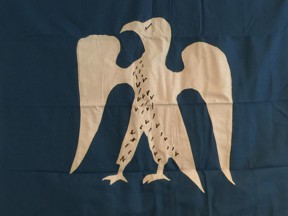 Image from Mads Henrik Monsen, 18 July 2017
I was wondering if you could tell me if the attached copy of Alf Monsen Shipowners Company flag could be traced as an original, or if the flag drawn by late Jared Bakker is the correct one? The question is asked because the attached flag has been in my families possession for "ages" (Alf Monsen was my great grandfather). Looking forward to hearing from you.
Mads Henrik Monsen, 18 July 2017 [late posting]
---
17-31. Nationaler Widerstand (DE) Positive ID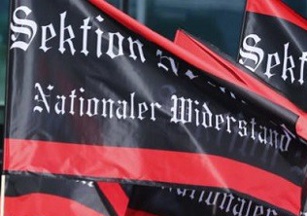 Image from William Garrison, 3 August 2017
Apparently the flag of some German political group called "Sektion Nordland Nationaler Widerstand".
William Garrison, 3 August 2017 [late posting]
A right-wing German group?
Rob Raeside, 3 August 2017
The group using the flag from the said photo does not appear in the list from German Wikipedia, although they clearly are part of the same movement as those whose name differs only in territorial designation. That's a new fashion among the European far-right - decentralized movements, copying their far-left enemies. And even the symbols - you can find lots of groups in West Europe which use the Anti-Fascist Action symbol, just replacing the name with their own. Nothing new - far-right was doing such things since the 1920's.
Tomislav Todorovic, 14 August 2017
"Nationaler Widerstand (National Resistance) is a collective term and the self-designation for an informal network of different independent right-wing extremist groups in German-speaking countries.
The term was proclaimed mainly by the Nationaldemokratische Partei Deutschlands (NPD) (National Democratic Party of Germany ), and includes the action-oriented part of the Außerparlamentarische Opposition (APO) (National Ex-parliamentary Opposition - NAPO). The APO was was a political protest movement in West Germany during the latter half of the 1960s and early 1970s, forming a central part of the Studentenbewegung (German Student Movement), more formal the Sozialistische Deutsche Studentenbund (Socialist German Student Union), also called 68er-Bewegung (Movement of 1968) or Soixante-Huitaires (68ers), established on September 2, 1946 as the collegiate branch of the Social Democratic Party of Germany (SPD) and was disbanded on March 21, 1970 as SDS-Bundesverband, even though smaller local groups still existed shortly afterwards. Its membership consisted mostly of young people disillusioned with the Große Koalition (Grand Coalition) of the Social Democratic Party of Germany (SPD) and the Christian Democratic Union (CDU). Since the coalition controlled 95% of the Deutsche Bundestag (English: German Bundestag, the lower House of Parliament), the APO provided a more effective outlet for student dissent, the leading element of APO being the Sozialistische Deutsche Studentenbund. Of important notice is not to confuse the student association Linke.SDS (official website) with the original 1968 movement. The student association Linke.SDS, which was founded in May 2007 and also bears the name SDS in a deliberate connection with the 1968 movement, but is not associated with it with any organizational connection" (source)
A small number of APO activists' dissidents, such as Andreas Baader, Gudrun Ensslin, and journalist Ulrike Meinhof, resorted to arson in Department Stores and illegal underground work. They collaborated in the Rote Armee Fraktion (RAF) that was commonly known as the Bewaffneten Widerstand (Armed Opposition). Bank robberies, kidnappings and even murders were committed against business owners, politicians and judges, together with other armed movements like the Bewegung 2. Juni (2nd of June Movement), Revolutionären Zellen (Revolutionary Cells) adn the Rote Zora (Red Zora) until the 1980s.
The affiliation of groups to the National Resistance is not clear. The distinction from other identification groups (Autonome Nationalisten, AN (Autonomous Nationalists) (source #1) and (source #2), Freie Nationalisten (Free Nationalists) and/or Freier Widerstand (Free Resistance) is cumbersome. In particular, Freie Kameradschaften (Free Comradeships) have been seen as the bearers of a national resistance. (source #1), (source #2), (source #3), and (source #4)
"The police crackdown on the far-right after re-unification and the wave of banning in the early 1990s (Deutsche Alternative, DA, Nationalistische Front, NF, Freiheitliche Deutsche Arbeiterpartei FAP, among others) forced most of the local extreme far-right militant groups to split into "autonomous nationalist cells" of 5-20 members without a formal membership. After such prohibitions, these groups were forced to operate (source #1) and (source #2) independently.
The National Widerstand is an organization which is currently composed of the following bündnisse (alliances):
Hence, the flag submitted by Bill, is that of the Nationales und Soziales Aktionsbündnis Norddeutschland (also called Aktionsbüro Norddeutschland), and not a proper flag for National Widerstand as a whole, since this term serves only as an umbrella designation for smaller and usually associated and/or linked) groups. However, there is a "National Resistance" flag used during these protests (that is why the term "resistance" is associated with them).
Their main opposition movement is the Antifaschistische Aktion (Antifascist Action), abbreviated as "Antifa" (old official website) [still accessible through here]. In the mid-1990's there has been a countermovement, called the "Anti-Antifa" (official website) (source #1) and (source #2), which "refers to different individuals and groups who are leading a political struggle against Antifa groups and other opponents such as politicians, journalists or scholars."(source)
Esteban Rivera, 16 August 2017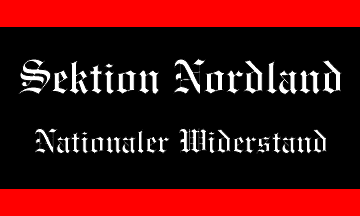 Image by António Martins-Tuválkin, 27 April 2018
It's a black flag with two red narrow horizontal stripes at top and bottom, approx. 1/8th of the flag's height; centered on the black area, white fraktur lettering reading Sektion Nordland over, in smaller type, Nationaler Widerstand.
António Martins-Tuválkin, 27 April 2018
---
17-32. Unidentified Czech Sports Flag Some Speculation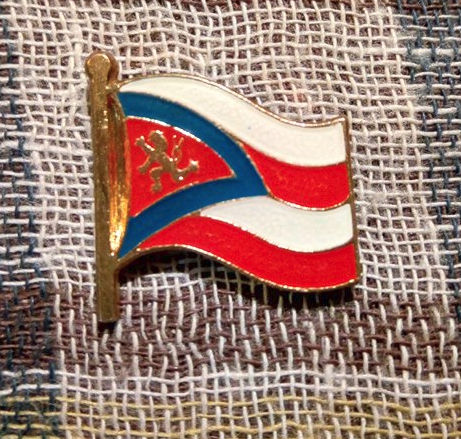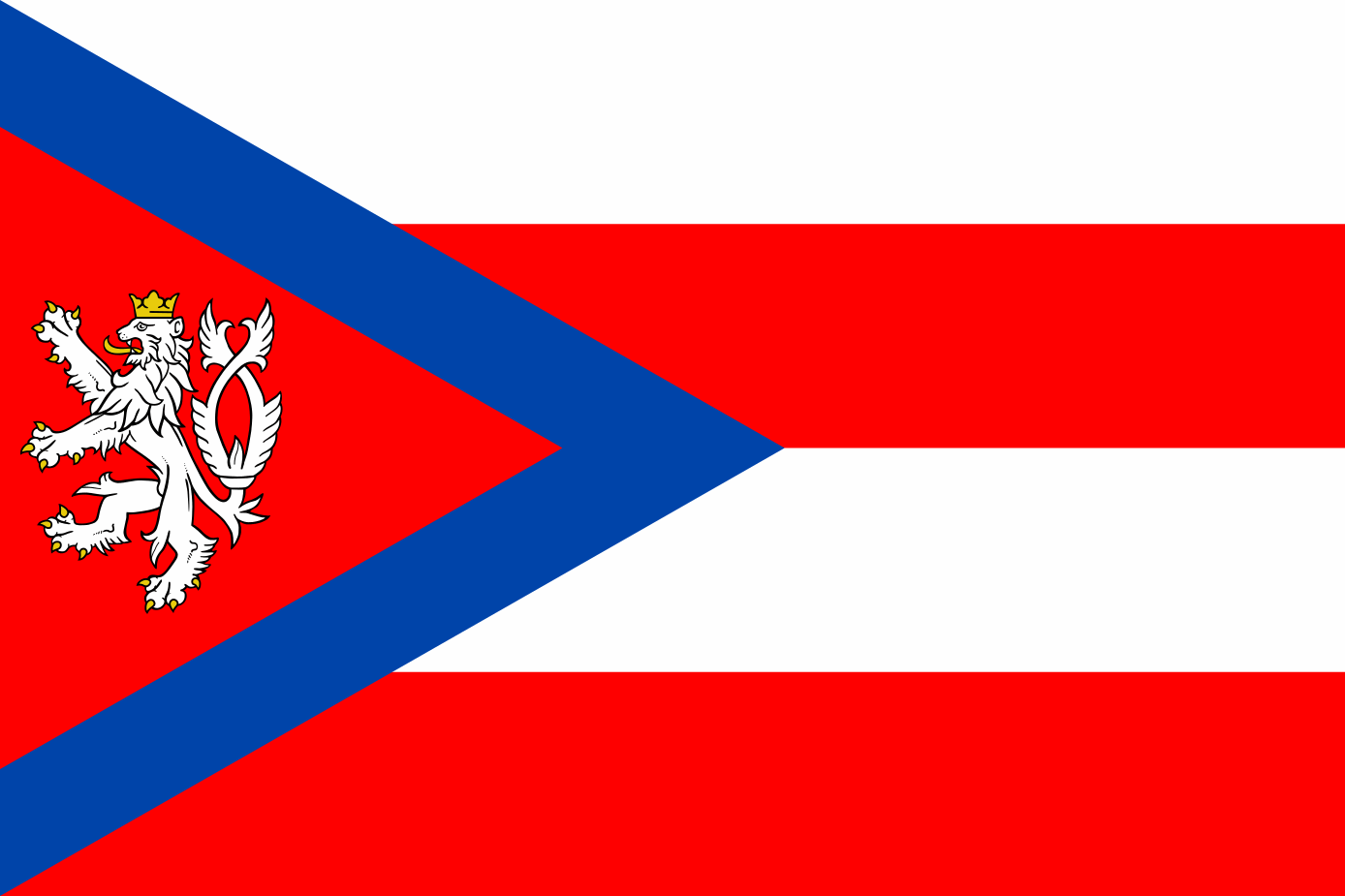 Images from Kryštof Huk, 19 September 2017
In hopes of finally identifying this flag, I am also reposting my recent post from the Facebook FOTW group.
For years now, I have had several of these pins and have seen several more online for sale. However so far I have been utterly unable to identify the flag, finding no clues as to its origin or use. The best I can think of is that it could be a sports flag, possibly from Brno, which uses four stripes (white, red, white, red) as their arms and flag. At the same time, the stripes and the blue wedge give an illusion of a combination between the Czech and US flags. The pins themselves use a needle instead of a pin with a cap, which is uncommon in modern pins (last twenty or so years?) but contrary to that, they tend to be in extremely good shape. Identifying their age is thus almost impossible for me. I have had no luck so far.
Included is my attempt at reproducing it along with the pin itself. The reproduction takes some liberties with the lion. I assume it must be the Bohemian lion. It's obviously double-tailed, in a red field (wedge) and though depicted gold, this is normal with small charges on pins as they're impossible to enamel.
Kryštof Huk, 19 September 2017
I went looking for this in a different way. It's interesting to see how close FC Brno come to this Blue at the hoist with Brno stripes. Even more so because on the same page, a different sports club provides the missing part: The Czech Yacht Club has a red quarter with a white bohemian lion. The text there saying "The CYK originated in the Blesk club." While this appears to be essentially correct (The CYK has a website, and an "About Us" page written in English. The parent club is not called "Blesk club", but rather "V.K.Blesk" - Veslařský Klub Blesk (r`', y'), thus Rowing Club Blesk, which can be found on the same Czech sport flags page. (website)
I looked around for a bit, but so far no hit. I did find this image by-the-way, for the person with too much time on his hands. While the flag does give an impression of sports flag, a yacht club would more likely have a triangular burgee on the pin. A rowing club would seem more likely, with the red and white being quite common in rowing. The blue chevron, I've now realised, may simply be the Czech, or because of its possible age Czechoslovakian, hoist triangle, with a field of the Bohemian lion superimposed. Against this idea speaks that Czechoslovakian pins seem to have quite different styles, compared to this one. Just some speculation.
Peter Hans van den Muijzenberg, 2 March 2018
---
17-33. Japanese Rare Flag Positive ID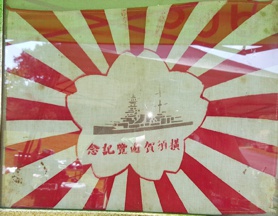 Image from Christopher Ryle, 28 September 2017
I'm really hoping you can help me identify a flag I came across in my grandfathers collection. It is a japanese flag that was folded up inside his Eagle Scout Bible. I have spent over a month trying to research it but have had no luck. I hope maybe your vast resources and knowledge will let my search finally come to an end. I know he served in Pacific between 1944-1947 and was part of the Japanese Invasion Fleet. He was in the Navy and served on several Carriers. I'm attaching a picture of the flag in hopes the mystery can finally be solved.
Christopher Ryle, 28 September 2017
To me it looks like a (commemorative or de facto) flag of a Japanese vessel (perhaps a heavy cruiser). It is composed of 16 red (sun) rays, featuring a white cherry blossom in the middle. The arrangement of the flower (in the middle) is coherent with the arrangement of the Japanese Navy of World War II (instead of the cherry blossom it featured the red sun). However, the Navy flag featured the main symbol a little bit to the hoist (right side) and this specimen is fully centered, so it is probably a makeshift flag.
Maybe someone that speaks Japanese can read on the bottom what the inscription is and help identify such flag.
Esteban Rivera, 28 September 2017
It is a pre-World War II era souvenir flag. It reads "Memento of Visit to Yokosuka". Miles Li, 28 September 2017
---