This page is part of © FOTW Flags Of The World website
Zazaistan (Turkey)
Area and flags of uncertain status
Last modified: 2015-07-28 by ivan sache
Keywords: zaza | zazaistan | zazakistan | letter: z (white) |
Links: FOTW homepage | search | disclaimer and copyright | write us | mirrors

---
See also:
---
Zazas and "Zazaistan"
The Alevis or Zazas are a minority (70.000) according to Le Monde) living in the territories that were the old Turkoman emirate of Danishmend. Their name means "Ali's partisan" and they emigrated from Babylon in the 7th century and were later converted to Shiism. The Zazas are divided into 28 tribes, each of them being ruled by a dominant clan.
Jaume Ollé, 10 October 1998
The status of Zazas is explained in a paper by Martin van Bruinessen, from the Turkish and Kurdish Studies Department, Utrecht University (The Netherlands), as follows:
Meanwhile in Europe Zaza-speaking Kurds - some of them Sunnis, other Alevis - were bringing about a minor revival of Zaza literature, in the margin of the remarkable resurgence of Kurmancî literary activities. A minority among them began perceiving the Zaza as a distinct ethnic group that had to liberate itself from cultural domination by Kurds as well as the Turkish state. This Zaza 'nationalism' still is largely a matter of exile politics, and it may still appear as a marginal phenomenon, but gradually it is also influencing the debate among Dersimis inside Turkey.
[...]
This debate on the development of, or ban on, written Zaza made a strong impact in the small circle of Zaza intellectuals in exile, causing a parting of the minds among them. In the late 1980s, the first Zaza journal was published, and it was emphatically non-Kurdish. It carried articles in Zaza, Turkish and English but not in Kurdish, it spoke of the Zazas as a separate people, whose identity had too long been denied not only by the Turkish state but by the Kurds as well, and it coined the new name of Zazaistan for the ancient homeland of these Zazas, indicating its rejection of the term Kurdistan as a geographical name. The journal at first had only a very small circle of readers, but the many angry Kurdish reactions suggested that the journal did have a point after all, and gradually growing numbers of Zazas were won over to its views. There appears not to be an organized Zaza nationalist movement yet, but the publishing activities go on increasing, with two new journals appearing in Europe and recently a series of booklets in Turkey, all of them proclaiming the Zazas to be different from the Kurds.
Original footnotes: Ayre and its successor Piya were published monthly in Sweden from 1987 on. Presently the most important Zaza journals are Desmala Sure and Ware (both published in Germany).
Ivan Sache, 10 May 1999
---
Alleged flag of "Zazaistan"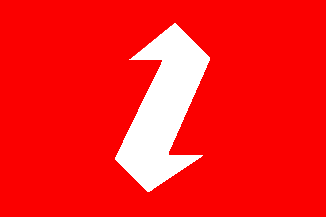 Alleged flag of "Zazaistan" - Image by Jaume Ollé, 10 October 1998
Around 1917, Zaza rebels used plain red flags and these flags were rolled up around their heads during the fight against Turks, who called them Kizilbach (Red Heads). In 1921 Ismail Aga directed the revolt in the region of Koçgiri, which was violently repressed (20,000 were killed). During this revolt, the red flag with the white "Z" was created, the "Z" being a traditional embroidery design in the Zaza clothes. The flag was used during the followings revolts: 1934, Koç Asıretı in Dersim; 1937-38, Seyit Rıza also in Dersim; 1978, Halil Öztoprak in Marach; 1979 in Sivas; 1980 in Tchorum.
The Zaza flag is banned in Turkey and is used mainly in the Zaza emigration in Germany and other countries.
Jaume Ollé, 10 October 1998, after an article by Lucien Philippe
The flag of "Zazakistan" is shown on the Flags of Aspirant Peoples chart [eba94], #33, with the following caption:
ZAZAKISTAN (Alevistan)
Alevis or Zazas (Kizilbashes)
Ivan Sache, 10 May 1999
---
Other putative "Zazaistan" flags

Other reported "Zazaistan" flag - Image by Francisco Santos, 26 June 2003
This flag is shown on a Zazaistan website (site no longer online). The map and flag shown on that site most probably represent the views of a liberation group. Moreover, there is not a single foundation or group that represents the Zaza people. I think all flags should be regarded as proposals by different groups.
Onur Özgün, 26 June 2003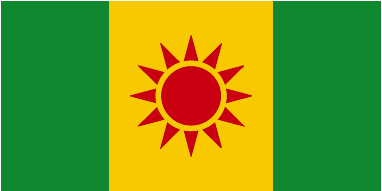 Other reported "Zazaistan" flag - Image by Christian Kretowicz, 22 March 2008
A flag labelled "Unofficial flag of Zazaistan" is shown on Wikimedia Commons without any explanation.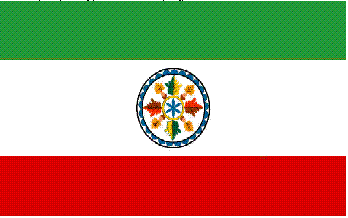 Other reported "Zazaistan" flag - Image by Christian Kretowicz, 22 March 2008
The Iran United shows this flag as "our new and probably final flag (similar to Iranian and Tajik flag)".
Christian Kretowicz, 22 March 2008