This page is part of © FOTW Flags Of The World website
Rank Flags of the Portuguese Navy
Last modified: 2015-09-05 by klaus-michael schneider
Keywords: rank | admiral | vice admiral | rear admiral | subordinate rear admiral | c-i-c of fleet | admiral of fleet | general director of navy | cross(green) | cross(christ knights) | chief of naval staff | flag officer | commodore |
Links: FOTW homepage | search | disclaimer and copyright | write us | mirrors

---
See also:
---
Portuguese Navy Rank Flags
I'm posting images of the rank flags used by rear admirals and vice admirals of the Portuguese Navy. Doubtless because of the long relationship between Portugal and Britain, these flags are similar to those used by the Royal Navy. The principal point of difference, besides the green colour of the cross, is the size and placement of the red disks in the first and third cantons. They are larger than those used in the British flags, and are set nearer to the hoist.
My source is a U.S. Navy poster dating from the 1970s which shows the various flags used by European navies. I thought that the grass-green color for the cross was an odd touch in view of the fact that the green useed for the national flag of Portugal is much darker, but that's what the chart showed.
The source is twenty years old, so it is possible, I suppose, that these flags are out of date. I don't really think so, however, since Portuguese flags in general haven't changed since the early 1900s, when the republic replaced the monarchy.
Tom Gregg, 27 Jan 1997
Some time ago I posted a couple of Portugese Navy rank flags. Since then I've gathered additional information in these flags, primarily from old editions of Jane's Fighting Ships (which used to illustrate naval flags of each nation). This book is not entirely reliable (showing, for example, that the rank emblems in these flags are green, whereas my DoD flag chart shows the vice admiral's flag with a red ball) but it does show the general designs. All of these flags are based on the same white-field-with-green-cross design.
The illustrations I have seen show that the rank emblems are set towards the hoist (and towards the fly for the red ball in the fourth quarter of the "flag officer afloat" flag).
These flags are obviously based on the British system but due to the small size of the Portugese Navy there is no "admiral of the fleet" rank and the only two full admirals are the chief of staff and the fleet commander, who have individual, distinctive flags. The "flag officer inspecting" flag is presumably hoisted when some busybody from the headquarters pays a visit and the "flag officer afloat" flag seems to be used when an admiral is on board ship merely as a passenger.
Some of these flags may now be obsolete and I'd be interested to hear if anyone has updated information.
Tom Gregg, 10 Feb 1997
It seems that the Portugese Navy has changed its rank flags to conform even more closely to the British system, for example, the use of the plain white flag with green cross (which I have already posted as the "flag officer inspecting's" flag) for full admirals, plus the same flag with the state arms in the first quarter for fleet admirals. I'm presuming from Ivan Sache's posts that the chief of naval staff's and flag officer afloat's flags are now obsolete since he didn't mention them. I imagine, though, that the navy minister's flag is still valid (strictly speaking, this is not a naval rank flag anyway).
Tom Gregg, 10 Feb 1997
---
Navy Minister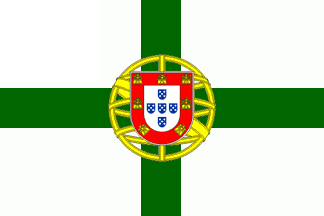 2:3 image by Mark Sensen and António Martins-Tuválkin, 5 June 1997

The Minister for the Navy has a white flag with a green cross of Saint George, with the Arms in the centre.
Mark Sensen, 5 June 1997
---
Commander-in-Chief of the Fleet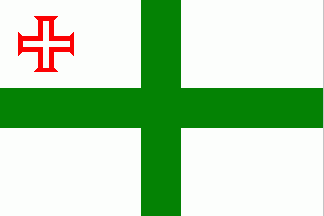 2:3 image by Tom Gregg, 10 Feb 1997

Generic design with a red cross patty voided white in the first quarter.
Tom Gregg and Ivan Sache, 10 Feb 1997
---
General Director of the Navy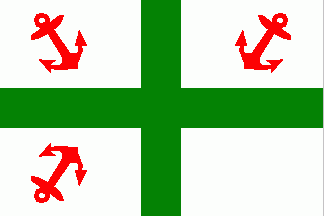 2:3 image by Klaus-Michael Schneider, 6 Dec 2014

White flag, green centred cross, plain red anchors pointing to the centre in upper hoist, lower hoist and upper fly.
Sources: Flaggenbuch 1939 and to Raccolta delle Bandiere Fiamme e Insegne in Uso presso le diverse Nazioni, however its 1934 successor
Klaus-Michael Schneider, 6 Dec 2014
---
Deputy General Director of the Navy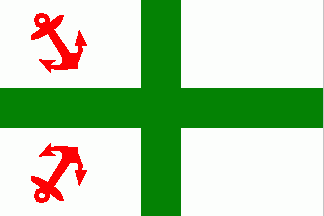 2:3 image by Klaus-Michael Schneider, 6 Dec 2014

White flag, green centred cross, plain red anchors pointing to the centre in upper and lower hoist.
Sources: Flaggenbuch 1939 and to Raccolta delle Bandiere Fiamme e Insegne in Uso presso le diverse Nazioni, however its 1934 successor
António Martins-Tuválkin, 15 Aug 2006
---
Admiral of the Fleet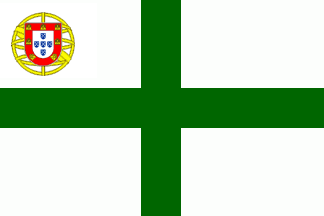 2:3 image by António Martins-Tuválkin, 11 Feb 1997

Generic design with the state arms in the first quarter.
Ivan Sache, 10 Feb 1997
---
Admiral
| | | | |
| --- | --- | --- | --- |
| 2:3 image by António Martins-Tuválkin, 10 Feb 1997 | 2:3 image by Klaus-Michael Schneider, 6 Dec 2014 |   |   |
Generic design with no emblems.According to Flaggenbuch 1939 and to Raccolta delle Bandiere Fiamme e Insegne in Uso presso le diverse Nazioni, however its 1934 successor, it is white, green centred cross, red cross patty in upper hoist
Ivan Sache, 10 Feb 1997
---
Vice Admiral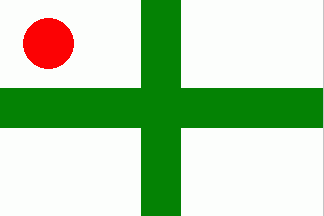 2:3 image by Mark Sensen, 10 Feb 1997

Generic design with a red ball in the first quarter.
Tom Gregg, 10 Feb 1997

From Barraclough: "The flag [of the Ministery of the Navy], without the Arms but with a red disc in the canton, is the flag of a Vice-Admiral."
Mark Sensen, 5 Jun 1997
---
Rear Admiral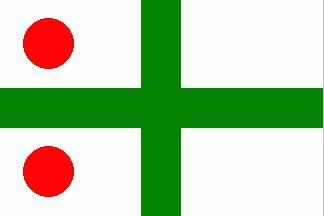 2:3 image by Mark Sensen, 10 Feb 1997

Generic design with red balls in the first and third quarters.
Tom Gregg, 10 Feb 1997

Pedersen gives a flag for the Rear-Admiral: like the flag of the Vice-Admiral, but also a red disk in the lower hoist.
Mark Sensen, 5 Jun 1997
---
Subordinate Rear Admiral
| | | | |
| --- | --- | --- | --- |
| 2:3 image by Klaus-Michael Schneider, 6 Dec 2014 | 2:3 image by Klaus-Michael Schneider, 6 Dec 2014 |   |   |
The subordinate rear admiral flag includes a red disc in the upper hoist and another red disc in the lower fly shifted to the fly (see left image above). According to Flaggenbuch 1939 and to Raccolta delle Bandiere Fiamme e Insegne in Uso presso le diverse Nazioni, however its 1934 successor, the ball in the lower fly quarter is shifted to the hoist (see right image above)
Jaume Ollé, 28 Jan 1997 and Klaus-Michael Schneider, 6 Dec 2014
---
Admiral Superintending Naval Dockyards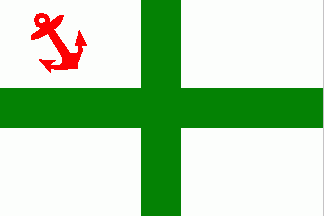 2:3 image by Tom Gregg, 7 Aug 1998
Generic design with an oblique plain red anchor in the first quarter, pointing to the fourth quarter.
Ivan Sache and Tom Gregg, 11 Feb 1997
Recently I came across this — the rank flag of the Admiral Superintending Naval Dockyards: white with green St. George-style cross and a diagonal red anchor in the upper hoist.
Tom Gregg, 7 Aug 1998
---
Captain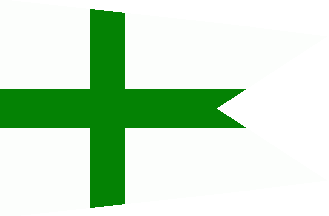 2:3 image by António Martins-Tuválkin, 15 Aug 2006


Klaus-Michael Schneider, 10 Dec 2014
---
Commander
| | | | |
| --- | --- | --- | --- |
| approx. 2:3 image by António Martins-Tuválkin, 15 Aug 2006 | 2:3 image by Klaus-Michael Schneider, 6 Dec 2014 |   |   |
Converging swallow tail pennant, white, green off-centred cross, red ball in upperhoist quarter, also for commanding captains over ships in Lisboa port.
(editorial note: same flag as that of captain subordinate below) Klaus-Michael Schneider, 6 Dec 2014
According to Flaggenbuch 1939 there is another red ball in lower hoist quarter, when a commander acts as chief of a flotilla or half-flottila (right image)
Klaus-Michael Schneider, 10 Dec 2014
---
Captain of Port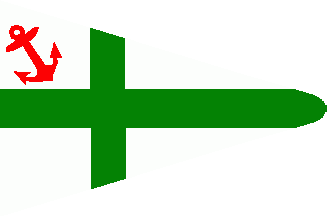 2:3 image by António Martins-Tuválkin, 15 Aug 2006

Triangular pennant, white, green off-centred cross, plain red anchor pointing to centre in upper hoist quarter.
Klaus-Michael Schneider, 10 Dec 2014
---
Senior Officer's Pennant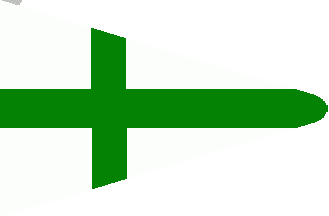 2:3 image by António Martins-Tuválkin, 15 Aug 2006

Triangular pennant, white, green off-centred cross.
Klaus-Michael Schneider, 10 Dec 2014
---
Obsolete Rank Flags
---
Chief of the Naval Staff
| | | | |
| --- | --- | --- | --- |
| 2:3 image by Tom Gregg, 10 Feb 1997 / 11 Feb 1997 | 2:3 image by Klaus-Michael Schneider, 6 Dec 2014 |   |   |
Generic design with red crossed batons in the first quarter. This flag is possibly now obsolete, but was in use circa 1955. (see left image above)
Tom Gregg, 10 Feb 1997 / 11 Feb 1997
White flag, green centred cross, two red monocular telescopes crossed per saltire in upper hoist (I believe its erroneous, should be crossed batons)
Sources: Flaggenbuch 1939 and to Raccolta delle Bandiere Fiamme e Insegne in Uso presso le diverse Nazioni, however its 1934 successor (see right image above)
Klaus-Michael Schneider, 6 Dec 2014
---
Flag Officer Inspecting

2:3 image by Tom Gregg, 10 Feb 1997 / 11 Feb 1997

Generic design with no emblem. This flag is now obsolete, but was in use circa 1955.
Tom Gregg, 10 Feb 1997 / 11 Feb 1997
---
Flag Officer Afloat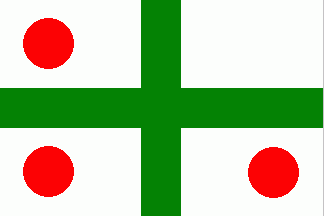 2:3 image by Tom Gregg, 10 Feb 1997 / 11 Feb 1997

Generic design with red balls in the first, third and fourth quarters. This flag is possibly now obsolete, but was in use circa 1955.
Tom Gregg, 10 Feb 1997 / 11 Feb 1997
---
Commodore
| | | | |
| --- | --- | --- | --- |
| image by Tom Gregg and Jorge Candeias, 11 Feb 1997 | 2:3 image by António Martins-Tuválkin, 15 Aug 2006 |   |   |
A broad pennant of generic design with a red ball in the first quarter. This flag is possibly now obsolete, but was in use circa 1955.
Tom Gregg, 11 Feb 1997
Alternative is a white swallow tail pennant with off centred green cross.
António Martins-Tuválkin, 15 Aug 2006
---
Superintendent of Fleet Service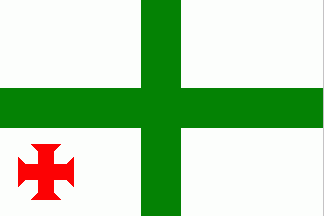 2:3 image by Klaus-Michael Schneider, 6 Dec 2014

White flag, green centred cross, red cross patty in lower hoist. Sometimes also named as Sub General Director of the Navy
Klaus-Michael Schneider, 6 Dec 2014
---
Chief of Naval Department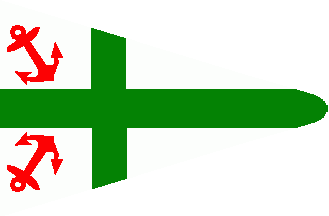 2:3 image by Klaus-Michael Schneider, 6 Dec 2014

Triangular pennant, white, green off-centred cross, plain red anchors pointing to centre in both hoist quarters.
Klaus-Michael Schneider, 6 Dec 2014
---
Adjutant of Naval Department or Naval Delegate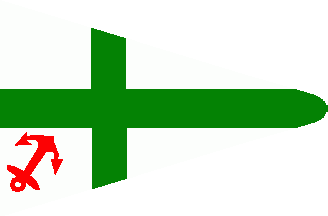 2:3 image by António Martins-Tuválkin,, 15 Aug 2006

Triangular pennant, white, green off-centred cross, plain red anchor pointing to centre in lower hoist quarter.
Klaus-Michael Schneider, 6 Dec 2014
---
Subordinate Captain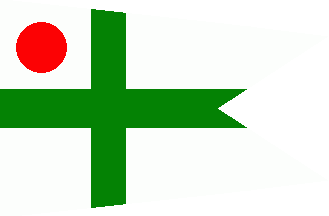 approx. 2:3 image by Klaus-Michael Schneider, 6 Dec 2014

Converging swallow tail pennant, white, green off-centred cross, red ball in upperhoist quarter, also for commanding captains over ships in Lisboa port.
Klaus-Michael Schneider, 6 Dec 2014
---
Army General on board
---
Army General afloat without special function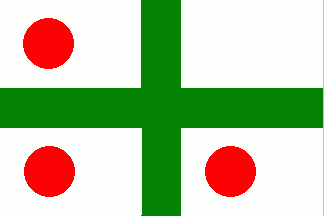 2:3 image by Klaus-Michael Schneider, 6 Dec 2014

White flag, green centred cross, red balls in upper hoist, lower hoist and lower fly.
Klaus-Michael Schneider, 6 Dec 2014
---
Army General as Recipient of Marks of Honour by the Navy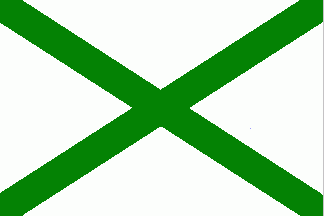 2:3 image by Klaus-Michael Schneider, 6 Dec 2014

White flag, green saltire.
Klaus-Michael Schneider, 6 Dec 2014
---
back to Portuguese Navy Main Page click here