This page is part of © FOTW Flags Of The World website
Naval Jack (The Netherlands)
Marine geus
Last modified: 2018-12-15 by rob raeside
Keywords: jack | navy |
Links: FOTW homepage | search | disclaimer and copyright | write us | mirrors

---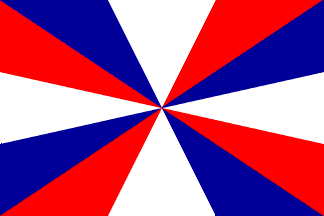 by Mark Sensen, 17 Jul 2002
See also:
---
Dutch Naval Jack
The naval jack is a gironny of 12, blue, white, red.
Source: [bro68] Brockhous Enzyklopaedie 1968
Pascal Vagnat, 2 May 1996

On 20 April 1931 (re-confirmed 31 August 1958) this design replaced the national tricolour as jack. Flags with gironnies were the traditional jacks of the 17th century.
Mark Sensen, 27 January 1996

The Dutch naval jack is known as the Dubbele Prinsengeus (Double Princejack). It is for use by the Royal [Netherlands] Navy only. Civilians can use a design with lesser gironnies (mostly 8) as jack.
Mark Sensen, 6 June 1998

We have these gyronny jacks in NL:
1) NL naval jack ...
2) NL civil jack ...
3) NL Brielle jack (Brielse Geus) ...
Brielle, also called Den Briel, is a small town in South Holland at the river Meuse close to the North Sea. During the revolt against Spanish administration in the Netherlands, it was 1 april 1572 the first city to be conquered by troops ("watergeuzen", kind of guerilla at sea) supporting Prince William of Orange. ...
About the Dutch word geus - pluralis geuzen - which can mean "jack" (vex) or "resistance fighter". It is has been derived form French: gueux = beggar. Originally a nickname, gueux became a name of honour in the struggle against Spanish troops in the 16th century, hence geuzen and watergeuzen as resistance fighters on land and at sea.
About the Dutch word geus as jack (vex)... It is said that the gyronny pattern was derived from the pattern of a 16th century beggar's (gueux) coat. Evidence is small...
Anyway, the modern NL gyronny jacks 1),2),3) were (re-)instituted in the 30's and 50's of the 20th century. BTW any flag at the bow of a ship is called geus or geusje (diminutive), could be for example a provincial or municipal geus.
Gerard van der Vaart, 21 Aug 2001

In 1566 the nobilty in the Netherlands offered the Spanish Governess, Margaretha of Parma, a petition that asked for the harsh religeous laws Spain introduced to be retracted. On the occasion, one of Margaretha's advisors commented to her: "ce ne sont que des geux" (they are nothing but beggars). Considering that in other Northern European countries empovered nobility had restored its wealth by taking that of the Church, the characterization may not have been far wrong, but whatever their motive, the name "geux" stuck to those who had protested against the Spanish laws. When, later, people protested more violently against Spanish law, and eventually against Spanish rule as a whole, "Geus" became the name for those people as well.
Peter Hans van den Muijzenberg, 1 Oct 2001

The French word 'gueux' was initially derived from Middle Dutch 'guit', villain. Similar cases occur with several words of French origin which crossed the Channel and came back later with a different meaning. 'Gueux' is hardly in use now, the feminine 'gueuse' being slightly more often used, especially in the expression 'courir la gueuse', to go wenching.
Concerning the jack, geus, Gösch etc., we lack a specific word for it in French and call it "pavillon de beaupré", bowsprit ensign..Beaupré and probably bowsprit, comes from the Dutch 'boegspriet'. Petit Larousse Illustre gives for 'beaupré' only the mast and does not mention the ensign.
Ivan Sache, 2 Oct 2001

Naval jack.
Before 1931 a small version of the national flag was used as naval jack. New image according to Album2000.
Mark Sensen, 17 Jul 2002

The socalled "Geus" is flewn at the bow of the ship (only when moored or anchored at sunday and public hollydays and also when the ship is visiting a foreign port or when a foreign navy ship is visiting).
Wim Zindler, 14 Apr 2003

---
Dutch Navy in WW2
I am looking for an animated flag as used by the dutch navy in ww2. Did they use the dutch national flag? Or was there a Dutch naval flag used, such as the royal navy ensign, and also that used by the australian navy?
Lanesly, 8 Sep 2001

The Dutch naval ensign and national flag were always the same, except from 1796-1806 when the Batavian Republic added their new jack into the canton of the national tricolour. So also during WWII the plain tricolour was used by the navy.
Mark Sensen, 8 Sep 2001

This raises the question as to whether, during ww2, Dutch warships flew the British ensign as well as the Dutch ensign. After the armistice of 21st June 1940 Free French warships could not fight under the French flag as France was no longer at war with Germany. French-manned warships were commissioned into the British navy. They flew the British White Ensign and the French flag.
As far as I know there was a Netherlands government-in-exile in London which remained at war with Germany, and Dutch-manned warships were commissioned into the Royal Netherlands Navy and flew the Dutch ensign alone.
David Prothero, 8 Sep 2001
---