This page is part of © FOTW Flags Of The World website
Island of Għawdex (Gozo) (speculative), Malta
Last modified: 2021-05-08 by rob raeside
Keywords: malta | gozo |
Links: FOTW homepage | search | disclaimer and copyright | write us | mirrors

---
---
See also:
---
Description
Gozo island has a coat of arms, too, as seen at http://www.gozo.gov.mt/pages.aspx?page=75 and http://www.gozo.gov.mt/showdoc.aspx?id=75&filesource=4&file=GOZOCOATOFARMS.jpg. Till now we knew only about Maltese subnational coats of arms of local councils, of which there are 68.

Gozo Island is one of the three regions Malta is divided into (the other two making up the main island), as said at http://www.mgarr.gov.mt/default.asp?selMMLang=2, an arrangement that, though apparently official, is most times forgotten (see http://mjha.gov.mt/ministry/localgovt.html and http://en.wikipedia.org/wiki/Malta). Gozo is also, according to http://www.statoids.com/umt.html, one of two Maltese NUTS3 statistical subdivisions.

Whatever it is, Gozo has a coat of arms and therefore a banner of arms may exist for it. These arms are Argent issuant from a counterchief wavy wavy of six Argent and Sable three coupeaux Sable.
The Gozo coat of arms distinctly shares common features with the local council's arms (namely the coronet, with five towers); assuming that it is governed by the same ruling Adrian Strickland reported, drawing the respective banner is a logical assumption.
António Martins-Tuválkin, 21 June 2007
The coat of arms is blazoned at http://www.gozo.gov.mt/pages.aspx?page=75 as:
"The official coat-of-arms of Gozo is a field divided horizontally: the upper two thirds silver; the lower one third made up of six parallel wavy horizontal bands alternately silver and black, the top one silver, the bottom one black. Upon the upper part, three slightly pointed hills in black, the centre hill higher and in front of the other two hills. Above the shield is a mural coronet with five eschaugettes and a sally-port in gold."
Peter Hans van den Muijzenberg, 28 March 2008
The flag of the Island of Gozo (Ghawdex) is shown on Wikipedia at http://en.wikipedia.org/wiki/List_of_flags_of_Malta. According to Wikipedia, dates from 1964.
Chrystian Kretowicz, 28 March 2008
This flag can only be unofficial, since in local government terms, Gozo as an island doesn't have any particular status, any more than the main island of Malta does, or Comino. Clicking on the flag in Wiki gives a larger version, and the description is "A flag of Gozo, created entirely by me with Photoshop." This is nicely ambiguous, and could mean that the author created the graphic himself, or that he created the design himself.
André Coutanche, 28 March 2008
I notice that the image is mostly used on Wikipedia in the context of the Gozo football team/association (the soccer variety), which is a member of the N.F.-Board of Football Associations not recognised by FIFA. This would explain the creation of a flag for the island, but the website of the N.F.-Board itself at http://www.nf-board.com/en3.htm does not use a Gozo flag.
Jonathan Dixon, 28 March 2008
According to Adrian Strickland writing in 1992 (A Look at Malta Insignia), "... ferries that run from Malta to the sister island of Gozo, wear the house flag of the Gozo Channel Company, parted horizontally white-blue-yellow-blue-white, with a dark blue company logo of three hills standing upon a barry-wavy of white and blue in the centre."
David Prothero, 28 March 2008
The Maltese government website, in its English-language version, says, inter alia, at www.mjha.gov.mt/ministry/localgovt.html: "Today, Malta has 68 Local Councils - 54 in Malta, the main land; 14 in Gozo, the sister island." There is no mention of Gozo as an entity, nor does it appear at the attractive page of coats of arms at www.mjha.gov.mt/mjha_lc/default.htm.
I visited the page at http://www.gozo.gov.mt/pages.aspx?page=142, which is styled "Ministry for Gozo" (and not "Gozo Government" or some such), where it warrants a coat of arms, with a five-towered coronet. This coat of arms (which apparently gives the banner of arms on Wikipedia) does use the word 'official' to describe it. That inspires a certain amount of confidence in the flag, though the usual question remains: does it exist; is it used?
André Coutanche, 28 March 2008
Gozo (Ghawdex in Maltese) is the second largest island of Malta. It has 67 square kilometres and about 30 000 inhabitants. The capital of Gozo is Victoria (also known under name Rabat). The island is famous for cryptic megalithic buildings called Ggantija, referencing a civilisation older than Minoan Crete. It is considered as legendary Ogygia, island of the nymph Calypso, mentioned in Homer's Odyssey. The flag is light grey (also described as silver) with stylized image of island: three black hills over three black waves. It is rather a cultural than a political flag - Gozo has no effort for independence. It is used for example by the Gozo football team, which is not a member of FIFA and therefore plays only friendly matches.
Jakub Grombíř, 6 November 2008
I visited the island of Gozo in November 2010. The only flag on display in the island was the Maltese flag. I haven't seen any other flag.
Jos Poels, 13 July 2013
Various photos show a partial view of the flag of the Gozo Regional Council. It is white with the Gozo coat of arms on it. Photos taken from official website http://www.regjunghawdex.com/wwwregjunghawdexcom.html
Valentin Poposki, 3 March 2021
---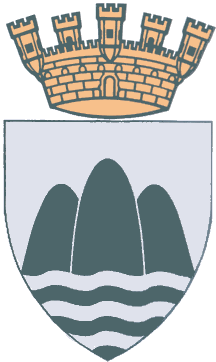 image by Joseph Bezzina, 10 May 2006
Provided by Joseph Bezzina as the coat-of-arms of the region of Gozo. Text on original reads "The coat-of-arms of Gozo - party per fess Sable three hills in fess Argent the centre one enhanced and barry wavy of six Argent and Sable; ensigned with a mural crown with five eschaugettes and a sally port Or."
I would note that the flag of Victoria is therefore a partial banner of arms.
Ben Cahoon, 10 May 2006
---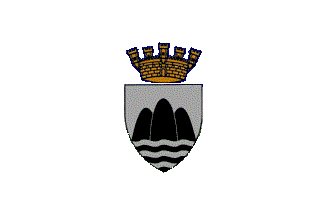 image by Ben Cahoon, 26 April 2021
The flag used is white with the arms centred.
Valentin Poposki, 3 March 2021
Image above based on this photo.
Ben Cahoon, 26 April 2021
---
I was surprised to learn recently that the Maltese island of Gozo was briefly independent at the end of the 18th century (some information can be found at http://en.wikipedia.org/wiki/Gozo_(1798-1800). Presumably, if it was independent for two years, it is likely to have had a flag. It is not known to me what it might have looked like.
James Dignan, 6 May 2013
---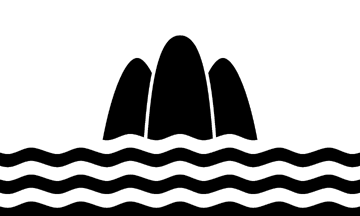 3:5 image by António Martins-Tuválkin, 12 June 2007
---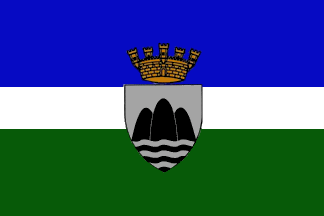 image located by Vanja Poposki, 11 July 2013
Some links where you can see the Gozo flag on photos:
http://circologozitano.webs.com
http://www.banif.com.mt/news-details?l=1&i=179
http://www.di-ve.com/lifestyle/%E2%80%98%C4%A1ie%C4%A7-gozo%E2%80%99-honours
Vanja Poposki, 11 July 2013
I am not sure how official the Gozo flag in Vanja Poposki's post below is. It seems like this could be a flag created for Gozo by the "Circolo Gozitano" group, or at least an another unofficial one. I found a news article on Gozo which says as of the date of the article, 11 March 2012, Gozo Island (region) did not have its own official flag. The flag image in this article appears to be the unofficial banner of arms on a flag pole.
http://gozonews.com/22272/gug-qestions-regionality-of-gozo-without-a-flag-or-anthem/#high_2
The image is named Gozo flag: http://cdn.gozonews.com/wp-content/uploads/2012/03/Gozo_Flag.jpg
Ben Cahoon, 11 July 2013