This page is part of © FOTW Flags Of The World website
Liberian governmental flags
Last modified: 2021-11-03 by rob raeside
Keywords: star: 5 points (white) | stripes: 11 | shield | presidential | stars: 4 |
Links: FOTW homepage | search | disclaimer and copyright | write us | mirrors

---
See also:
---
Presidential flag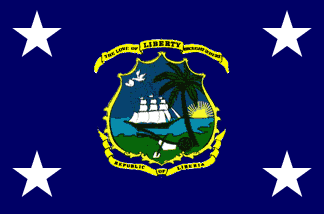 image by António Martins, 16 August 2009

German TV reported today (ZDF, "heute-Journal", 21.45-22.00) on Liberian president Charles Taylor, his imminent abdication etc. The presidential flag was shown several times (behind Taylor together with the national flag; as car flag together with the national flag). Although it was not totally unfurled, it didn't look like the reported flag. Instead of the shield in the form of the national flag it obviously showed the coat-of-arms in the center (plus the four stars in the corners).
Marcus Schmöger, 6 July 2003

Different sources from different dates show different Liberian presidential flags. I don't suppose that we will be able to trace exact dates of the changes of these.
Željko Heimer, 9 May 2002

There seems to be photographic evidence of both flags in use recently, although scarce for the one with the simpler arms: The "new" flag, with the full coats of arms (ship etc.), was in use still in Pres. Taylor's time (as reported by Marcus Schmöger, 06 Jul 2003, above), while Pres. Sirleaf is some times shown using the "former" flag. It cannot be a mistake; my guess is that each flag represent a separate office, both held by the same person — maybe President and Commander in Chief of the Armed Forces?
António Martins, 21 February 2012

On 11 August 2009, "World News Today" on BBC4 tv carried a report on reconstruction in Liberia after the civil war, and there was an interview with the President in her office. Behind her were the national flag and what one would assume is the presidential flag. We can't say from this screen grab that the flag is square (it could equally easily be the same ratio as the national flag), or that it has a white star in each corner. However, it is clearly not the earlier flag and it is consistent with what was reported in 2003.
André Coutanche, 13 August 2009

A photo of President Sirleaf said to be taken on 16 Jan 2007, the anniversary of her assumption of the presidency, shows the new flag.
Ned Smith, 17 August 2009

More (mostly inconclusive) photos of the Presidential flag:

Jan Mertens, 13 August 2009

From these photos (that one in particular) looks very much that it has to be rectangular, not square.
André Coutanche, 13 August 2009

These images clearly shows yellow, not white, scrolls.
António Martins, 16 August 2009
---
Previous version
image by Željko Heimer, 16 May 2002

A blue square field with one white star in each corner, representing the Supreme Commander, and a centered shield in the form of the national flag (shield outlined in gold; upper part blue with a white star; lower part, eleven vertical alternating red and white stripes). «Whether this is actually in use is in doubt, in view of the civil war in Liberia since 1990.» (Sources: [rya97], [pie90] and [smi80])
Ivan Sache, 1 June 1999

Since the Liberia flag is influenced by the US flag, then I guess that this flag was influenced by the former flag of the US President (blue rectangle, US coat of arms in centre, four white stars in the corner.)
Zachary Harden, 7 July 2003

One interesting fact is that the shield violates the rules of heraldry by having an odd number of red stripes, thus placing a blue chief (color) on a red shield (also color). The US solves this by changing the stripes to seven white, six red.
Nathan Lamm, 7 July 2003

This flag came into use after WWII, as the first mention that I am aware of is in [smi75c]. Possibly it is from 1965 as are the provincial flags, introduced by president Tubman. Also, possibly that the flag was abandoned with his era, too? Do we have any "modern" confirmation of this flag?
Željko Heimer, 9 May 2002

President Tubman died and was succeeded by President Tolbert, who was overthrown and killed in a military coup in April 1980.
John Ayer, 9 May 2002
Still in use?
On this photo (at the official website), red and white stripes on the President's left.
Jan Mertens, 13 August 2009
Webarchive has many past iterations of the Executive Mansion website from 23 Feb 2007 to 14 Feb 2008. They do not show the same photo of the President with the flag and striped shield. It seems that was added sometime after 14 Feb 2008 — would they add a photo then with an outdated flag? Or have they since reverted to the old version?
Ned Smith, 18 August 2009
---
Presidential flag as of 1955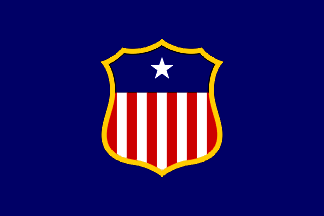 image by Željko Heimer, 16 May 2002

Admirality 1955 book [hms55] shows 2:3 presidential flag with shield as in Album 2000 [pay00], but without the four stars.
Željko Heimer, 11 May 2002, quoting Jaume Ollé
---
Presidential flag as of 1939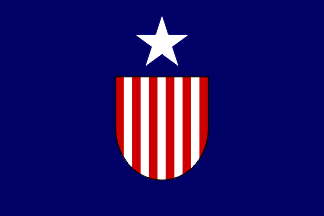 image by Željko Heimer, 16 May 2002

Flaggenbuch (1939-1941) [neu92] has flag that is virtually the same as the latter flag of military authorities, 2:3 blue flag with pally shield and star. The minor difference (black line around the shield, size of the charges) are probably of no significance.
Željko Heimer, 9 May 2002
---
Presidential flag as of 1917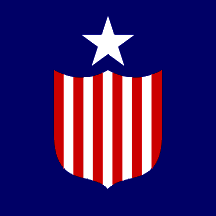 image by Željko Heimer, 16 May 2002

National Geographic Magazine (1917.10) [gmc17] has a variation of this that is square with yet different artistic rendition of the shield.
Željko Heimer, 9 May 2002

This flag has the number 765 in the flag number of National Geographic Magazine (1917.10) [gmc17].
Željko Heimer, 10 May 2002
---
Vice-Presidential flag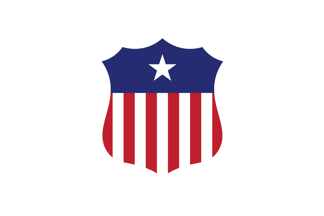 image by Hemendra Bhola, 24 October 2021
Quite a simple construction, the flag is seen in use at https://foreignpolicywatchdog.com/cuba/vice-president-of-liberia-receives-cuban-head-of-mission-at-the-capitol-in-monrovia
Hemendra Bhola, 24 October 2021
Probably the Liberian Vice President's flag was seen on a photo, at the office (also probably) of the current VP and President of the Senate, Mr. Joseph N. Boakai. White field bearing a red-and-white striped shield having a blue chief with a white star?
Jan Mertens, 18 August 2009
Definitely so. Photo at the official website shows the same, although also inconclusive about the details. It would seem that the basic pattern of the US office flags is followed also in this case, as in the (multiple) presidential flags: The US vice-president also uses a white flag with the coat of arms in the middle.
António Martins, 21 February 2012
A photo using this flag can be found at http://www.liberianobserver.com/news/boakai-resists-gay-marriage-embraces-fgm
David Phillips, 2 February 2014