This page is part of © FOTW Flags Of The World website
Kurdistan: Short-lived independent states
Last modified: 2020-08-07 by ian macdonald
Keywords: kurdistan | soran | ararat | crescent (white) | mountain | disc (red) | disc (yellow) | southern kurdistan |
Links: FOTW homepage | search | disclaimer and copyright | write us | mirrors

---
See also:
---
Emirate of Soran

image by António Martins-Tuválkin, 20 March 2017
The first Kurdish state was the Emirate of Soran, proclaimed in 1816 and ended in 1835.
Jaume Ollé, 01 October 1997
---
Kingdom of Southern Kurdistan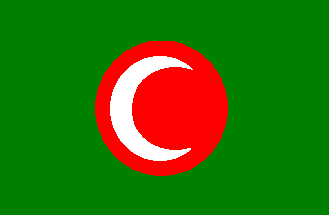 image by T. F. Mills
With the division of the Ottoman Empire at the end of First World War, the Kurds expected independence (like the Arabs and Armenians), and the 1920 Treaty of Sèvres provided for this. Turkey never ratified the treaty, and it was replaced by the 1923 Treaty of Lausanne, which made no mention of Kurdish independence.
Turkey did give up all non-Turkish areas lost in the war, and the Vilayet of Mosul was temporarily awarded to the multi-racial (Arab and Kurdish) state of Iraq. This decision was supposed to be revisited in 25 years, but no international body has done so. In 1922, Mahmoud Barzandji, governor of Mosul, proclaimed himself King of Southern Kurdistan (i.e. northern Iraq).
This flag seems to have been quite forgotten by subsequent Kurdish nationalist movements (or deliberately ignored due to its Turkish connection). In 1923-24 the British mandatory power in Iraq regained control of Kurdistan.
T. F. Mills, 27 September 1997
The flag of the Kingdom was green with centered red circle and within the circle a white crescent pointed to fly. The royal standard was the same flag with royal crown.
Jaume Ollé, 01 October 1997
The flag is shown in two sources
a 1922 photograph of the Kurdish Army taking an oath of allegiance.
a sketch with notes on the colours by Ahmed Khwaja in his autobiography Cim Di (1970).
T. F. Mills, 25 November 1997
The 1922 photograph was from a book: "Kurdistan in the Shadow of History" by Susan Meiselas (Random House, 1997), p. 83. It
is a very well researched and sourced picture book. On the opposite page is a sketch of the flag, taken from "Cim Di" (What I Saw) by Ahmed Kwaja (1970.) Kwaja specifies the colours of the flag.

The photo is now available on the internet: https://kurdistan.photoshelter.com/gallery-image/Drakhshan-Hafid-Archives-Sheikh-Mahmoud-s-family-1900s-1950s/G00006M4hLt1VJE4/I0000Op7kRY4OMmU

The captions in the book and internet are almost identical. The book credit is "unknown [photographer]/Courtesy Rafiq Studio."

My own comment: the uniforms of the troops in the photo are Ottoman Turkish. They were either raided from a military store in Suleimaniyeh, or all these men had been just previously serving in the Turkish Army. The light tunics with fezzes are officers. The dark tunics are enlisted men with Kurdish headdress. The Ottoman army of WWI also employed all-Kurdish irregular units, but only the officers were uniformed.
T.F. Mills, 26 June 2020
---
Republic of Ararat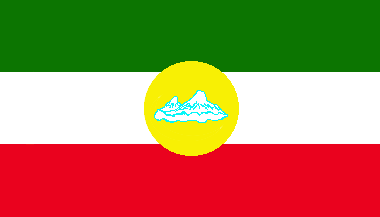 image by Jaume Ollé
The Republic of Ararat existed between 1927 and 1931 in the Northeast of Turkey.
Jaume Ollé, 4 October 1997
---