This page is part of © FOTW Flags Of The World website
Staffordshire (England)
Last modified: 2020-07-04 by rob raeside
Keywords: staffordshire | kidsgrove | biddulph | sedgley |
Links: FOTW homepage | search | disclaimer and copyright | write us | mirrors

---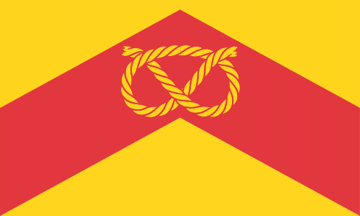 image by Jason Saber, 28 March 2016
---
See also:
---
The county of Staffordshire has acquired a new flag following a poll conducted by the Flag Institute to select one of two designs. The winning design, submitted by the Staffordshire Heritage Group, is a traditional county pattern, associated with Staffordshire for several centuries and includes the famed "Stafford Knot" which has been discovered on the treasure hoard found in the county in 2009 and dating from the seventh or eighth century. The winning design achieved 72.84% of the vote. The other design in the poll was the banner of arms of Staffordshire County Council.
Jason Saber, 28 March 2016
From the Flag Institute:
The gold background and red chevron comes from the coat-of-arms of the de Stafford family and has been used in connection with the county since at least the 17th century. The knot is an ancient symbol of Staffordshire, used by many organizations, including the Staffordshire Regiment and Staffordshire Cricket.
Flag Type: County Flag
Flag Date: 28th March 2016
Flag Designer: Traditional Design
Adoption Route: Popular Vote
UK Design Code: UNKG7455
Aspect Ratio: 3:5
Pantone® Colours: Yellow 116, Red 186
Source: https://www.flaginstitute.org
Valentin Poposki, 1 July 2020
---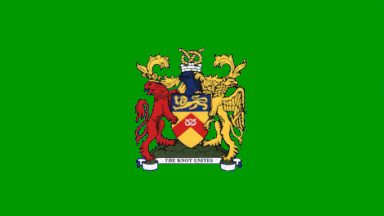 Adrian Thomas, 16 March 2003
On a green field, the coat of arms of the county (an enlarged version can be seen below): on the chevron gules a Staffordshire Knot of the first on a chief azure a lion passant guardant of the field and for the crest issuant out of a mural crown proper a Stafford knot or as same are in the margin hereof more plainly depicted. And by the authority afore said I the said garter do these presents grant and assign the supporters following that is to say on the dexter side a lion reguardant gules crowned with a ducal coronet or and on the sinister side a Gryphon reguardant or as the same are also in the margin hereof more plainly depicted the whole to be borne and used for hereafter by the Stafford county.
Adrian Thomas, 16 March 2003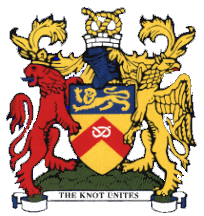 located by Adrian Thomas
---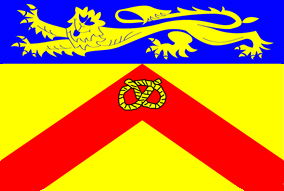 image by Dirk Schoenberger, 28 August 2009
Litchfield Rural East's county councillor has launched a campaign to give a new pride of place to people who live in Staffordshire. Matthew Ellis, who retained his county seat with a landslide win in June, says that a sense of belonging is important in tackling some of the social issues the whole country is facing. He explained, "I'm always taken aback by the sense of belonging people feel in Cornwall. They are openly proud of their county, the food that's produced there and the culture which is so incredibly strong. Everywhere, it's Cornish this and Cornish that and you can't travel far without seeing Cornwall's black and white flag flying." And he believes that starting to fly Staffordshire's official flag is a good way to encourage people to feel part of their county.
Cllr Ellis has kicked the campaign off by buying a five foot Staffordshire flag for each of the thirteen parishes he represents. He added "Staffordshire has a long and fascinating history. We should be proud of that and reject efforts nationally to make us all feel part of the West Midlands Region. I don't know where that starts or finishes and, frankly, I don't want to. I do feel part of Staffordshire but don't feel part of some artificial administrative region. It may seem a small thing but if we can share a common cause and identity I think that could be very positive for the future."

Most public buildings in Staffordshire now fly the Union Flag permanently as a result of a County motion put forward last year by Cllr Ellis.
- article from the Litchfield blog contributed by Jason Saber, 25 August 2009
We seem to be dealing with two distinct flags, a banner of the county arms and a plain green field with the full achievement. The first is automatic on the grant of arms, the second is official for the council. The banner of arms is the property of the rights-holder. Technically only the rights-holder may use it. The second is the official flag of the council. Only those buildings, sites and vehicles belonging to the council may use it. That is the usual official position. None of this prevents the council from according the right to use either flag to any person or organisation. If the right has been granted, the person or organisation is free to use the flag within whatever limitations may have been specified.
Michael Faul, 27 August 2009
I just received an e-mail back from Cllr. Ellis regarding Staffordshire's flag. As a member of the Flag Institute I commented to him about what Hertfordshire did last fall by declaring their armorial banner the county flag and registering it with FI's registry. Thanks to my suggestion, he and the council are planning to do just that, registering Staffordshire's flag with FI therefore making it one of England's official county flags. (As to when this will happen, who knows...)
Brian Ellis, 27 August 2009