This page is part of © FOTW Flags Of The World website
Dorset (England)
Traditional English County
Last modified: 2021-11-03 by rob raeside
Keywords: dorset | gillingham |
Links: FOTW homepage | search | disclaimer and copyright | write us | mirrors

---

image by Ivan Sache and Tomislav Todorovic, 1 May 2008, 24 July 2020
---
On this page:

See also: Other sites:
---
The flag proposal for Dorset, conceived by Stephen Coombs in 2006 and designed by Dave White, from Dorchester, is with a white cross fimbriated red. The colours of the flag are considered as the colours of Dorset for different reasons.
First, they are found in the Dorset County Council arms, on which two golden dragons supports a white shield charged with three leopards stacked over a red fleur-de-lis. The golden dragon is thought to have represented the ancient Saxon kingdom of Wessex.
Second, during the Duke of Monmouth' uprising in 1685, the Dorset militia wore red coats with yellow facings. The drummers actually had this reversed with yellow coats and red facings.
Third, the three colours are also found in the coat of arms of the Sherborne Abbey, "Gules a white cross a crozier or piercing the cross". Red and white also recalls that Dorset is an English county.
The flag is nicknamed "St. Wite's Cross". According to the local tradition, St. Wite was a Saxon holy woman martyred by the Danes in the IXth century; Historian Christine Waters in her "Who was St. Wite?" rather believes St. Wite was a hermit who worked selflessly for the local community. The complete remains of the saint are kept in the church of Whitchurch Canonicorum.

For further information on this and the flag visit these websites:

Ivan Sache, 1 May 2008

I add this from the Flag Institute Registry:
Flag Type: County Flag
Flag Date: 16 September 2008
Flag Designer: Stephen Coombes & David White
Adoption Route: Popular Vote
UK Design Code: UNKG7416
Aspect Ratio: 3:5
Pantone© Colours: Yellow 116, Red 186, White
Source: Flag Institute Registry|Dorset Flag
Valentin Poposki, 28 June 2020
---
Proposals for the flag
The "Dorset Echo" shows two more flag proposals for Dorset.
"A narrowboater has come up with a novel idea for a Dorset flag - the one he has been sailing under for the last 12 years. Grayham Rosamond, from Shipton Gorge near Bridport, needed a flag to sail under when he began narrowboating across the country. So he opted for producing his own Dorset-related ensign - and reckons it is the perfect solution to the Echo's hunt to find a county flag.

...Mr Rosamond's flag design is based upon the St George's Cross and features Hardy's Monument standing on a 'Bridport dagger' - a piece of rope. The submission also boasts a shield, divided into four quarters, which features the White Horse of Osmington Hill, Corfe Castle, the Cerne Giant and an Abbotsbury swan. Mr Rosamond's design also includes a banner that reads Vitare Gaudeamus, which means 'let us enjoy life'.

...Weymouth reader Grayham Rosamond also took the time to send her Dorset flag design to us here at the Echo. Her idea is based on the county's distinctive coastline and uses the isle of Portland's outline as the 'D' in Dorset. Mrs. Blake, from Broadwey, said: "Flags don't normally have wording, so I thought this too would be different." [sic]
Source: Dorset Echo.
Ivan Sache, 2 June 2008

In "The Dorset Echo", 12 June 2008, Arron Hendy reports that the council of Eastern Dorset have not been fascinated by the proposals:

"Bournemouth Borough Council has cited their historic links with Hampshire while Poole and Christchurch have also decided not to be involved at this stage. Dorchester's Dave White, who launched the project with his own design, still hopes the flag will go ahead. He said: "I'm very disappointed with Bournemouth Borough Council's response considering the town has now been part of Dorset for many years. Hankering after a past life with Hampshire certainly is not a particularly good excuse. If the people of Bournemouth choose to adopt the flag, then who are the council to stop them?"

Mr White contacted all three councils after Dorset County Council chairman John Peake stressed that discussions would have to involve Bournemouth and Poole. Chief executive of Bournemouth Borough Council Pam Donnellan confirmed their decision. She said: "We already have strong historic links with both Hampshire to the east and Dorset to the west and we wish Dorset every success in this new initiative."

...A Borough of Poole spokesman also referred to historical issues. He said: "The borough has a rich history dating back hundreds of years and was subject to a Royal Charter in 1568 which saw it named the county of the town of Poole and, therefore, separate from the county of Dorset..

"The council has no objections to the campaign for a Dorset flag however we feel that this issue is best pursued by our colleagues at Dorset County Council."
Sally Northeast, public relations manager at Dorset County Council, confirmed chief executive David Jenkins had spoken to both Bournemouth and Poole's councils and that they were not interested at the moment. She said: "The issue for them is to do with the fact that they have quite a strong town identity from a tourism point of view. If the flag goes into production who knows what will happen."
Source: The Dorset Echo.
Ivan Sache, 13 June 2008

With regards to Dorset, England - the Dorset Cross/St Wite's Cross - gold field, white cross outlined in red - yesterday won a public vote to see it endorsed as the flag of Dorset. 4,000 people voted, with the Dorset Cross claiming 54% of the vote. Three other contenders received 22%, 21% and 3% respectively.
Dave White, 17 September 2008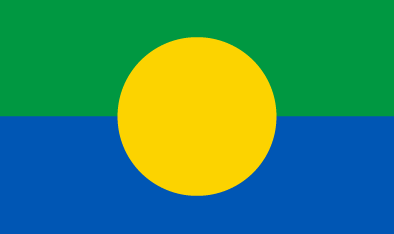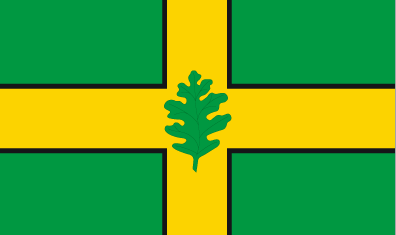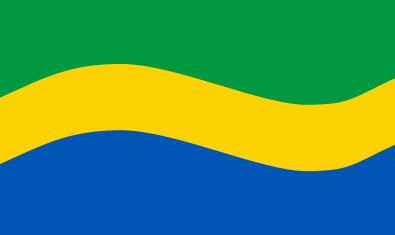 images located by Pete Loeser, 17 September 2020 (from The Dorset Flag)
These Four designs were placed on a short list in 2008. There were the three runner-ups in the contest after the county wide vote. I'll leave it up to you to pick the winner and runner up.
Pete Loeser, 17 September 2020
---
Dorset County Council Banner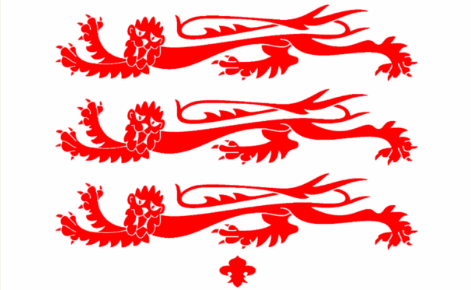 image by Pete Loeser, 24 July 2020
The Dorset County Council has long had a coat of arms Banner, depicting three striding lions above a red fleur de lys on a white background. In 2007 when it suddenly appeared for commercial sale the council quickly pointed out that it represented only the council, not the whole county.
Pete Loeser, 17 September 2020
---
The Dorset Ensign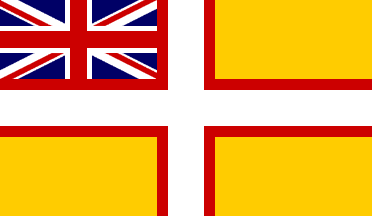 image by Tomislav Todorovic, 24 July 2020
based on this photo.
A Dorset Ensign has also been introduced, probably inspired by a similar one used in the neighbouring county of Devon. It does not seem to be widely used: the only sources which currently displays it is the British County Flags website and a dealer on eBay. (source)
Tomislav Todorovic, 24 July 2020
---
Dorset Coat of Arms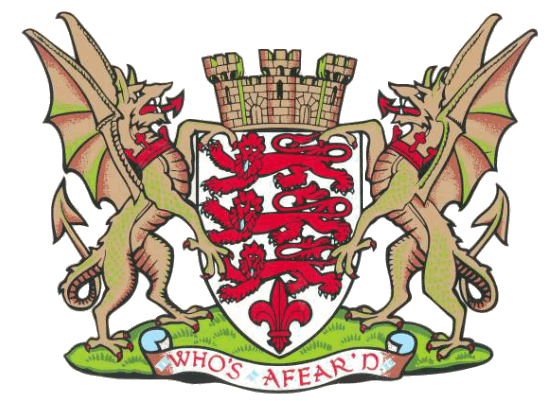 image from Pete Loeser, 17 September 2020
Source: Heraldry of the World
The Dorset Coat of Arms arms were officially granted by the College of Arms in February of 1950. It's design is based on different seals and arms dating back to the original County Council of 1889. It was explained thusly: "The three lions represent England and lions are found in the arms of Dorchester, Bridport, Lyme Regis, Weymouth and Blandford Forum. Lions' faces are in the coat of arms of Shaftesbury. The fleur-de-lis appears in the shields of of Dorchester, Bridport, Wareham and Shaftesbury. The mural crown is designed to echo the insignia of the Dorset Regiment and the Society of Dorset Men and the golden dragon of Wessex or Wyvern represented the ancient kingdom of Wessex."
Official Blazon
Arms: Argent three Lions passant guardant in pale and in base a Fleur-de-Lys Gules; the Shield ensigned with a Mural Crown towered Or.
Supporters: On either side a Dragon wings elevated and addorsed Or gorged with a Saxon Crown Gules.
Motto: "Who's Affear'd"
Source: Heraldry of the World
Pete Loeser, 17 September 2020