This page is part of © FOTW Flags Of The World website
MG Rover Group, United Kingdom
Last modified: 2011-04-16 by rob raeside
Keywords: mg rover group |
Links: FOTW homepage | search | disclaimer and copyright | write us | mirrors

---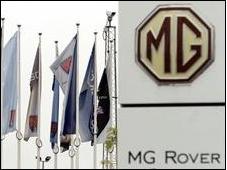 image located by Esteban Rivera, 9 March 2011
Source: http://newsimg.bbc.co.uk
---
See also:
---
On July 5, 2009, BBC online news reported an investigation by the local authorities about the demise of MG Rover Group back in 2005.
On the image above from the following news article: http://news.bbc.co.uk/2/hi/business/8134981.stm, can see a set of seven (one is actually not possible to see but one can actually see the flagpole), which I presume are the vertical flags of the different automotive brands, most likely: Morris, MG, Rover, Austin, among others.

For further information please see: http://en.wikipedia.org/wiki/MG_Rover
Esteban Rivera, 9 March 2011
A similar stand is found here, but an evening shot: http://www.bbc.co.uk/blogs/thereporters/robertpeston/2009/09. Shows that it might really 1 3 5, with the one being the Union Flag in front (out of view in the first photograph). This one does as well: http://forums.mg-rover.org/showthread.php?t=362373, but the flag sighting is not good. Another view of what might presumably the same group is here: http://www.birminghammail.net, 3rd photograph in the gallery. Another less pleasant view of such flags - apparently nobody is left there to take care of them - is here: http://www.auto-types.com/autonews/mg-rover-longbridge-plant-in-england-to-be-revived-6505.html, image at:
http://www.auto-types.com/images/_autonews/mg_rover_longbridge_29.jpg. On the other hand, this image is much bigger at allows better viewing of what's left. It still takes a car person to interpret the flags, though.
Peter Hans van den Muijzenberg, 9 March 2011
Indeed, the best photograph so far to try to discover which flags are flown. Found another website for it:- Image: http://static.panoramio.com/photos/original/11571287.jpg (Source: http://www.panoramio.com/photo/11571287). Flags (five total) shown from left to right: TF model, indistinct, indistinct (shows numbers 2 and 4 in light blue background), MG "Life's too...."(slogan) flag, MG models flag (Models: ZR, ZS, ZT, ZT-T, TF).
More information regarding the flags:
Images:
http://www2.2space.net/images/upl_newsImage/1246878009.jpg (picture taken from http://www.2space.net/news/about/rover/7). From
left to right (five flags are seen): TF Model, indistinctive (light blue), Rover "A class of its own" (slogan flag), MG Rover Group (official vertical flag), MG flag.
http://cache2.asset-cache.net (MG Rover "Direct" flag) (Caption of the picture: "A MG Rover flag is seen at the Longbridge site of car maker MG Rover on April 11, 2005 in Birmingham, England". Source: Time magazine)
http://cache3.asset-cache.net (Another MG Rover "Direct" flag) (Caption of the picture: "MG Rover flags are seen at the Longbridge site of car maker MG Rover on April 11, 2005 in Birmingham, England". Source: Time magazine)
http://cache2.asset-cache.net (MG flag on the left and Rover flag on the right). Caption of the picture: "A supporter of MG Rover carries a flag at the Longbridge site of the car maker on April 11, 2005 in Birmingham, England". Source: Time magazine
http://cache3.asset-cache.net ("A class of its own" flag on the left and MG Rover Group flag on the right) Caption of the picture: "MG Rover signage is seen at the Longbridge site of the car maker on April 11, 2005 in Birmingham, England". Source: Time magazine.
http://cache3.asset-cache.net (TF model flag on the left) Source: Time magazine
http://www.autocar.co.uk (Full set of eight flags, plus the Union Jack). Source: http://www.autocar.co.uk/blogs/autocarconfidential/archive/2008/01/03/another-glimmer-of-hope-for-longbridge.aspx

Also worth mentioning, is that at one point there seemed to be a semi-official MG Rover Group website (probably hosted by union workers of this company) at http://www.savemgrover.com, as this picture shows: http://images.icnetwork.co.uk/upl/birmmail/apr2008/1/0/572475FB-D961-17E1-350C85EE7F4D9267.jpg. However this site is owned currently by someone else.
Esteban Rivera, 9 March 2011
Here is the Land Rover / Range Rover logo on a bedsheet (apparently not in the Rover Group set of flags previously posted, as I will explain): http://www.flickr.com/photos/peter_bromley/3060905214/in/photostream/.
Land Rover was launched in 1948 as an inexpensive 4-wheel drive work horse for farm and military service (and many other applications), manufactured by the Rover Car Company. Rover Car Co with its Land Rover line became part of Leyland Motors Ltd, later British Leyland (BL) in 1967. Range Rover was launched in 1970 as a more luxury model, sold alongside several models of Land Rover. BL was nationalised in 1975 and Land Rover Ltd became a separate subsidiary of BL in 1978. In 1983 BL became Rover Group plc. Rover Group was privatised in 1988, now known simply as Rover, and owned by British Aerospace (BAe). BMW acquired Rover in 1994, and in 2000 BWM broke up the Rover group, selling Land Rover (including Range Rover) to Ford. Thus after 52 years, Land Rover / Range Rover was no longer part of the Rover company that had spawned it and given it its name. In 2008 Ford sold Land Rover to Tata Motors of India.

When MG Rover collapsed in 2005 it was the last domestically owned mass-production automobile company in Britain, and controlled the following brands (which may be represented in the group of flags mentioned earlier): Wolseley, Austin, Morris, MG (Morris Garage), Vanden Plas, Princess, Sterling. All these brands were previously owned by BL. (See Wikipedia for their production history.) In 2006 Ford acquired the dormant Rover automobile marque from MG Rover, and sold it in 2008 to Tata Motors.

Here are the Rover and MG logos on a bedsheet: http://www.only-flags.com/rover-flag-rov002-p-465.html, http://www.only-flags.com/automotive-flags-c-21_63.html.

Nanjing Automobile Group acquired all the assets of MG Rover in 2005, and now produces the MG brand in England and China. Shanghai Automotive Industry Corporation (SAIC), upon losing its expected rights to Rover, began producing the Roewe brand in 2006 based on the Rover platform. Nanjing and SAIC merged in 2007.
T.F. Mills, 10 March 2011