This page is part of © FOTW Flags Of The World website
United Kingdom: Alternative flags - some modern proposals
Last modified: 2017-03-11 by rob raeside
Keywords: union jack | saltire | cross: saint george | cross: saint andrew | cross: saint patrick |
Links: FOTW homepage | search | disclaimer and copyright | write us | mirrors

---
Periodically, various people make suggestions for "improvements" on the British flag. Below we have collected some of these proposals.
---
The Guardian newspaper in the UK ran a design competition for a new Union Jack a while back. Well, check out the winners: http://www.guardianunlimited.co.uk/galleryguide/0,6191,184378,00.html
Dave Martucci and I won; and Jorge also entered.
David Cohen, 17 March 2001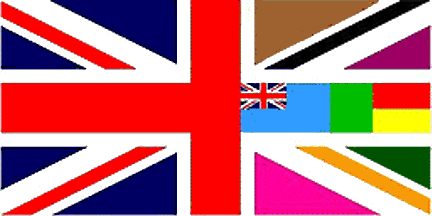 image by David Cohen
The Union Jack remains one of the most distinctive and striking flags ever designed, and it immediately symbolises the United Kingdom. Therefore my design is evolutionary rather than revolutionary. The brown and black areas represent West Indian, Indian and Pakistani British citizens, while the darker purple is taken from the West Indian cricketing flag. The blank Blue Ensign signifies Britain's long colonial history; the pink stripe is a mischievous historical reference to the pink bits on the map. The light green, red and yellow stripes are a reminder of Britain's history in Africa, Asia and other parts of the world, while the darker green and orange stripes are specific references to Ireland and India.
David Cohen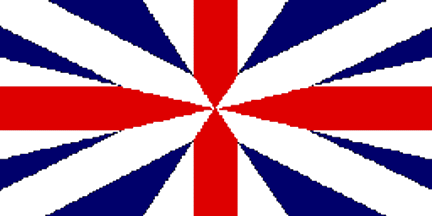 image by Dave Martucci
My design consists of the traditional flags of England (St George's Cross) and Scotland (St Andrew's Cross) joined in a new way so that one is not superior to the other but the symbolism is still "United Kingdom". The design is known in traditional heraldry as a gyronny (of 8) and each segment contains a corresponding part of the two flags alternately. Hope you like it. It was published in our newsletter (NAVA News) a few issues back. Pro Vexillis!
Dave Martucci
---
Some suggestions from the "New British Flag" web page: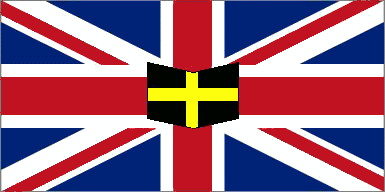 image by Ioan Francis
A flag that might be an idea to think about, is to keep the good old Union Jack, but add the crest of St. David's Cross in the centre.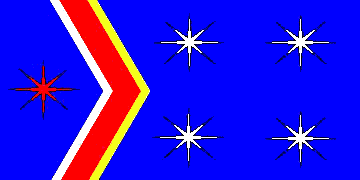 image by Ioan Francis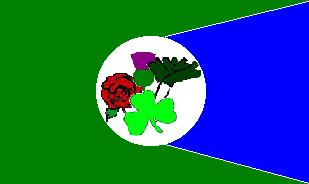 image by Ioan Francis
The blue in the flags represents the ocean, being a major part of GB's history and the white is peace. The American type star I did not use, I thought the idea of the 4 or 8 point star was non-American looking. The 4 point star is a part of NATO.
Ioan Francis, 23 April 2001
---
It is noted that Wales is not represented in the union flag. Yet as Wales and Scotland are both granted partial self rule on roughly the same level, one can hardly exclude the possibility that this may change in the future. As a vexillological design exercise this can be given as four alternatives:
1. A flag combining the crosses of Saints George, Andrew, Patrick & David
2. Positing changes in the Northern Irish situation, a possible flag combining the crosses of saints George, Andrew, & David.
3&4. The same combinations, but somehow incorporating the red dragon flag instead of St. David´s cross.
Knut A Berg, 7 July 2002
---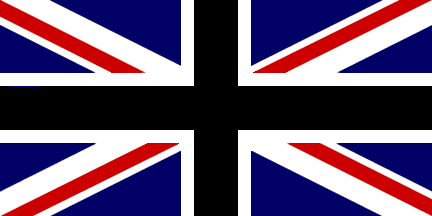 reFLAG Campaign non-standard Union Flag (with black cross) "...changing the nation's main emblem... so that our flag reflects the diversity of the people of the UK"
Nigel Turner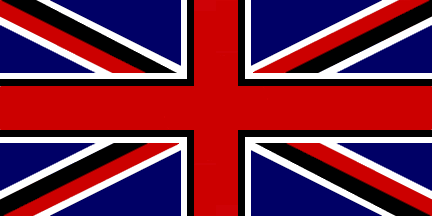 image by António Martins-Tuválkin, 26 June 2007
At http://news.bbc.co.uk/2/hi/uk_news/2981038.stm is the story; there was a site for this campaign, too, http://www.reflag.net/, which of lately simply informed that the campaign was closed thank you all, and shown the flag, but it is now unavailable. However the BBC article sums up the story pretty well.

The campaign in question, aimed at the 2006 union jack centennial, was centered on a proposal for an alternative design, adding to the cross of St. George a black fimbriation and filling the cross of St. Patrick with black and red instead of white and red. The symbolism behind it was Britain's multiculturalism.
António Martins-Tuválkin, 26 June 2007
---
See also: