This page is part of © FOTW Flags Of The World website
Vendée (Department, France): Intermunicipal Authorities
Last modified: 2020-08-02 by ivan sache
Keywords: vendée |
Links: FOTW homepage | search | disclaimer and copyright | write us | mirrors

---
See also:
---
Index of the Intermunicipal Authorities
Communautés d'agglomération (2)

La Roche-sur-Yon Agglomération
Les Sables d'Olonne Agglomération
Communautés de communes (17)

Sud Vendée Littoral
Terres de Montaigu Montaigu-Rocheservière
Pays-de-Saint-Gilles-Croix-de-Vie
Challans-Gois Communauté
Vie et Boulogne
Pays-de-Fontenay-Vendée
Pays des Herbiers
Canton de Mortagne-sur-Sèvre
Pays de Saint-Fulgent - Les Essarts
Pays de Pouzauges
Pays-de-Chantonnay
Océan marais de Monts
Pays des Achards
Vendée Sèvre Autise
Pays de la Châtaigneraie
---
Vendée-Grand-Littoral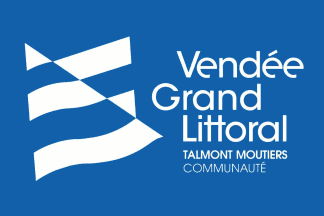 Flag of Vendée-Grand-Littoral - Image by Olivier Touzeau, 3 January 2020
The Communauté de communes Vendée-Grand-Littoral (33,551 inhabitants in 2016; 50,879 ha) was created in 2017 under the name Communauté de communes Moutierrois-Talmondaisas the merger of:
- Communauté de communes du Pays-Moutierrois (created in 1995, 11 municipalities: Moutiers-les-Mauxfaits, Angles, La Boissière-des-Landes, Le Champ-Saint-Père, Curzon, Le Givre, La Jonchère, Saint-Avaugourd-des-Landes, Saint-Benoist-sur-Mer, Saint-Cyr-en-Talmondais, Saint-Vincent-sur-Graon - 22,081 ha, 12,362 inh.);
- Communauté de communes du Talmondais (created in 2003, 9 municipalities: Talmont-Saint-Hilaire, Avrillé, Le Bernard, Grosbreuil, Jard-sur-Mer, Longeville-sur-Mer, Poiroux, Saint-Hilaire-la-Forêt, Saint-Vincent-sur-Jard - 28,379 ha, 20,136 inh.)
On 1 January 2018, it took the name of Vendée-Grand-Littoral.
The flag of Vendée-Grand-Littoral (photo), hoisted in Talmont-Saint-Hilaire (seat) is blue with the authority's logo in white.
Olivier Touzeau, 3 January 2019
---
Île de Noirmoutier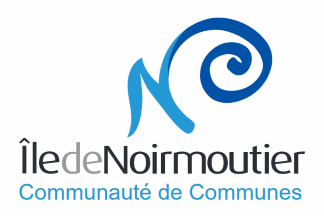 Flag of the CCIN - Image by Olivier Touzeau, 12 April 2020
Noirmoutier (9,438 inhabitants; 4,900 ha), a tidal island located off the Atlantic coast, is referred to as the Mimoss Island, due to its temperate climate that allows for the flowering of Acacia dealbata (mimosa) year-round.
The island is predominantly made of salt marsh and salt banks, sand dunes and evergreen oak forests. It has been a site of uninterrupted human inhabitation since prehistoric times, and is a popular tourist destination.
Noirmoutier is connected to mainland France by a road bridge built in 1971. The other link to mainland is the Passage du Gois, a paved-over sandbank of 4.5 kilometres, flooded twice a day by the high tide. Every year, a famous foot race – the Foulées du Gois – is held across it, starting at the onset of the high tide.
The island is composed of four municipalities grouped into the Communauté de communes de l'Île de Noirmoutier (CCIN):
- Barbâtre (1,724 inh.);
- L'Épine (1,641 inh.);
- La Guérinière (1,347 inh.);
- Noirmoutier-en-l'Île (4,668 inh.; seat).
The flag of the CCIN (photo) is white with the authority's logo, which was created in 2010 by the communication agency LM Young & Rubicam.
Each of the four constituent municipalities has its own logo derivated from the CCIN logo. According to Gérard Guillet, Mayor of Barbâtre, "the objective is to unite all the actors of the island around a single identity for Noirmoutier. In fact, the community of the four municipalities thus wishes to reinforce the attractiveness of the island by speaking with one voice."
[Logonews, 10 February 2010]
Olivier Touzeau, 12 April 2020
---
Pays de Sainte-Hermine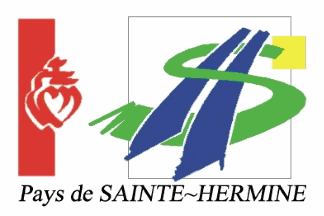 Flag of Pays de Sainte-Hermine - Image by Olivier Touzeau, 22 January 2019

The Communauté de communes du Pays de Sainte-Hermine, created in 1993, was merged in January 2017 with the Communautés de communes Isles-du-Marais-Poitevin, Pays-Mareuillais and Pays-Né-de-la-Mer to form the new Communauté de communes Sud-Vendée-Littoral. Pays de Sainte-Hermine (11,160 inhabitants in 2013; 22,760 ha) was composed of the municipalities of Caillère-Saint-Hilaire, La Chapelle-Thémer, La Jaudonnière, La Réorthe, Saint-Aubin-la-Plaine, Sainte-Hermine (seat), Saint-Étienne-de-Brillouet, Saint-Jean-de-Beugné, Saint-Juire-Champgillon, Saint-Martin-Lars-en-Sainte-Hermine, Sainte-Gemme-la-Plaine, Thiré.

The flag of Pays de Sainte-Hermine (photo) was white with the authority's logo.

Olivier Touzeau, 22 January 2019