This page is part of © FOTW Flags Of The World website
Saint-Omer (Municipality, Pas-de-Calais, France)
Last modified: 2021-06-19 by ivan sache
Keywords: saint-omer |
Links: FOTW homepage | search | disclaimer and copyright | write us | mirrors

---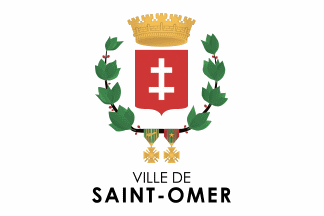 Flag of Saint-Omer - Image by Olivier Touzeau, 17 July 2020
---
See also:
---
Presentation of Saint-Omer
The municipality of Saint-Omer (14,726 inhabitants in 2018; 1,640 ha) is located 50 km east of Boulogne-sur-Mer.
Saint-Omer was first documented during the 7th century under the name of Sithiu (Sithieu or Sitdiu), around the St. Bertinus abbey founded by Omer, bishop of Thérouanne. In the 9th century, the village that grew up round the monastery took the name of St. Omer. The Norsemen laid the place waste about 860 and 880. Ten years later the town and monastery were fortified. In 932 Arnulf of Flanders conquered the county of Artois and Saint-Omer became part of the county of Flanders for the next three centuries.
Along with textile industry, Saint-Omer flourished in the 12th and 13th centuries. After the mysterious death of count Baldwin I, the county of Flanders was weakened. In 1214, Philip II Augustus of France captured Baldwin's daughter Joan and her husband Ferdinand, Count of Flanders and forced them to sign the Treaty of Pont-à-Vendin, in which Artois was yielded to France. Allied with emperor Otto IV and John, King of England, Ferdinand was defeated in 1214 at Bouvines, but was defeated. Despite the political separation for the next 170 years, the town remained part of the economic network of Flanders.
In 1340 a large battle was fought in the town's suburbs between an Anglo-Flemish army and a French army under Odo IV, Duke of Burgundy, in which the Anglo-Flemish force was forced to withdraw. From 1384, Saint-Omer was part of the Burgundian Netherlands, from 1482 of the Habsburg Netherlands, and from 1581 to 1678 of the Spanish Netherlands.
During the Thirty Years' War, the French attacked the town in 1638, under cardinal de Richelieu, and again in 1647. Finally in 1677, after a seventeen-day siege, Louis XIV forced the town to capitulate. The peace of Nijmegen signed in the fall of 1678 confirmed the conquest and the annexation of Saint-Omer to France.
During World War I on 8 October 1914, the British Royal Flying Corps (RFC) arrived in Saint-Omer and a headquarters was established at the airfield next to the local race course. For the following four years, Saint-Omer was a focal point for all RFC field operations.
Olivier Touzeau, 17 July 2020
---
Flag of Saint-Omer
The flag of Saint-Omer (photo) is white with the municipal coat of arms, "Gules a patriarchal cross argent", and the name of the municipality below.
The arms of Saint-Omer, featured on the Armorial Général (image), are based on old municipal seals.
The patriarchal cross, here patty, was first featured on the counter-seal of the privy seal used by the municipality of Saint-Omer in 1209, which bears the writing "SIGNVM SANCTE CRVCIS" (Latin, Sign of the Holy Cross).
The counter-seal of the privy seal used in 1369 features the coat of arms of Artois surmounted by the patriarchal cross, here (and in all subsequent seals) coupé. A similar counter-seal used in 1280 does not include the cross.
The privy seal used in 1436 features St. Omer standing in a field semy of fleur-de-lis and holding dexter a shield charged with the patriarchal cross. In the aforementioned, earlier seals, the saint does not hold anything in the dexter hand.
The same pattern for the seal and the counter-seal is is used in privy seals used in 1489, with the base of shield rounded-off instead of pointed; in 1533, with the upper angles of the shield coupé and the sides curved instead of rectilinear; in 1594, with the sides of the shield even more curved. The privy seal used in 1769 is similar, but the cross is no longer shown on the counter-seal.
In the debt acknowledgement seal used from 1304 to 1748 (here without counter-seal), St. Omer holds a church instead of a shield. The earliest counter-seals features only a thin cross, while the more recent version, used since 1521, feature the shield with the cross.
Correspondence seals used in the late 17th century feature the cross inscribed in an oval placed on a cartouche.
[A. Hermand & L. Deschamps de Pas. 1860. Histoire sigillaire de la ville de Saint-Omer]
Several reliquaries of the Holy Cross, like the Clairmarais cross (1220) kept in the Hôtel Sandelin Museum in Saint-Omer, were shaped like the patriarchal cross. The use of the cross on the town's arms might be connected with relics brought back from the Holy Land by the lords of Saint-Omer.
The arms of Saint-Omer were confirmed on 25 November 1815 upon request by Mayor Pierre-François Wattringue.
[Les 4 saisons de l'Audomarois, 8 March 2018]
The reliquary-cross was designed between 1210 and 1220 for the Clairmarais abbey, probably in the aftermath of the sack of Constantinople (April 1204) during the Fourth Crusade; relics of the Holy Cross were among the most coveted artifacts stolen by the crusaders.
[Musées de Saint-Omer]
Olivier Touzeau & Ivan Sache, 30 April 2021