This page is part of © FOTW Flags Of The World website
Idiocracy (movie)
Last modified: 2017-10-28 by peter hans van den muijzenberg
Keywords: idiocracy | united states of uhmerica | uhmerica | stars: 25 (yellow) | carls's jr. | costco | cavalcade | flaturin | tarrlyton | ronaise | buttfuckers | nastea | bonerax | brawndo | acne insurance |
Links: FOTW homepage | search | disclaimer and copyright | write us | mirrors

---
See also:
---
At the IMDb, the 2006 movie Idiocracy is presented thus:
Private Joe Bauers, the definition of "average American", is selected by the Pentagon to be the guinea pig for a top-secret hibernation program. Forgotten, he awakes 500 years in the future. He discovers a society so incredibly dumbed-down that he's easily the most intelligent person alive.
500 years in the future begs the question about flags. Will a dumbed-down society be more or less prone to flag change than a brighter one? We can expect vexillological errors accumulating as designs get miscopied, though lessened creativity could lead to drabber versions of our current colorful world.
António Martins, 5 August 2007
---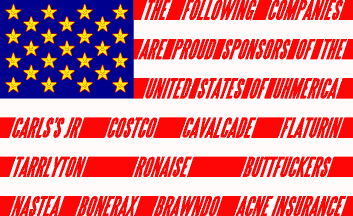 image by Eugene Ipavec, 8 September 2011
The design is a bit unstandard, with a 3:5 ratio. It is 11-stripped; the red stripes consisting of lines of text set in a very bold and typgraphically dark face, slightly slanted. Its stars are yellow, perhaps a bit denser than regular, and 25 in number, arranged in seven staggered rows of four and three stars each. The settings of its use (presidential bike, its armoured bus escort, and the Senate(?) speaker's desk backwall) imply that this is the 2506 U.S. national in this movie. Gotta watch this movie to find the motive for the number 25 (a half-brain version of the current US?).
António Martins, 5 & 9 August 2007
I recently came across a prop-flag for this film on sale, and it is described in the following manner:
The 25 stars on this flag are Carl's Jr. logos, and the six red stripes (separated by five white ones) are made up of the words…

The following companies are proud sponsors of the United States of Uhmerica. Carls's Jr., Costco, Cavalcade, Flaturin, Tarrlyton, Ronaise, Buttfuckers, Nastea, Bonerax, Brawndo, Acne Insurance.
Larry Moore, 15 August 2011
The names in the flag then are separated not by commas but by parallelograms.
Eugene Ipavec, 8 September 2011 and James Dignan, 9 September 2011
In the Idiocracy world everything is commercialized, so I guess it's even possible to buy ad space on the national flag…
Mariusz Borkowski, 5 August 2007
The names of the businesses that make up the stripes on the flag seem to be ones that are mentioned (parodied) in the movie; by 2506, Costco's [a warehouse store] apparently function as small cities, Starbucks are whorehouses, and Carls Jr. [burger joint] operates robotic kiosks that spurt tranquilizing gas. (I'm thinking there weren't a lot of commercial tie-ins.)
Eugene Ipavec, 10 January 2008
This design reminds me very much of several of the designs in the Kit Hinrichs book "Stars and Stripes" [hix87], in which 96 artists and graphic designers were asked to offer their personal interpretations of the US flag. There are some very interesting interpretations in it, plus some that... aren't. An interesting experiment for those interested in both art and flags, though.
James Dignan, 11 January 2008
The fictional US flag in "Idiocracy" is the only example that comes immediately to mind of optical-illusion flags: Flags deliberately meant to present two different designs, up close and at a distance. For example, a seal made out of lettering that blends into a cross or fleur-de-lys or what have you from farther away.
Eugene Ipavec, 9 October 2009
As there is no really good image of the flag, I can't tell if the parallelograms ought to be "kerned" to fit the text on the lines (as in the image above) or if they should be all identical, and the text broken up among the lines.
Eugene Ipavec, 12 September 2011
I hunted for better images on line but found only many (many!) instances of the same few images. See here, the largest copy of the one at the IMDb site. Anyway, this yellow-star and red-letter-stripe flag is seen in the bike scene, but other flags displayed in this movie do not share these features — adding to the idea that in this year 2506 flag manufacture is not at an all time best, which agrees with the setting.
Here's what seem to be regular US flags printed on shirts.
More from the bike scene, front photo (identical): Time inc., 3QuarksDaily.
And lots of copies of the same image as at the IMDb site.
António Martins, 7 August 2007
They have some fair ones at 11 Points. These may not show all details, but do include the starting points of all lines.
Peter Hans van den Muijzenberg, 19 November 2014
Indeed. Well, that's certainly useful. Given that I was working with much inferior screencaps, I am surprised that my rendition turned out to be reasonably accurate after all. Only two things appear to be incorrect: the beginnings of the lines flyward of the canton only have a slight bit of solid red stripe, barely a triangle, poking out from behind the canton.
That and the font. The font used for the movie flag is quite idiosyncratic, extremely heavily italicized and with a narrow stroke that nonetheless takes up quite a bit of space. I already tried to find a matching one when I did my first image, and the result uses the closest I could get to it. I suspect an exact match would have to be hand-lettered.
Eugene Ipavec, 19 November 2014
---
Next to the national flag, there are a few more thing of note in the movie; in the inital courtroom scene, the judges' podium is flanked by two flags, neither the stars-and-stripes. They both seem to be (different) advertising banners with a single big logo on them – in this future setting, ads are massively ubiquitous.
Eugene Ipavec, 10 January 2008
---
An apparently regular US flag is shown on a T-rex uniform.
António Martins, 7 August 2007
It's regular as that one is from 1939, not 2506.
Mariusz Borkowski, 8 August 2007
Badly researched historical dioramas - this is where the battle of the US and Nazi T-Rexes happens - also depict the founding of the UN (pronounced "un"). Some of the flags are recognizable – The 11 Points site identifies these:
... representing a wildly random assortment of countries and corporations. For countries, I identified the U.S., Spain, South Africa, Seychelles, Palau, Panama, and Pakistan and Saudi Arabia's flags upside-down. For corporations: CostCo, Carl's Jr., Brawndo energy drink and Starbucks.
Of those, CostCo is a large warehouse store, Carl's is a (rather bad) burger chain, Brawndo is made up, and Starbucks has better name recognition than several religions. Although even the logos of the real-world business were humorously modified, so the movie would have to be watched in screencaps made for reference.
Eugene Ipavec, 10 January 2008, and 19 and 20 November 2014