This page is part of © FOTW Flags Of The World website
Kings (television)
Last modified: 2016-03-19 by peter hans van den muijzenberg
Keywords: television | tv | kings | gath | gilboa | butterfly | orange | gath | star: 5 points (red on black and yellow ) | star: fat | reverend samuel |
Links: FOTW homepage | search | disclaimer and copyright | write us | mirrors

---
---
Kings is a television drama series airing on NBC and CityTV, based on the Biblical story of King David but set in a fictional kingdom resembling the present-day United States.
José Eduardo González Vargas, 19 March 2009
Rather an indecisive series, anyway; large chunks of it are simply lousy soap opera, while some other parts have a completely different tone and style, not so much biblical as sort of like a mediocre production of one of Shakespeare's histories.
Eugene Ipavec, 23 March 2009
The series (to premiere next week I think) is a modernized, soap-opera-ish retelling of the biblical Book of Kings, specifically the Saul/David narrative.
Eugene Ipavec, 9 March 2009
---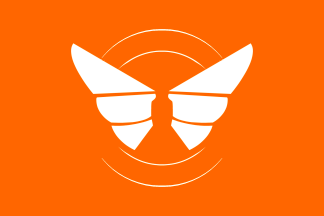 image by Eugene Ipavec, 19 August 2010
External:
Gilboa flag, by Newseeker at BeliefNet.COM
reported by Valentin Poposki, 26 August 2009
A black stylized butterfly on a circle on an orange background. The coat of arms placed the butterfly (a bit less stylized and more detailed, I think) on a round background with a legend.
Nathan Lamm, 9 March 2009
The fictional state it is set in is the somewhat redundantly named "Royal Kingdom of Gilboa". The colors are white and orange; oddly, the white looks black here because the flag is backlit, but it is clearly visible as white in many other shots. I don't know what the butterfly is supposed to represent; not a terribly intimidating design, though.
Eugene Ipavec, 9 March 2009
The symbolism is explained right off the bat: The king in the show (Silas Benjamin, i.e. Saul) likes to tell a story about how a bunch of butterflies descended from heaven and formed a crown on his head, indicating that he was to rule. By the end of the show, we see the same thing happen to David Shepard (i.e., King David). Monarch butterflies, naturally, which happen to be orange. The flag (and vertical banners) always shows a white butterfly on orange, but some dress uniform insignia have the lower half of the butterfly in black; on combat uniforms I think it was all black on an orange patch, but I'm not sure. It's printed in black on state documents.
Nathan Lamm, 16 March 2009
I'm not sure this is right; I think there should be two semicircles above and below the butterfly. A promotional still lacked half the lower ring, I think it was incompetently cropped.
Eugene Ipavec, 26 August 2009
The series is set to premiere next Sunday and is basically the Saul/David story from the Bible set in a modern city, I think based on New York. For the last few months there have advertisements around the city purporting to be from the "king" of the city with various civic messages («recycle» and so on) on them. The ads bore the "kingdom" coat of arms, essentially a seal version of the flag.
More recent ads show one of the characters waving the kingdom's flag, which can be seen at the official show's website.
Nathan Lamm, 9 March 2009


image by Eugene Ipavec, 19 August 2010
As seen here, at a photo of a shoot outside the Brooklyn Museum, the butterfly would indeed appear to be white. (vertical version also shown, by the way.)
Eugene Ipavec, 9 March 2009
---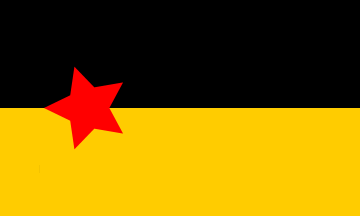 image by Eugene Ipavec, 23 March 2009
Black over yellow bicolor. Red star (looks like the "fat" kind, at least slightly) toward the hoist centered on the two stripes. Top point angled toward the hoist — the inner angles are on the line between the stripes, or at one is on the fly side. Better view — angle on midpoint on hoist side; point on midpoint at hoist.
Nathan Lamm, 23 March 2009
The Gath flag first occurs in the pilot episode, painted on the side of a tank.
Eugene Ipavec, 26 August 2009
---
There is also a third flag in the series, not explicitly identified, but — I believe — meant to represent Rev. Samuels' church (so to speak). It is light green and bears a smallish symbol which can also be seen in the sanctuary of the temple Samuels officiates in. There is an interesting scene in one episode, in which the Gilboan settlers of Port Prosperity stage a demonstration against the return of their town to Gath as part of the peace deal. They erect a barricade from which they fly the flag of Gilboa and the green flag; after a royal envoy comes to tell them the king has rejected their appeal, they tear down the Gilboan flag only and keep the green one (Samuels had opposed the land deal on religious grounds).
Eugene Ipavec, 26 August 2009