This page is part of © FOTW Flags Of The World website
County of Fürstenberg 1218–1408 (Germany)
Holy Roman Empire, Heiliges Römisches Reich
Last modified: 2017-11-11 by german editorial team
Keywords: prussia | holy roman empire | county of furstenberg |
Links: FOTW homepage | search | disclaimer and copyright | write us | mirrors

---
On this page:
See also:
---
Description: County of Fürstenberg 1218–1408
Graftschaft Fürstenberg
During the Holy Roman Empire, counties (Graftschaft) were ruled by Counts. Fürstenberg was one such county in Swabia, present-day southern Baden-Württemberg, Germany. It was originally called the county of Freiburg, but Count Henry I, the Count of Fürstenberg (1250–1284), renamed it after his residence at Fürstenberg Castle at the beginning of his reign.
Over the centuries, the various counts and Princes expanded their territories, and in 1667, Fürstenberg, now called Fürstenberg-Heiligenberg, was raised to a principality and received a vote at the Reichstag. In 1744, the various Fürstenberg territories were united to the Principality of Fürstenberg-Fürstenberg, as all the Fürstentum ruling lines except one had become extinct. Finally, the Rheinbundakte of 1806 completely dissolved Fürstentum Fürstenberg. Most of its territory was given to Baden; smaller parts were given to Württemberg, Hohenzollern-Sigmaringen, and Bavaria.
Today, Fürstenberg is a municipality in the district of Holzminden, in Lower Saxony, Germany and lies on the River Weser in the Weser Uplands near Höxter and Holzminden. The Fürstenberg China Factory, founded in 1747, is the second-oldest porcelain manufacturer in Germany.
The only historical flags found are military flags, a white flag for Colonels, and a yellow Regimental flag, both are shown obverse (to the right) and reverse.
John Duncan McMeekin, 21-23 June 2011
---
Colours of the Fürstenberg Regiment - Colonel's Flag
Kreisinfanterieregiment Fürstenberg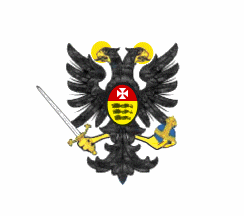 Inverse side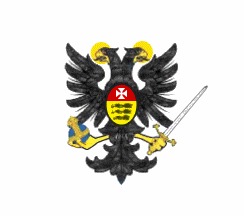 Reverse side
Images by Eugene Ipavec, June 2011
Note: Fürstentum has an "omlika" (ü), normally replaced with an "u" in English (Furstentum).
Fürstentum Fürstenberg was a principality until 1806, in Baden, Hohenzollern-Sigmaringen and Wurttemberg. It was about 786.87 Sq. Miles (2,038 km) and had a population of 85,000 in 1805. The only flags found are military flags, a white flag for Colonels, and a yellow Regimental flag, both are shown obverse (to the right) and reverse.
John Duncan McMeekin, 21-23 June 2011
Colonel's Flag: white, above black double eagle with crown, sword and globus cruciger as usual, the sword near the pole on both sides, coat of arms on the breast in two parts: above red with white cross, underneath yellow with 3 black leopards.
John Duncan McMeekin, Jun 21-23, 2011
---
Colours of the Fürstenberg - Regimental Flag
Kreisinfanterieregiment Furstenberg
Inverse side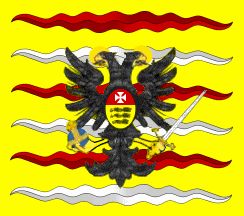 Reverse side
Images by Eugene Ipavec, June 2011
Regimental Flag: yellow with 6 double flames (red-white-red-white-red-white) or according to a other description (black-white-black-white-black-white), above black double eagle with crown, sword and globus cruciger as usual, the sword near the pole on both sides, coat of arms on the breast in two parts: above red with white cross, undernear yellow with 3 black leopards.
John Duncan McMeekin, Jun 21-23, 2011
---