This page is part of © FOTW Flags Of The World website
RC Aschaffenburg (German rowing club)
Ruder-Club Aschaffenburg von 1898 e.V.
Last modified: 2017-11-11 by klaus-michael schneider
Keywords: aschaffenburg |
Links: FOTW homepage | search | disclaimer and copyright | write us | mirrors

---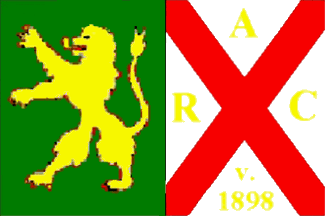 image by Klaus-Michael Schneider, 12 Jan 2007 See also:
---
Ruder-Club Aschaffenburg
Name: Ruder-Club Aschaffenburg von 1898 e.V.
Located in: Aschaffenburg
Established: 8 August 1898
Source: Rudersportalmanach 2004
Further information here.
Description of flag: The flag is divided per pale. At the hoist is a green field with a golden rampant lion facing the hoist. The flyend is white with a red saltire and golden letters: "A" (top), "R" (hoist),"C" (flyend) and "v.1898" (bottom). The "v." is smaller and above the numbers.
Klaus-Michael Schneider, 12 Jan 2007

---
1898 Lion Flag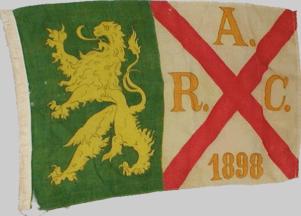 Can you please help to identify a British (?) flag I have...it's dated 1898 and has a large standing lion with the words R.A.C. on it.
Steve Winters, 3 Mar 2005
I believe that I have identified the 1898 Lion Flag as belonging to Ruder Club Aschaffenburg 1898.
I researched this flag entirely through the internet and arrived at the following website page, http://www.ruder-club-aschaffenburg.de/downloads/rca-satzung.pdf, needless to say, it's in German. However, I downloaded the .pdf file and converted it into a text file, then using my Multilingual software converted the German text into English.
The following is my software translation of part of the .pdf file.
**********************
§ 3 colors and flag
The colors of the association are green white red.
The association flag consists of STATUTE of the Ruder Club Aschaffenburg of 1898 e. V , conditions 03/2002
2, a right-angled divided field. The left rectangle of the flag field shows a golden, upright-standing lion, which is turned to the flag mast on green background. The remaining larger rectangle of the flag field has a white background and is diagonally by two red bars crossed. In the three upper triangle fields divided by the bars the initial letters of the association name are in black set in golden Latin large letter attached. The year of the establishment of the association is drawn in in the same way in the lower triangle field. The large "A" of the abbreviation for Aschaffenburg is in the upper triangle field.
David S Smales, 23 Sep 2005
David S Smales is absolutely right. It is indeed the flag of "Ruder-Club Aschaffenburg von 1898 e.V." without any doubt. According to Rudersportalmanach 1977 (p.187) the lion facing the hoist is white however, the letters in the flyend are black and dotted. According to Rudersportalmanach 2004 (p.232) the flag of the club is nearly the same as the lion-flag on FOTW. Only the inscription in the bottom of the flyend is "v.1898" instead of "1898", the "v." is above the "1898". According to Club's Website the flag is the same as the one in Rudersportalmanach 1977, but the letters are not dotted and the inscription in the bottom of the flyend is "v.1898" too. You can see this variant on Club's Website on the frontpage. I think those little differences depend on the age of the flags or different manufacturers and don't really matter. Sales is wrong however about another point. Of course German and Bavarian is not the same. All papers are of course written in German and I think, it is important to the people of Aschaffenburg being Franks and not Bavarians although this region (today district of "Unterfranken") is part of the State of Bavaria (today "Freistaat Bayern") since 1803. To Northerners like us, it seems as if e.g. Dutch and Norwegian are more similar to German than Bavarian.
Klaus-Michael Schneider, 17 Jun 2006
Yes, the flag shown is definitely from the Ruder-Club Aschaffenburg.
I am a member of and the Press attache for the RCA.
Diana Seehafer, 23 Jun 2010
[editor's note: discussion and image taken from this FOTW-page.]

---