This page is part of © FOTW Flags Of The World website
Blood Flag (Third Reich, Germany)
Blutfahne
Last modified: 2013-01-05 by pete loeser
Keywords: germany | third reich | nationalsocialist | nsdap | swastika | hakenkreuz | disc (white) | cross: swastika (black) | blutfahne | blood flag |
Links: FOTW homepage | search | disclaimer and copyright | write us | mirrors

---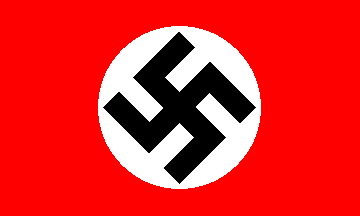 Image by António Martins and Mark Sensen
On this page:
See also:
Other sites:
---
Blood Flag
Blutfahne
The NSDAP Blood Flag of the Munich (Bavaria) 9 November 1923 Putsch was the company flag of the 5th Munich SturmAbteilung (Stormtroopers) Company. The flag was confiscated by the Munich Green Police after they opened fire on the NSDAP (Nazi Party) revolutionary formation in front of the Bavarian Feldherrenhalle (Fallen Heroes' Hall). The Blood Flag (Blutfahne) was recovered from the Munich Police in 1925, remounted on a two part black pole with a special unique wreath flag top, the pole also contained a dedication plate listing the names of those killed in the Munich Putsch, whose blood by the way was also on the flag. The flag was borne by Traumbauer during the Putsch, and after 1925 at the party rallies by Grimminger. The flag was kept in the Munich NSDAP HQ called the Brown House, which had a flag museum in the downstairs hallway, that is until the U.S. 8th Air Force destroyed the building as well as most of Munich during the war. Parts of the flag were recoved by an American soldier upon the liberation and occupation of Munich in 1945. Copyright © B.Weed Collections 1996, All Rights Reserved.
Ben Weed, 17 November 1996
The statement that the flag was destroyed by American bombing and that an American soldier picked up fragments is probably incorrect. (Most likely vain bragging and wishful thinking if an American truly has fragments of something.) There have been repeated rumours in recent years that the Russians have the intact flag... Jakob Grimminger was the flag bearer. He died in obscurity in 1969. The flag was last seen in public in 1944.
T. F. Mills, 4 June 1999
The Blutfahne was though to have been made sacrosanct by the blood of the martyrs (i.e. the 16 Nazis who died during the Putsch) and was used to bless new party banners during the Nürnberg rallies by Hitler touching the new banner while holding the Blutfahne.
Marcus Wendel, 26 June 1999
[Quoting from Davis 1994:]
On all ceremonial parades and gatherings the Blutfahne was always borne by Jakob Grimminger... Jakob Grimminger...was born on 25 April 1892. He served in the German Army during the Great War with sufficient distinction to be awarded the Imperial Iron Cross, 2nd Class. After the war [he] joined the Nazi Party and was an early member of the SS. He participated in the Munich Putsch of 9 November 1923. Later he was appointed to be the official bearer of the Blutfahne, and attained the rank of SS-Standartenführer; he was also appointed a Councillor for the City of Munich. He survived the Second World War and the period of post-war Allied occupation, after which, it is believed, he managed to obtain work as a street sweeper. Grimminger died in Munich in obscurity and poverty on 28 January 1969, at the age of seventy-seven.
Jon Radel, 22 November 1995

The photograph on www.nuernberg.de shows the described ritual at Nuremberg in 1934.
Santiago Tazón, 18 November 2001
---