This page is part of © FOTW Flags Of The World website
National Socialist and neo-Nazi Flags 1 (Germany)
political flags of modern german extremism (1 of 2 pages)
Last modified: 2017-12-19 by pete loeser
Keywords: nationalsocialist | neonazi |
Links: FOTW homepage | search | disclaimer and copyright | write us | mirrors

---
Important Note: All the parties included or linked from this page, have been classified as either Right Extremist, National Socialist, or neo-Nazi by one or more contributors to the FOTW mailing list.
Flags on this page:
Flags on separate pages:
See also:
---
Introduction: Laws Prohibiting National Socialist and neo-Nazi Groups and Flags in Germany.
The prohibition of right-wing extremist groups [and the displaying of certain flags and symbols] (began) in the 1990s (with early actions in that same path as early as 1952. (source). In Germany, under the Grundgesetz für die Bundesrepublik Deutschland (Basic Law for the Federal Republic of Germany) or Deutsches Grundgesetz (German Basic Law), generally abbreviated "GG", more rarely "GrundG", issued on May 8, 1949 and adopted on May 23 of that same year, particularly prohibites organizations against a Democratic regime. In that same line, there are regulations at Federal, State and Municipal level, of which, the Federal issued by either the Bundesverfassungsgericht (Federal Constitutional Court), Bundesministerium des Innern (Federal Ministry of the Interior) are the most important ones, under which, all of them interact.
These principles are mostly observed in Article 9 and Article 21.
Esteban Rivera, 16 August 2017
---
Use of Imperial Flags by modern German extremist groups.
Because of legal bans against using the swastica and NSDAP flags in Germany, many extremist groups have adopted the practice of using historical Imperial flags and modern variants at their demonstrations and rallies. Examples would be the following Imperial Era flags: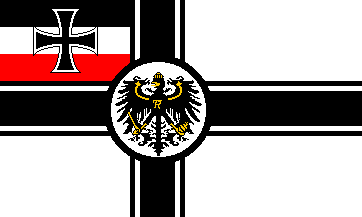 3:5 Image by Carsten Linke
Imperial War Ensign 1903-1919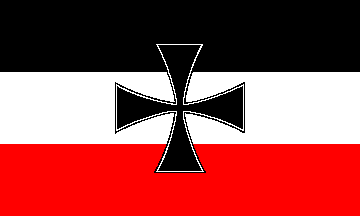 Image by Marcus Schmöger
Imperial Jack (modern variant in use)

The Reichskriegsflagge 1867-1919 is also reported to be in use by German neo-Nazi groups.
António Martins, 27 May 1998

The black-white-red colours of the German Empire 1871-1919 are prominently displayed [by the NPD and other parties]. These colours are displayed in party conventions and during demonstrations.
NPD demonstrators wave different versions of black-white-red:

There are certainly other variants of black-white-red (historical or not) that are produced by flagmakers for right extremists and used by them, for example, those with inscriptions.
Marcus Schmöger, 14 Aug 2000

It is my understanding that in Germany today, in addition to Nazi flags being banned, flags from the Kaiserreich era are also banned, notably the German naval ensign.
Anonymous, 4 Feb 2001

Issue 11 (12th March 2001) of the German weekly news magazine Der Spiegel, p. 76, showed this picture of a Weimar Republic flag on display at the shop of NPD party members in Ehringshausen (Hesse) - obviously because of the black-white-red colours. It is the State Ensign 1926-1933.
Marcus Schmöger, 19 Mar 2001
---
All-Germanic Heathens' Front (AHF)
Allgermanische Heidnische Front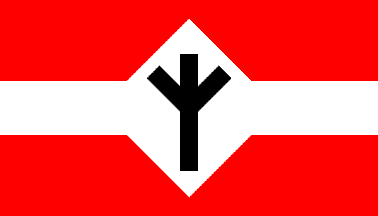 Image by A.H., 29 Oct 1999
I do not know very much about the AHF. They appear to combine the usual elements of political nationalism and cultural racism. Curiously though, they are vehemently anti-Christian, and want to restore the pre-Christian religions of northern Europe. They are not exclusively German, but rather Germanic. In addition to Germany, they have branches in Denmark, Iceland, Norway, Sweden, Flanders, and the Netherlands. Note the strong resemblance to the flag of the Hitler Jugend, with the alghiz rune in place of a swastika.
A.H., 29 Oct 1999
The alghiz rune was used in Germanic alphabet from 3rd to 13th century, and had meaning of life and death, depending on which side was up.
Željko Heimer, 30 Oct 1999
The Allgermanische Heidnische Front was a far right militant Neopagan international organization espousing a philosophy influenced by Ásatrú (Odinism). The AHF was founded and initially led by Norwegian black metal musician and heathen Varg Vikernes, who founded the Norsk Hedensk Front (Norwegian Heathen Front), which soon evolved into the AHF. (Varg Vikernes later ceased to be involved with the organization) The group seeked to restore ancient Germanic religion of Odinism and was strongly anti-Semitic. In 2001, the AHF claimed chapters in Norway, Sweden, Denmark, the Netherlands, Germany, the USA, Canada, Russia, and Flanders, but since 2006, the Allgermanische Heidnische Front is apparently defunct.
Text from Historical Flags of Our Ancestors website, 15 July 2011
---
German Heathens' Front (German variant)
Deutsche Heidnische Front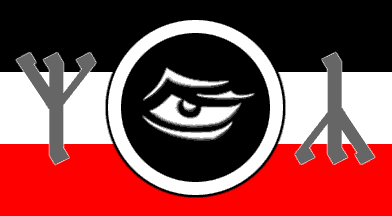 Image by A.H., 29 Oct 1999
This variant is also used by the German branch of the Allgermanische Heidnische Front. The central image is the Eye of Wotan (Woden, Odin, etc.). Like the AHF, this flag also uses the algiz rune, in this case both upright and reversed.
A.H., 29 Oct 1999
The German chapter, Deutsche Heidnische Front (DHF), was founded in 1998 by avowed neo-Nazi Hendrik Möbus. The group publishes a magazine "Tuisto," which deals with pagan, cultural and historical themes.
Text from Historical Flags of Our Ancestors website, 15 July 2011
---
National Resistance
Nationaler Widerstand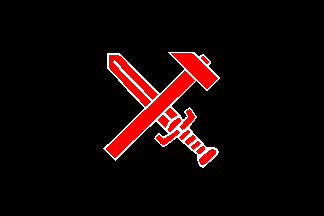 Image by António Martins-Tuválkin, 26 Sep 2004
Note: This flag is a symbol for the Nationaler Widerstand. It's not used by a particular party or organization, just for the whole action called "National Resistance." Recently, it has been used by organized Neo-Nazi groups in Germany, and it symbolzies national resistance.
Marcus Schmöger reported a photograph in the German weekly news magazine Der Spiegel, 2001, issue 1, p. 57, showing an NPD demonstration (photograph scanned here). There seems to be a flag at the bottom left of the picture, black field with two crossed red "things" (most possibly swords) fimbriated in gold (detail here).
Santiago Dotor, 26 Jan 2001
The same flag, plus one with a black-white-red canton, appears in this photograph scanned by Marcus Schmöger from issue 13 (26th March 2001) of the German weekly news magazine Der Spiegel, p. 23, showing an(other) NPD demonstration.
Santiago Dotor, 30 May 2001
This...black flag with a red hammer and sword crossing over each other (...) is an official NPD flag...
Hermann von Condé, 6 Feb 2004
This unidentified flag is not a flag of the NPD. Have in mind that demonstrations are not restricted to members of parties. Maybe it is a flag of another organization, but not of the NPD.
Winfried Krauß, 8 Feb 2004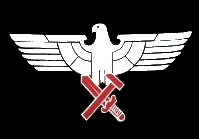 Image from BillyBoy, 23 Jul 2002

I wanted to send an example of what the flag probably is. I don't believe the flag actually belong to any certain organization.
BillyBoy, 23 Jul 2002
This flag: (hammer and sword/dagger crossed) refers to Otto Strasser's movement: "schwarz Front" (black front). He created this political group after leaving the Nazi party in 1929. The Hammer and sword (held by an eagle) is also the symbol of the "Hitlerjüngen": the Nazi's youth organization.
Thomas Demada, 24 Feb 2004
The unidentified flag is a symbol for the national resistance (Nationaler Widerstand). It's not used by a party or organisation, just for the whole action called 'Nationaler Widerstand'. It's meant for a folk-unit out of soldiers and workers.
Stefan Maeder, 17 Dec 2005
The red hammer and sword on the black flag is a Neo-Nazi symbol. Recently it is used by decentral organized Neo-Nazi groups in Germany, and it symbolzies national resistance.
The black flag (without hammer and sword) was the flag of a social protest movement of German farmers in the 1920s. The black flag with the red hammer and the red sword was first used by Otto Strasser, who was one of the leaders of the left wing of the NSDAP in the 1920s. It symbolized the unification of workers and soldiers. In 1930 Otto Strasser left the NSDAP and founded the "Kampfgemeinschaft Revolutionärer Nationalsozialisten" (KGRNS).
In 1929 a similar flag became a flag, i.e. "Gaufeldzeichen", of the Hitlerjugend (HJ), although now with a black hammer and sword on a red flag. Already 1930 this flag of the HJ lost his acceptance and was by 1932 replaced by a flag showing a black eagle holding hammer and sword in his claws on a red and white flag.
After WWII Otto Strasser reintroduced the black flag with the red hammer and sword again as the flag of a political movement that never gained any importance. In the 1970s and 1980s the flag was reused by some Neo-Nazi movements. In the 1990s it became the symbol of national revolution. Nowadays it is still a Neo-Nazi symbol.
Sources: http://brandenburg.aktionsfront.org/1794967.htm
http://destroi.de.funpic.de/text/nazis_erkennen/nazis_erkennen1.html
http://www.hyperlinks-gegen-rechts.de/nazi_symbole.html
Nahne Bienk, 25 Aug 2006
---
Nationalist Action Front/National Activists (ANS/NA)
Aktionsfront Nationaler Sozialisten/Nationale Aktivisten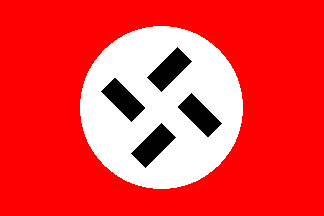 #1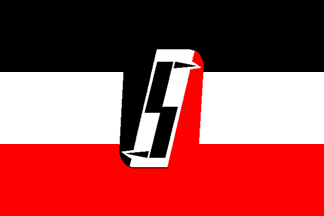 #2
Images by Marcus Schmöger, 28 Mar 2003
A very active and violent group was the Action Front National Socialists/National Activists (ANS/NA - Aktionsfront Nationaler Sozialisten/Nationale Aktivisten), banned in 1983. This group used two different flags: the one was a black-white-red horizontal triband with the party symbol in the center (a rune-like "S" in a rectangle divided diagonally black-white-red); the other one was an obvious variant of the swastika flag, called the "reverse swastika": a red flag with a white disk, in which appeared black the parts that had remained white in the original swastika (between the arms).
Marcus Schmöger, 28 Mar 2003
A neo-nazi flag with four black bars, in a windmill-like pattern, in place of the swastika, seems to have been rather popular in Germany in the 1980's. I first saw its photo in a Croatian magazine named "Start", in an article about the neo-Nazism in Germany, in May or June 1987 (cannot remember the precise date and my later attempts to find a copy of that issue were unsuccessful). In September the same year, in a conversation with some people who lived in Germany, I learned that this flag was often used by the neo-Nazis. The people I talked with had attributed the flag to the National Democratic Party of Germany, which actually uses a completely different flag, but that does not exclude the possibility that this flag was brought to some of the party's rallies by some people who were not its members, but wanted to give their support. The black bars pattern is interesting because it not only resembles the swastika, but also produces an optical illusion: the white areas between and around the black bars look as if they contain a "hidden" white swastika. This is visible even if drawn by hand and without encircling the bars - whoever I have shown such drawings to, has noticed this immediately. This looks like the bypassing the ban of displaying the swastika, as the banned symbol is just an optical illusion, although easily recognizable. I have not got any information about later use of this flag, but I suppose that it was eventually banned and fell out of use then, as it does not seem to be in use now - at least, I found no such informations.
Tomislav Todorovic, 13 Mar 2006
---
National List (NL)
Nationale Liste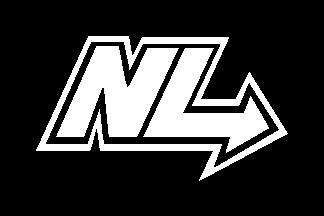 Image by Marcus Schmöger, 28 Mar 2003
Also banned in 1995 was the National List (Nationale Liste), which used a black flag with white inscription "NL."
Marcus Schmöger, 28 March 2003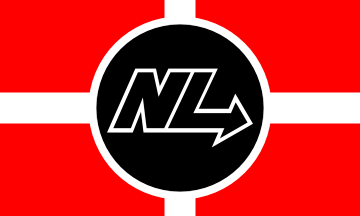 Image by Tomislav Todorovic, 27 November 2016
The National List, a neo-Nazi organization from Germany, which was banned in 1995, did use the first flag shown here and it was photographed in Fulda, at the commemoration of Rudolf Hess' death on 1991-08-17, but another flag was also used, where the letters NL, black with the white fimbriations, were placed on a large black disc with white border, all over a narrow white cross on red field. Its black and white photos, taken at the Rudolf Hess March in Fulda on 1993-08-14, and also here. While the time and place of the color photos is not specified (could be Fulda again, since the town is mentioned in the text), they are shown at the East Hesse News website. My image was derived by vectorization from the FOTW image created by Marcus Schmöger.
Tomislav Todorovic, 27 November 2016
---
Combat 18
Bekämpfung von 18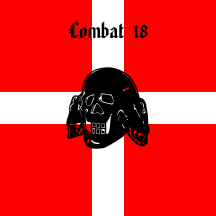 Image by Jorge Candeias, 9 Nov 2004
Back in October 2003, the German authorities cracked down on a neo-Nazi group that was a bit more criminal than usual, going from the usual racist attack to actual acts of terrorism, involving bombs and stuff, and was called Combat 18. The piece of news in the Público newspaper came accompanied with a photo, showing one of the results of the bust: 4 revolvers and a flag of the group. This flag features a light cross on dark, charged with a bizarre-looking skull in the center and the name of the group on the top. Supposing the colours chosen by this neo-Nazi group are the same as those used by other neo-Nazi groups worldwide, which is a fair assumption, I suppose that the cross is white on red and the skull and letters are black. An extra bit of trivia in the article mentions that this particular group was founded in the UK. They don't say how it ended up in Germany, if it branched or moved, so it is possible that it's an international bunch.
Jorge Candeias, 9 Nov 2004
AFAIK, this group belonged to the "Blood and Honour" network, also originating in Britain, and having branches in other countries as well, including Germany.
"Blood and Honour" in Germany used flags, but I am not aware of any specific flag used by Combat 18. The "flag" reported by Jorge seems to be something different. It looks rather rigid to me (wood or metal), and the inscription at the bottom (Security) suggests that it might have been a shield used as a defensive weapon together with the other, offensive weapons.
Marcus E.V. Schmöger, 25 Nov 2004
---
The Viking Youth
Wiking-Jugend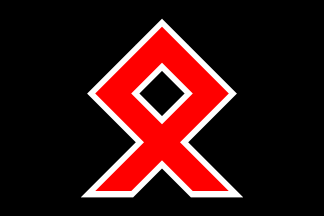 Image by Tomislav Todorovic, 9 April 2013
The Viking Youth (Wiking-Jugend) was modeled after the Hitler Youth and named after the Viking League (Bund Wiking), a far-right movement from the 1920s, as well as after the SS Division "Wiking". It was founded in 1952, after the Socialist Reich Party (Sozialistische Reichspartei) and its youth wing, the Reich Youth (Reichsjugend) were banned, by fusion of several smaller youth organizations founded by former Reich Youth members. It was registered in 1974, first with the seat in Stolberg, North Rhine-Westphalia, and in Berlin since 1991. The attempt to register its branch in Austria was rejected in 1980, the decision confirmed by the Constitutional Court next year. In 1994, the main body was banned by the Federal Ministry of the Interior, which was confirmed by the Federal Administrative Court in 1999. It was the largest neo-Nazi youth movement at the banning time, with 400 to 500 members. The number of activists might have been even larger, because while the lower age limit was six years, no upper age limit was set, so the grown-up members were theoretically still treated as such even after leaving to join other organizations, frequently actively participating in work with new members. The Viking Youth thus effectively served as the link between various neo-Nazi groups in Germany.
The Viking Youth used a black flag with large red odal rune, fimbriated white.
Sources: Viking Youth at Wikipedia (in German). A photo of its use in a youth camp can be found here. The symbol is identified as that of the Viking Youth here and here.
Tomislav Todorovic, 9 April 2013
---
German Youth Loyal to the Homeland Flag
Heimattreue Deutsche Jugend (HDJ)
Image by Tomislav Todorovic, 26 April 2013
The Heimattreue Deutsche Jugend (HDJ) is a neo-Nazi youth association offering Hitler youth-style camping holidays and other youth activities for children and young people that attempts to familiarize participants with Nazi thinking and teach children, as young as six, that foreigners and Jews are a threat to the nation, leading them into right-wing extremism.
The HDJ emerged from the "League of Youth Loyal to the Homeland - Free League" (Bund Heimattreuer Jugend - Freibund), an organization originating in late 1950s that was based on the traditions of early 20th-century German youth movements, and co-operated closely with the Viking Youth and other neo-Nazi organizations until the late 1980s when it began distancing from them, causing its most extreme members to break away in 1990 and found "The Youth Loyal to the Homeland" (Die Heimattreue Jugend), renamed the HDJ in 2000.
Involvement of Viking Youth members in their activities, as well as the members' participation in acts of violence, resulted first in a ban on wearing uniforms in 2007, which they declared they wouldn´t obey, and eventually by the complete banning of the group itself in 2009. The HDJ website claimed it fought "for an independent Germany, for traditional values and for a lifestyle reflected in a healthy body, spirit and character. It also [fought] the use of English in the German mother tongue." Its newspaper Funkenflug (Firebrand) had a subtitle "Young, Stormy, Loyal to the People."
The HDJ´s flag features a stylized campfire. This may have been chosen because it's illegal to display Nazi symbols in Germany, especially since they did chose to use the national socialist colors of red, black and white. It may also have been the charge was chosen as a connection to the early 20th century German youth organizations collectively known as the "League Youth" (Buendische Jugend), most of them having resembled the Scout movement regarding their activities, this resemblance having been partly copied by the HDJ.
Pete Loeser, 26 April 2014
Sources: A photo of the Funkenflug cover page, with the logo in the header, can be found on the Endstation Rechts website (image). Photos of the flag can be found at the Antifascist Press Archive website (image) and the ARD website. (image). Photos of the pennant can be found on the SkyNet Blog and at WordPress.
Tomislav Todorovic, 27 April 2014
Yes, it's illegal to display Nazi symbols in Germany, as far as I know, but is there any information that indicates this has influenced the flag design?
Peter Hans van den Muijzenberg, 28 April 2014
Maybe there is not the positive information yet, but the organization is neo-Nazi, the flag displays the Nazi colors, and there is/was quite a number of ultra-rightist groups throughout Europe which use/used the flames as their emblems (usually in the national colors, but there are obviously the exceptions to that rule).
Tomislav Todorovic, 28 April 2014

I guess that shows they could have chosen that charge, to match those organisations, without influence of German law. After all, it's not like they use a red flag with a white circle bearing a black fire.
Peter Hans van den Muijzenberg, 28 April 2014
There is also the fact that this charge is actually a campfire, not simply the flames as used by those other groups. That is a connection to the early 20th century German youth organizations collectively known as the "League Youth" (Buendische Jugend), most of them having resembled the Scout movement regarding their activities, this resemblance having been partly copied by the HDJ.
You can find more about the League Youth on Wikipedia.
Tomislav Todorovic, 29 April 2014
HDJ Camp Pennant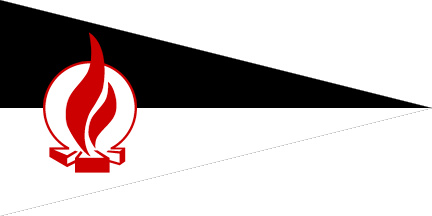 Image by Tomislav Todorovic, 26 April 2013
A pennant version of the HDJ flag was also used on marches and during HDJ camps and activities.
Pete Loeser, 28 April 2014
---