This page is part of © FOTW Flags Of The World website
Prussian Infantry Flags at Hohenzollern Castle
Burg Hohenzollern, Prussia, Germany
Last modified: 2019-07-30 by pete loeser
Keywords: prussia |
Links: FOTW homepage | search | disclaimer and copyright | write us | mirrors

---
On this page:
See also:
---
Flags from Hohenzollern Castle
(Burg Hohenzollern - Baden-Württemberg)
Hohenzollern castle is the ancestral seat of the Counts of Zollern, who became later Counts (Burggrafen) of Nürnberg. They called themselves later Counts of Hohenzollern and gained also the title of Electors and Marquesses of Brandenburg. The Swabian branch later was split of into Hohenzollern-Sigmaringen and Hohenzollern-Hechingen. After riots occurred in 1848 revolution Hohenzollern was incorporated into Prussia but the rulers kept all their private properties.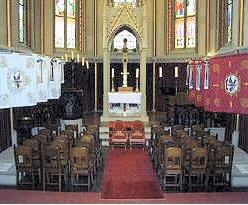 Image from official Hohenzollern Castle website, 24 August 2012
Editorial Comment: This newer photo of Christ Chapel shows white infantry flags on the left hand side instead of the pink ones described by Klaus-Michael on his 1979 visit. Also see Status of the flags and contradictions below.
In the public section of Hohenzollern castle since 1952 you could see also the coffins of the Prussian kings Friedrich Wilhelm I and Friedrich II the Great until the coffins were removed to Potsdam in 1991.
The coffins stood in the Christ chapel, the protestant church of the castle. The chapel was decorated with Prussian flags and the coffins also were covered by flags.
Klaus-Michael Schneider, 14 September 2010
---
Flags on the right side of the altar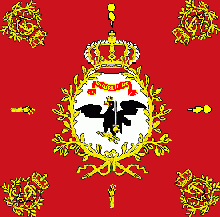 (obverse)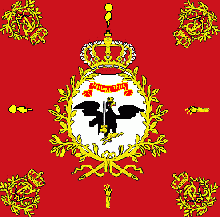 (reverse)
Images by Klaus-Michael Schneider, 23 August 2012
There were four squarish flags having a size of 126cm x 126cm. Each flag was red with a white disc in its centre. Upon the disc, surrounded by golden laurel there was a black eagle. The eagle was facing the hoist, crowned and armed golden, holding a sword in his right and a bundle of flashes in his left claw.
Above the eagle (within the disc) was a red ribbon fimbriated golden with a motto PRO GLORIA ET PATRIA (for fame and fatherland) of the same colour. In each corner was a golden cypher "WR" and a crown of the same colour surrounded by a wreath of laurel. The cypher was outwards, the crown inwards.
The flag was fixed upon a pole made of brass. The finial was gilded showing the king's cypher. A black ribbon (Standartenband) length approximately 72cm with a golden inscription "ERRICHTET (erected in) 1626" between two golden lines was applicated just below the finial.
Source: I spotted this flag in April 1979 in Hohenzollern castle.
Klaus-Michael Schneider, 14 September 2010
The flag on the right side of the altar is according to Lezius 1935 in earlier contribution then should be the regimental colour of Grenadier Regiment "König Friedrich der Große" (3. Ostpreußisches) Nr.4 , which had been granted in 1900 a modification of the flag of former Infantry Regiment Nr.14, since 1708 aka Prinz von Oranien, erected in 1626.
Source: Micael Lezius: "Fahnen und Standarten der alten preußischen Armee", Stuttgart 1935, p.48 and p.15 (image).
Klaus-Michael Schneider, 26 Jul 2012
---
Flags on the left side of the altar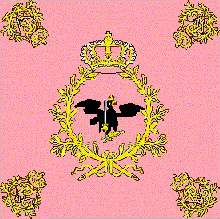 (reverse)
Image by Klaus-Michael Schneider, 23 August 2012
There were four square flags having a size of 126cm x 126cm. Each flag was pink made from damasked silk or taft. In its centre surrounded by golden laurel there was a black eagle. The eagle was facing the fly, crowned and armed golden, holding a sword in his right and a bundle of flashes in his left claw. In each corner was a golden cypher "WR" and a crown of the same colour surrounded by a wreath of laurel. The cypher was outwards, the crown inwards.
Klaus-Michael Schneider, 17 September 2010

(ribbon and finial)
Image by Klaus-Michael Schneider, 23 August 2012
The flag was fixed upon a pole made of brass. The finial was gilded showing the king's cypher. A black ribbon (Standartenband) length approximately 72cm with a golden inscription "ERRICHTET (erected in) 1626" between two golden lines was applicated just below the finial. (same as on right side)
Source: Based upon a diapositive (slide) taken by my father, shot 1973 or even earlier
Klaus-Michael Schneider, 16 September 2010
---
Bannerette on the right side just beside the altar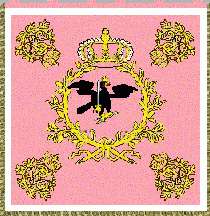 Prussian bannerette
Image by Klaus-Michael Schneider, 23 August 2012
The bannerette had a size of approximately 50cm x 50cm. It was pink made from damasked silk or taft. In its centre surrounded by golden laurel there was a sinister-facing black eagle. The eagle was crowned and armed golden, holding a sword in his right and a bundle of flashes in his left claw. In each corner was a golden cypher "WR" and a crown of the same colour surrounded by a wreath of laurel. The cypher was outwards, the crown inwards. The bannerette had golden fringes at three sides and a white/silver(?) border. The flag was fixed upon a horizontal bar like a Roman vexillum.
Source: Based upon a diapositive (slide) taken by my father, shot 1973 or even earlier
Klaus-Michael Schneider, 17 September 2010
---
Status of the flags and contradictions
I think, the flags on the right hand side are infantry flags. The flags on the left hand side and the bannerette seem to be ornamental flags made especially for this purpose. Assuming that ERRICHTET 1626 is a documentation of the foundation of the regiment there would be no reason, adding such a ribbon to a mere decorative flag. Nevertheless there are flags on the left having that ribbon. So, perhaps, the flags on the left hand side are associated with those ones on the right hand side. Furthermore, there are lances having an iron cross instead of the cypher at their lance heads, which means according to Faeber, that the unit had been in action.
Please also note, that newer photos of Hohenzollern castle in the web show white infantry flags on the left hand side instead of the pink ones described here.
Klaus-Michael Schneider, 17 September 2010
---