This page is part of © FOTW Flags Of The World website
Chinese Workers and Peasants Red Army
Last modified: 2020-07-31 by ian macdonald
Keywords: china | workers and peasants red army | sickle | star |
Links: FOTW homepage | search | disclaimer and copyright | write us | mirrors

---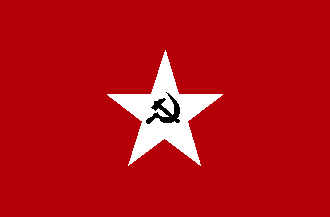 image by Jaume Ollé, 13 December 2009
---
See also
---
On a red field, a crossed black hammer and sickle within a white star.
This was the flag of the Chinese Workers' and Peasants' Red Army. It was in the 1930s, when the Chinese Communists were still a bunch of guerillas.
Miles Li, 19 January 2005
The red flag charged with black hammer and sickle in white star in the center.
Nozomi Kariyasu, 13 December 2009
This flag is slightly different than the one above, mainly by the addition of a stripe of text on white at the hoist.
http://en.wikipedia.org/wiki/File:%E4%B8%AD%E5%9C%8B%E5%B7%A5%E8%BE%B2%E7%B4%85%E8%BB%8D%E8%BB%8D%E6%97%97.svg
Ben Cahoon, 06 June 2013
Well, I find it more interesting that it's a fat star. The text on the left may be genuine, but the image's history shows the stripe was introduced through a font adjustment. This might require some checking.
Its source, the Red Army flag at this image shows the text to be a panel, not a stripe. That source in turn gives Baidu as its source, where the flag image is shown.
Unfortunately no more details, but the JPEG-format and the fact that another illustration seems to shine through suggest that this has been scanned from yet another source, a paper source.
In all these versions, it's a panel, saying something like "China Workers Peasants Red Army". If something was indeed at the hoist of that flag, that's probably what it was.
Would anyone care to speculate on the next image on Baidu?
Peter Hans van den Muijzenberg, 15 June 2013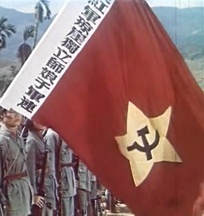 image by Ilya, 7 April 2019
There seems to be confusion about which flag was the real one. I admit that I'm not an expert, but recently I watched a movie made in China in 1960 called "The Red Detachment of Women". The movie is set in 1930 on Hainan and features only one flag, many times in the movie, and it's the same one that Wikipedia displays. Since it's an official CCP movie, I assume they would know which flag is the right one to use in the context. I've attached a screenshot as an example.
The Party liked the movie so much that they turned it into an opera, and not just any opera, but one of the "Eight Model Plays", which were designed to inspire and educate the people on how to behave. There's footage of a 1970 version of the opera on YouTube, which I never watched it fully because it's not really my thing, but I clicked throughout the video to find flags and I saw something interesting; most of the flags in it are like the ones in the movie, but there's also a version without the lettering but still with a white strip over the pole.
https://www.youtube.com/watch?v=ZHTPcs3lQPU
The Red Detachment Of Women (ballet) 红色娘子军芭蕾舞
Prologue: In his dungeon, Nanbatian, the despotic landlord, has imprisoned his tenants who are unable to pay their exorbitant rents. Wu Qinghua, daughter of a poor peasant, is chained to a column. Lao Si comes with the order of Nanbatian to sell Wu. Lao Si releases Wu from the chain. While Lao Si is in an unguarded moment, Wu kicks him, and he ...
See clips at 1:23:46 and 1:34:23 on https://www.youtube.com/watch?v=ZHTPcs3lQPU
It seems that the flag may have had several accepted versions, but the most common one is still the one with lettering.
Ilya, 7 April 2019