This page is part of © FOTW Flags Of The World website
Coquimbo region (Chile)
Región IV de Coquimbo
Last modified: 2018-09-14 by randy young
Keywords: región iv | coquimbo | elquí | choapa | limari | chile |
Links: FOTW homepage | search | disclaimer and copyright | write us | mirrors

---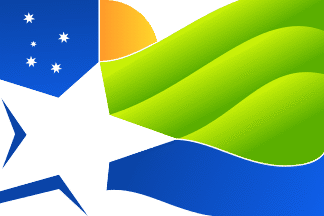 image by António Martins-Tuválkin, 26 May 2016
based on an image by Wikimedia user B1mbo

TYPE: Regional government flag
USAGE:
RATIO: 2:3
ADOPTED: 10 May 2000

---
---
Provincial flags of Coquimbo Region
Click on the links below to see the list of communes and flags within each province.

---
See also:
---
On Dec 27 the new flag of Chile's Coquimbo Region was hoisted for the first time: http://www.elobservatodo.cl/noticia/gobierno-regional/presentan-bandera-de-la-region-de-coquimbo and http://diarioeldia.cl/articulo/izan-nueva-bandera-region-coquimbo
Paraskevas Renesis, 28 December 2013

This new flag is certainly getting a good welcome. From http://www.elobservatodo.cl/noticia/gobierno-regional/presentan-bandera-de-la-region-de-coquimbo (translated by Google):

Presenting the flag of Coquimbo Region

The raising of the first flag is a regional landmark decentralization and is performed in the 20th anniversary of the regional governments in Chile.

It is a milestone in the country's decentralization. And it is done to mark the twentieth anniversary of the regional governments.

For this reason, the ceremony of hoisting the flag of the Coquimbo region, was chaired by the Regional Council, mayors of 15 municipalities, elected parliamentarians and official and local figures of all political colors, such as former mayors Renan Fuentealba Mario and Sergio Burlé Gahona.

And this because the action had no political colors. This was emphasized bye the regional mayor, José Manuel Fuenzalida. "Today is an important milestone, we have a milestone that represents us, it is important to identify with this symbol, be proud. It is a topic that cuts across lines, that is beyond political colors. Regionalization."

During the event delivery was made, by the Regional Directors, of a flag for each mayor of the region, so they are hoisted in every commune and that can start generating regional identity through this symbol.

After that we proceeded to the first official hoisting of the regional emblem, which precedes the creation of the anthem of the region, whose composition will be called a national competition.

On the regional flag
The regional flag was born after the adoption of the graphics manual by rulers of the regional government, which organizes the corporate image of Gore. The image was developed by the company "Associated Concepts Ltd." and approved by resolution 729 on May 10, 2000.

Agreement 4715 regulated the graphic standards and the text of the existence of the regional flag.

This summarizes the spatial, geographical and climatic characteristics of the area, being embodied in the image that highlights the three transverse valleys, rounded hills, the contrast between the valleys, water through the channels of rivers, reservoirs and the sea.

Rob Raeside, 1 January 2014

Both the logo at the official site (current and as archived), and the photos of the flag on the official site and our original source quite clearly show Crus portrayed with four discs, not five 7-pointed stars.
Jonathan Dixon, 26 May 2016

Looks like you're right! Here's some more photos:
António Martins-Tuválkin, 26 May 2016

Close inspection reveals that each disc is fimbriated by a halo of light blue; the gradient on the blue areas is not always evident, although some photos show it clearly.
António Martins-Tuválkin, 27 May 2016

---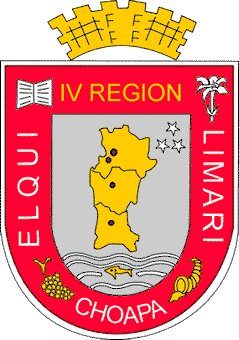 image by Jaume Ollé, 20 June 2000

The shield shows the three provinces which make up the region: Elqui, Limari and Choapa. The dots on the map correspond to their seats, I guess. There are also three stars, a fish on a stylized river, a book, a cornucopia, a bunch of grapes and a flower.
António Martins, 20 June 2000

The Coat of Arms was not altered or replaced when the new flag of 2013 was adopted.
Alex Garofolo, 25 January 2016

---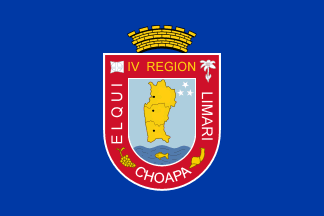 image by Mello Luchtenberg, 5 July 2003

According to Gustavo Tracchia, the flag background is very dark blue.
António Martins, 20 June 2000

I received the information from Coquimbo regional government about 7 or 8 years ago. I believe that image was also available in one of the 8 issues of Flag Report [frp] that were availables in the net and with image complet information.
Jaume Ollé, 27 November 2003

The original flag of Coquimbo Region was a blue field carrying the Coat of Arms. It was replaced in 2013.
Alex Garofolo, 25 January 2016

---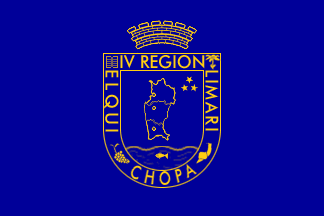 image by António Martins-Tuválkin, 26 May 2016

The blue flag with the CoA in full color is not exactly the same design as the flag hoisted indoors in the National Congress in around 2008 [http://commons.wikimedia.org/wiki/File:Regional_flags_of_Chile_in_the_National_Congress.jpg], as that one has the CoA visible embroidered in golden thread on the blue cloth. Was there ever a blue flag with the arms in color, or is this just an erroneous interpretation of a verbal description of the flag at the National Congress?
António Martins-Tuválkin, 26 May 2016

---