This page is part of © FOTW Flags Of The World website
Lloyd AG, Switzerland
Last modified: 2011-01-08 by rob raeside
Keywords: lloyd ag |
Links: FOTW homepage | search | disclaimer and copyright | write us | mirrors

---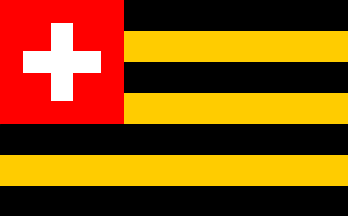 image by Eugene Ipavec, 31 August 2008
---
See also:
---
As found in 'Flaggen auf dem Rhein' (1952 ed.). the various company names: 'Lloyd A.G.'; 'Lloyd Schleppschiffahrt A.G.' (i.e. Lloyd Towage Shipping), and 'Lloyd Tanker A.G.' All of them were established at Basel and flew a variant (the same in three cases) of the 'Lloyd Seeschiffahrt' archivexillum.
Jan Mertens, 31 August 2008
Horizontally striped black and yellow (seven stripes in all), a red canton bearing a white couped cross representing Switzerland (height of canton: four horizontal stripes).
Founded by Louis Groschupf (1890-1972) and sold, it seems, in 1981? Vessel dates on the 'net indicate activity from 1937 on. A Binnenvaart page showing 'Passwang', b/w photo (Teun de Wit's collection): house flag in evidence on the photo and also as a drawing. On the same site - towed tanker 'Blauen', is a colour photo by Günter Dexheimer: http://www.debinnenvaart.nl/schependb/inhoud.php?action=tel&id=6645. Tanker 'Raimeux' from Teun de Wit's collection (click camera logo next to '1971' in box end of page for another colour photo): http://www.debinnenvaart.nl/schependb/inhoud.php?action=tel&id=1461.

Additional sources:
http://www.schifferverein.ch/archiv/chronik/2004/presi.htm
http://www.basler-stadtbuch.ch/stadtbuch/chronik/suche.cfm?=&MONTH=4&YEAR=1972&startrow=11
http://srsl.ch/schiffe_name.php

The above concerns Lloyd A.G. and the tanker business whereas Lloyd Schleppschiffahrt (towage) was wound up in 1961: http://www.moneyhouse.ch/u/lloyd_schleppschiffahrt_ag_256871.htm. To complicate matters, Hamburger Lloyd (nine stripes!) also had an office at Basel and seems to have operated vessels from there.
Jan Mertens, 1 September 2008
Lloyd AG; Basel
The company was established by Louis Groschupf in 1928 in Basel. There existed two branches: Lloyd Schleppschiffahrt AG, Basel and Lloyd Tanker AG., Basel. In 1948 Kurt Bernhold und Carl-Heinz Laß left the company with permission of the board in Mannheim and they established, connected with Lloyd AG; Basel, the Hamburger Lloyd Reederei und Transport GmbH. Kurt Bernhold died on 5 September1962. His son Jürgen Bernhold made his degree as a doctor on 22 December 1963 and has to overtake the company ad hoc. Lloyd AG; Basel withdraws to Switzerland and is sold, the date I don't know.

Dr. Jürgen Bernhold established in 1963 a new Hamburger Lloyd and adds one black stripe to the flag. After quarrels between Lloyd AG; Basel and Dr. Jürgen Bernhold the latter re-established the company as Hamburger Lloyd Dr. Jürgen Bernhold GmbH & Co. KG;Hamburg – Duisburg – Rotterdam – Bendorf – Basel on 5 January 1981, so he finally also overtook Lloyd AG; Basel. Until 1981 both flags (four and five black stripes) had been used side by side.

Dr. Jürgen Bernhold established for fiscal reasons in 1971 the Binnentankreederei Tietjens & Co.; Berlin-Spandau and the Hamburger Lloyd Tietjens & Co. Schiffahrt KG; Hamburg LudwigTietjens was an uncle of Dr. Jürgen Bernhold.

In 1971 there was also the beginning of a joint venture with Panocean Shipping & Terminals Ltd. London, the Panocean Lloyd Tankschiffahrt GmbH; Hamburg (source: Hamburger Abendblatt) Both companies held 50% of the shares each.

Finally NV Rijn-Lloyd Scheepvaart en Expeditiebefrijf, Rotterdam was a Dutch daughter. The date of foundation I don't know. In 1983 the headquarter of the Hamburger Lloyd was moved to Basel. 1997 Dr. Jürgen Bernhold had to leave the company after some dubious transactions. The company was deleted from the register of commerce in Hamburg and in Basel as well. The rest of the company was overtaken by Stolt-Nielsen. The name Hamburger Lloyd was no longer a registered trade mark.
Klaus-Peter Bühne, translated by Klaus-Michael Schneider, 26 March 2009