This page is part of © FOTW Flags Of The World website
Lloydminster, Alberta and Saskatchewan (Canada)
Last modified: 2023-03-18 by rob raeside
Keywords: alberta | saskatchewan | lloydminster | wild rose | tiger lily | oil derrick |
Links: FOTW homepage | search | disclaimer and copyright | write us | mirrors

---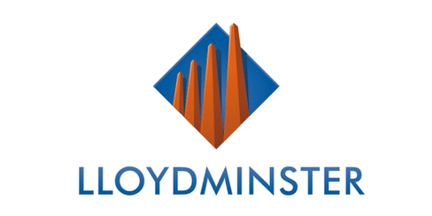 image by Masao Okazaki, 9 February 2023
---
See also:
---
Lloydminster
A bit of background on Lloydminster:
Lloydminster straddles the Alberta-Saskatchewan border (the town was founded before the provinces were created), I've seen the town as a whole referred to as "Lloydminster, Alberta/Saskatchewan", whereas individual addresses in the town would be "Lloydminster, Alberta", or "Lloydminster, Saskatchewan", depending on which side of town you live on.
This is not one of those cases (like Texarkana, Texas/Arkansas or Kansas City, Kansas/Missouri), where it is actually a case of two cities next to each other in different states, Lloydminster is a united city with one civic government for both halves of the city. The bi-provincial nature of the city makes for some interesting anomalies (for one, the population on the Alberta side (the majority) is generally older due to the lower taxes, and the Saskatchewan population is generally younger due to lower automobile insurance premiums.) The recent "Alberta prosperity cheques" mailed to every Alberta citizen only applied to that portion of Lloydminster's residents, the recent Saskatchewan anti-smoking bylaw only applied to the bars and restaurants in Lloydminster, Saskatchewan (And, in case anyone is wondering about its time zone, since the time zone boundary follows the provincial boundary, and it is the law in Saskatchewan that daylight savings not be observed and the law in Alberta that it is, Lloydminster has an exception from Saskatchewan law and uses the same time zone (Mountain time, with daylight savings applicable as required) as Alberta.)
The town flag definitely seems to reflect this nature, the "wild rose" (Alberta's provincial flower) on blue (the main colour of Alberta's flag), partnered with the "tiger lily" (Sask.'s provincial flower and seen on its flag) on green (one of Saskatchewan's provincial colours (green and gold)). The black line in the middle apparently represents the border.
I had a chance to visit Lloydminster in 2001 during a road trip to Edmonton, rather interesting town. (Took a picture of a big monument down 50th street (which the border runs down) commemorating the border). Saw several flags of both provinces (on both sides, for example, a Walmart on the Alberta side had both the Alberta and Saskatchewan flags flying out front). I tried to search for a copy of the town flag, as I figured it's bi-provincial nature would make for an interesting flag, but I could not see it flying anywhere (even outside the town hall, which just had the two provincial flags.)
David Kendall, 31 March 2006
---
I've been told by Lloydmister's Communications Department that a logo-based flag was adopted by the city in 2012, replacing the previous flag.

Photo of flag in 2022 article:
https://www.meridiansource.ca/wp-content/uploads/GL-charter1.WEB_.jpg
https://www.meridiansource.ca/premiers-vow-to-modernize-charter/

Photo on town's Facebook page:
https://www.facebook.com/photo/?fbid=3159399804084587&set=pb.100069189370299.-2207520000.

Logo from 2011
https://www.facebook.com/photo/?fbid=181415808549683&set=a.169075548742090
Masao Okazaki, 9 February 2023
Logo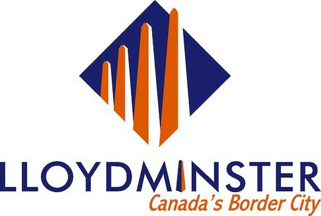 image by Masao Okazaki, 9 February 2023
---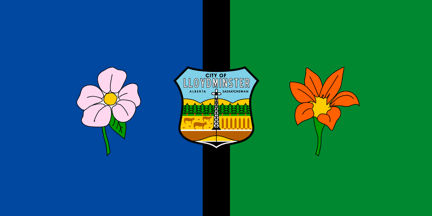 1:2 image by Eugene Ipavec
Source: Canadian City Flags, Raven 18

Text and image(s) from Canadian City Flags, Raven 18 (2011), courtesy of the North American Vexillological Association, which retains copyright. Image(s) by permission of Eugene Ipavec.

The flag of the City of Lloydminster is divided vertically by a narrow black stripe whose width is 1/15 the length of the flag. The left side is blue, bearing a natural-looking rose with five pink petals, a yellow centre, and a green stem and leaf. The right side is green, bearing a natural-looking lily with six orange petals, a yellow centre, and a green stem. Both flowers have black details and outlines. Centred on the flag, about one-third of its height, is a semi-elaborate shield with squared upper corners. Its top third is light blue, with CITY OF in black at the top, below that LLOYDMINSTER in larger white letters edged in black, and below that ALBERTA and SASKATCHEWAN, set to the left and the right, in smaller black letters. All letters are sans-serif. In the middle third are horizontal layers: yellow hills over green trees over yellow land, with cattle in brown on the left and wheat fields in brown on the right. The lower third is brown with a yellow semicircle over a black section at the base. Extending up from the lower third into the upper third is an oil derrick in white and black.
Alison Wilkes, Canadian City Flags, Raven 18, 2011

The City of Lloydminster straddles the Alberta/Saskatchewan border; its main north-south street, Meridian Avenue, is the dividing line. Unlike most "twin" cities in adjoining states/provinces (such as Texarkana, Texas and Arkansas or Kansas City, Kansas and Missouri), Lloydminster is a single municipality. The flag reflects the community's joint provincial citizenship. The vertical black stripe represents the provincial boundary. The left side represents Alberta, blue being the field colour of the provincial flag and the wild rose (Rosa acicularis) its flower. The right side represents Saskatchewan, green being the upper field colour of the provincial flag and the western red lily (Lilium philadelphicum) its flower. The geography of the city is prominently displayed on the city's municipal shield, and while each side shares rolling hills and forest, the cattle industry of Alberta is represented by three cattle on a prairie on the left and the agricultural industry of Saskatchewan is represented by fields of wheat on the right. The central oil rig and the depiction of underground oil symbolize the importance of the petroleum industry. Alberta provincial law applies in the Alberta side of the city, Saskatchewan provincial law in the Saskatchewan side.
Alison Wilkes, Canadian City Flags, Raven 18, 2011 Reported to have been chosen in a contest.
Alison Wilkes, Canadian City Flags, Raven 18, 2011

Unknown.
Alison Wilkes, Canadian City Flags, Raven 18, 2011