This page is part of © FOTW Flags Of The World website
Elk Point, Alberta (Canada)
St. Paul County
Last modified: 2021-12-31 by rob raeside
Keywords: alberta | elk point |
Links: FOTW homepage | search | disclaimer and copyright | write us | mirrors

---
image by Masao Okazaki, 4 December 2021
---
See also:
---
About the town:
Elk Point is a town located in the east central part of the Canadian province of Alberta. It is located on Highway 41. A number of oil related businesses have located in Elk Point. Agriculture is also important in the Elk Point area. Elk Point is located on the North Saskatchewan River which was an fur trade route. Both the Hudson's Bay Company and the North West Company had posts on the river near Elk Point. Alberta Culture has built an interpretive centre near the remains of Fort George and Buckingham House. It has 1,487 inhabitants. Source: Wikipedia: Elk Point, Alberta.
Valentin Poposki, 14 February 2010
The town has a new flag - white with town logo on it https://en.wikipedia.org/wiki/Elk_Point,_Alberta#/media/File:Elk_Point,_Alberta_(28288278410).jpg
Valentin Poposki, 4 December 2021
---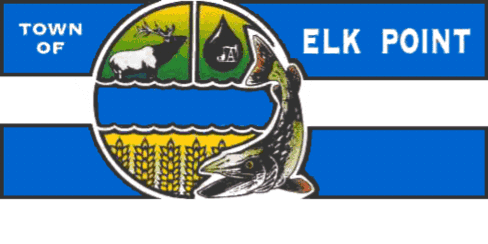 image located by Valentin Poposki, 21 June 2011
The flag is longer than 1:2, a horizontal triband, blue-white-blue-white, with the municipal logo showing an elk, an oil drop with a derrick, a fish, and heads of wheat, separated by a blue wave-bordered stripe.
Valentin Poposki, 14 February 2010
Flag seen at https://www.facebook.com/townofelkpoint/photos/519409581598675
Four horizontal stripes are clearly visible.
A photo of the 4-striped star from 2017: https://lakelandconnect.net/2017/08/17/in-elk-point-7/
Masao Okazaki, 5 December 2021
---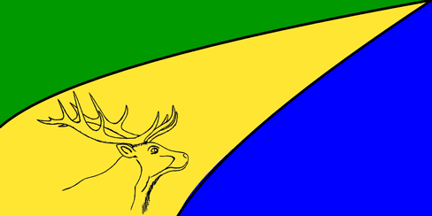 image by Masao Okazaki, 10 December 2021
Searching thru my folders, I found a forgotten PDF file with a sketch of the town flag from 1987.
Valentin Poposki, 10 December 2021
The following is the extracted text about the flag from the PDF (pages 5 and 7) (most likely the PDF was from their online section "Bylaws" (https://www.elkpoint.ca/governance/bylaws):

"BY LAW 461/87
TOWN OF ELK POINT

A BY LAW OF THE MUNICIPALITY OF THE TOWN OF ELK POINT, IN THE PROVINCE OF ALBERTA, AUTHORIZING THE MUNICIPAL COUNCIL TO ADOPT A MUNICIPAL FLAG

PURSUANT to the provisions of the Municipal Government Act, being Chapter Mó26 of the Revised Statutes of Alberta, 1980, with amendments thereto, a Council, may by bylaw adopt a municipal flag for the municipality; and

WHEREAS the Municipal Council of the Town of Elk Point deems it desirable and proper to adopt a municipal flag for the municipality.

NOW THEREFORE, the Municipal Council of the Town of Elk Point, in Council assembled, enacts as follows:

1. That the municipal flag as set out in Schedule "A" attached hereto and forming part of the bylaw is hereby adopted by the Municipal Council as the official municipal flag for the Town of Elk Point;

2. Any person who, without the authority of the Municipal Council, assumes or uses the municipal flag of the municipality, or any heraldic emblem so nearby resembling it as to be calculated to deceive, is guilty of an offense and liable on summary conviction to a fine of not more than $50.00 for every day during which the offense continues.

3. Upon the final passing of the bylaw the Mayor and the Municipal Administrator of the town be and are hereby empowered, for and on behalf of the Council of the Town of Elk Point, to authorize the use of the municipal flag by any person or unincorporated group of persons.

4. This bylaw shall come into force and is effective upon the final passing thereto by the Municipal Council of the Town of Elk Point.

1st READING READ a FIRST time in Council the 25th day of May, A.D. 1987;
2nd READING READ a SECOND time in Council this 22nd day of June, A.D. 1987.
3rd READING READ a THIRD time in Council and FINALLY PASSED this 22nd day of June, A.D. 1987.

(signed)
MAYOR BYRON MANN

MUNICIPAL ADMINISTRATOR
L.P. (PAT) VINCENT

NOTATIONS TO SCHEDULE "A"
1. Yellow left edge: 3.5/8.5 = 41% of left hand edge. bottom edge: 7.0/17.0 = 41% of botton (sic) edge bottom edge to left edge ratio: 2:1

2. Yellow point should be drawn with curves to the point, not straight lines.

3 A thin black border should be used to separate the green from yellow and the yellow from the blue.

4 Try to retain as much detail on the "Elk Head" as possible.

5 Utilize the same color as used on the Alberta Provincial flag: that is: blue, green, wheat yellow not gold.

Now, searching for additional information, I found yet another flag. This time, what would be the current flag. It is a white horizontal background displaying the logo in the middle.

For additional information go to Elk Point (official website): https://www.elkpoint.ca/
Esteban Rivera, 14 December 2021