This page is part of © FOTW Flags Of The World website
Xanxerê, Santa Catarina (Brazil)
Last modified: 2021-12-11 by ian macdonald
Keywords: santa catarina | xanxerê |
Links: FOTW homepage | search | disclaimer and copyright | write us | mirrors

---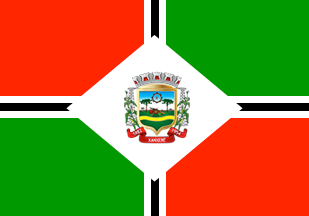 image by Ivan Sache, 8 November 2021
---
See also:
---
Municipality
The municipality of Xanxeré (50,309 inhabitants in 2917; 37,776 ha) is located 500 km west of Florianópolis.

Xanxerê originates in a military colony established by Decree No. 2,502 issued on 16 November 1859. The actual construction of the colony was delayed for decades because the Argentine government claimed it was located on disputed territory. The Xanxerê colony was eventually founded in 1880 and inaugurated on 14 March 1882; Captain José Bernardino Bormann (1844-1919) was appointed its director for a period of 17 years. In 1890, it was transferred to Paraná, forming the district of Generozópolis within the municipality of Palmas. The transfer was invalidated by the Federal Supreme Court but Paraná refused to give back the disputed territories. Following he arbitration by President of Brazil Wenscelau Braz, ths issue was settled and new municipalities were established in Santa Catarina by State Law No. 1,157 promulgated on 24 August 1917, Chapecó included. The district of Xanxerê was established on 31 December 1917. State Law No. 1,260 promulgated on 5 November 1919 established Xanxerê as the seat of the municipality of Chapecó.
The municipality of Xanxerê was established by State Law No. 133 promulgated 30 January 1953 and inaugurated on 27 February 1954.

https://www.xanxere.sc.gov.br/
Municipal websute
Ivan Sache, 8 November 2021
---
Description of the Flag
A black upright cross, bordered white, on a field quartered in red and green, with the municipal shield in the centre on a white lozenge.
Official website at http://www.xanxere.sc.gov.br
Dirk Schönberger, 24 August 2012

The flag and arms of Xanxerê are prescribed by Municipal Law No. 734 promulgated in 1974.

The municipal flag of Xanxerê, designed by heraldist Arcinoé Antonio Peixote de Faria, shall be quartered per saltire, the quarters gyronny green and red formed by four white stripes of 2 units in width charged with black stripes of 1 unit, placed two by two in the vertical and horizontal dimensions starting from the angles of a central white lozenge charged with the municipal coat of arms.

In compliance with the tradition of Portuguese heraldry, of which Brazil inherited the norms and rules, the municipal flags have to be divided in eight, six, four or three parts, using the same colors as in the coat of arms and featuring in the center or at hoist a geometric figure inscribing the municipal coat of arms.

The municipal flag of Xanderé is compliant with the general rules, being quartered by a cross that recalls people's Christian spirit. The coat of arms featured on the flag represents the municipal government while the white lozenge inscribing it represents the town proper, as the seat of the municipality. White is a symbol of peace, friendship, work, prosperity, purity and religious spirit.

The white stripes charged with black stripes quartering the flag represent the municipal power spreading over all the quarters of the territory. Black is a symbol of austerity, prudence, knowledge, moderation and firmness. The quarters gyronny green and red represent the rural estates scattered over the municipal territory. Green is a symbol of honor, civility, courtesy, glee and abundance; it is also the symbol of hope, which is green since greening fields in spring promise profuse harvests. Red is a symbol of dedication, patriotic love, audacity, intrepidity, courage and valiance.

In compliance with heraldic rules, the municipal flag shall have the official dimensions prescribed for the national flag, 14 units in width on 20 units in length.

The coat of arms of Xanxerê, designed by heraldist Arcimoe Peixoto de Farias, is described in proper heraldic language as follows: Samnite shield surmounted by an eight-towered mural crown argent ports gules. On a field argent, in chief an eight-rayed bladed wheel gules. A base vert charged with a fess wavy argent supporting two stylized Brazilian pines surrounding two rifles sable and a drum gules. The shield supported dexter and sinister by maize plants proper superimposed to pylons sable standing in base of a scroll gules inscribed in letters argent with the toponym "Xanxerê" surrounded by years "1882" and "1954'.

The coat of arms shall have the following symbolic interpretation
1. The Samnite shield used to represent the arms of Xanxerê was the first style of shield introduced to Portugal by French influence; inherited by Brazilian heraldry, it evokes the colonizing race and main builder of the nation.
2. The mural crown surmounting the shield is the universal symbol of domains' coats of arms; argent (silver) with eight towers, only five of them visible in perspective view, it classifies a town of second rank or county seat. The port gules (red) recalls the predicates of the municipality's leaders.
3. Argent (silver) is a symbol of peace, friendship, work, prosperity, purity and religious spirit.
4. In chief, the eight-rayed bladed wheel gules (red) is the symbol of Santa Catarina state, to which the municipality belongs after a long dispute with Paraná.
5. The base vert (green) represents the vast plains located on the banks of river Chapecozinho, represented by the fess wavy argent (silver) supporting Brazilian pines proper, characteristic of the region, the rifles sable (black) and the drum gules (red) evokes the Xanxerê Federal Colony established in 1882, which is the origin of the town.
6. Vert (green) is a symbol of honor, civility, courtesy, abundance and glee; it is also the symbol of hope, which is green since greening fields in spring promise profuse harvests.
7. Sable (black) is a symbol of austerity, prudence, knowledge, moderation and firmness.
8. The pylons recall electricity supplied by several waterfalls to the neighboring municipalities. The maize plants represent the main product of the generous and fertile soil.
9. The scroll gules (red), a color symbol of patriotic love, dedication, audacity, intrepidity, courage and valiance, is inscribed with the toponym "Xanxerê" surrounded by the dates of establishment of the military colony ("1882") and political emancipation ("1954") of the municipality.

http://www.camaraxanxere.sc.gov.br/index.php/simbolos/
Municipal Chamber website

Photos
https://www.xanxere.sc.gov.br/noticias/index/ver/codMapaItem/4504/codNoticia/609745
https://www.xanxere.sc.gov.br/noticias/index/ver/codMapaItem/4504/codNoticia/645380
https://www.facebook.com/prefeituradeXanxerê/photos/4234429396644887
https://www.facebook.com/prefeituradeXanxerê/photos/4144681698952991
Ivan Sache, 8 November 2021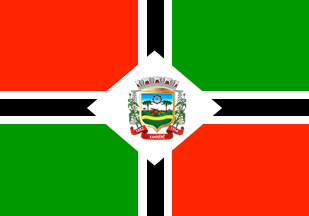 image by Ivan Sache, 8 November 2021
The flag is also used with a smaller lozenge and wider black stripes.

https://www.facebook.com/prefeituradeXanxerê/photos/4155035547917606
https://www.facebook.com/prefeituradeXanxerê/photos/3783437495077415
Ivan Sache, 8 November 2021