This page is part of © FOTW Flags Of The World website
Santo Amaro da Imperatriz, Santa Catarina (Brazil)
Last modified: 2021-12-11 by ian macdonald
Keywords: santa catarina | santo amaro da imperatriz |
Links: FOTW homepage | search | disclaimer and copyright | write us | mirrors

---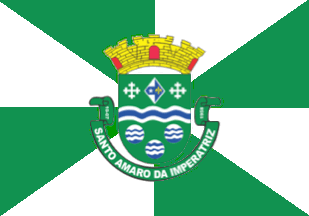 image by Ivan Sache, 7 November 2021
---
See also:
---
Municipality
The municipality of Santo Amaro da Imperatriz (21,910 inhabitants in 2010; 30,405 ha) is located 40 km west of Florianópolis.

Hotsprings ("caldas") were already known in the valley of river Cubatão in the colonial period, being named for their geographical location, "do Sul" (southern) and "do norte" (northern). The Portuguese soldier and writer Paulo José Miguel Brito, who attempted to settle in the vally as a landlord, refers to the springs in "Memória Política da Província de Santa Catarina", written in 1816 and published in 1829, emphasizing their healing properties. Manoel Joaquim de Almeida Coelho, in "Memória Histórica da Província de Santa Catarina", published in 1853, claims that a hospital was built in Caldas do Cubatão in the 1817-1821 period.

A Decree issued on 18 March 1818 and announcements issued on 22 October and 30 August 1820 assigned a plot of 1.25 league to establish a new settlement. A chapel dedicated to St. Ann was erected near the springs, so the settlement was named Sant`Ana do Cubatão.
Provincial Law No. 16 promulgated on 12 May 1835 allowed the municipality of São José to build, near either the southern or northern spring, a house to be used as an hospital, including 12 rooms for ill people. Nothing happened, so Provincial Law No. 164 promulgated on 18 March 1842, ordered the municipality to build in Caldas do Sul, close to Ribeirão das Águas Claras (Clearwater River), a therapeutic bath establishment; subsequently increased and repaired, the building still stands. Marble baths were added in 1847.

Gaining fame in the province and beyond its borders for their healing properties, the Cubatão springs were soon visited by the celebrities of the time. In 1843, Emperor Pedro II married Princess Tereza Cristina Maria, the daughter of the Spanish Infante, Maria Isabel de Bourbon, and of Francis I, Great Duke of Tuscany and King of the Two-Sicilies. On 1 March 1845, protocols signed in the Ponche Verde camp, in Rio Grande do Sul, put an end to the lengthy and bloody Ragamuffin War. A few months later, Pedro II visited the pacified provinces of Rio Grande do Sul and Santa Catarina; this was his first official journey in the Brazilian Empire. The Imperial fleet, composed of 10 vessels, left Rio de Janeiro on 9 October 1845 and landed two days later in Nossa Senhora do Desterro (Florianópolis). The newspaper "O Relator Catarinense" was set up to publish 10 daily issues reporting the imperial visit.

The monarchs visited the hospital of the Cubatão spring, whose patron was Tereza Cristina. Accordingly, the place was renamed to Caldas de Imperatriz (The Empress' Hotsprings). Several people came here to heal rheumatism, skin diseases and other pathologies. Later on, the chapel erected in 1859/1853 on the general road connecting Palhoça to Lajes, close to river Cubatão, was dedicated to St. Amaro. Provincial Law No. 371 promulgated on 29 May 1854, established the parish of Santo Amaro, later, Santo Amaro de Cubatão, separating from São José.
The dedication of the chapel to St. Amaro resulted, beyond reasonable doubt, from a collective, mental association, between the healing properties of the local hotsprings and devotion to St. Amaro, an Italian disciple of St. Benedict, invoked for long to heal arm and leg rheumatism. Celebrated on 15 January, St. Amaro / Mauro is the patron saint of people suffering from arthritis; St. Amaro's benedcition is still offered by the Roman Catholic church to these people.
In 1869, the parish had 3,153 inhabitants living in 425 houses; its territory also included the Santa Tereza military colony and various former colonies formed by German immigrants.

State Decree No. 184 issued on 24 April 1884 transferred the parish of Santo Amaro de Cubatão, elevated a district, to the newly established municipality of Palhoça. Decades later, the district was renamed to Santo Amaro de Imperatriz, to be elevated a municipality by State Law No. 344 promulgated on 6 June 1958.

Appendix to Law No. 657 promulgated on 8 October 1986
https://leismunicipais.com.br/a/sc/s/santo-amaro-da-imperatriz/lei-ordinaria/1986/65/657/lei-ordinaria-n-657-1986-dispoe-sobre-a-forma-e-a-apresentacao-das-armas-do-municipio-de-santo-amaro-da-imperatriz
Leis Municipais database
Ivan Sache, 7 November 2021
---
Description of the Flag
Gyronny of dark green and white, with the municipal shield in the centre.
Official website at http://www.santoamaro.sc.gov.br
Dirk Schönberger, 4 August 2012
The flag of Santo Amaro da Imperatriz is prescribed by Municipal Law No. 659 promulgated on 15 October 1986.

Article 1.
The flag of the municipality shall have the following heraldic description. Gyronny vert and white, charged in the center with the municipal coat of arms outlined black.
The arms of the municipality, established by Law No. 657 promulgated on 8 October 1986, shall be reproduced in the center of the flag, the outer ornaments (mural crown and a scroll) omitted.

Article 2.
The features of the municipal flag shall obey the following rules.
I - The flag's width shall be 20 units.
II - The flag's length shall be 28 units.
III - The flag's gyronny field is obtained by dividing the rectangle by four rectilinear lines crossing each other in the center, one vertical and one horizontal and the two other connecting the quadrilateral's angles.
IV - The first triangle, or gyron, located in the right half of the flag's upper edge, shall be vert (green), followed by a white gyron, and so on.
V - The distance of the shield to the flag's upper border, the outline sable excluded, shall be 6 units.
VI - The field of the shield shall be composed of a quadrilateral of 7 units in length on 5 units in width, in base a semi-circle of 3.5 units in radius.
VII - The lozenge shall be 2.5 units in width on 2 units in length, with its center located on the shield's vertical axis, 1.6 unit from its upper edge.
VIII - The lozenge's yellow border shall be 0.1 in width.
IX - The yellow stripe of the lozenge first's field shall be 1 unit in length.
X - The stripe azure (blue) superimposed to the yellow stripe shall be 1 unit in length.
XI - The white stripe located in the center of the stripe is inscribed in an imaginary circle of 0.4 unit in diameter.
XII - Each white cross crosslet shall be inscribed in an imaginary square of 1.6 unit in side, whose horizontal axis is located on the shield 1.5 unit from the upper edge and the vertical axis 1.3 unit from the respective flank.
XIII - The white fess wavy of 1.2 unit in width shall be inscribed in an imaginary rectangle of 7 units in length and 1.6 unit in width, whose horizontal axis is located 3.8 units from the shield's upper edge.
XIV - The fess wavy azure (blue) superimposed to the fess wavy shall be 0.4 unit in width.
XV - The central spring shall be inscribed in an imaginary circle of 1.8 unit in diameter, whose center shall be located on the vertical axis 7 units from the shield's upper edge.
XVI - Each of the lateral spring shall be inscribed in an imaginary circle of 1.8 unit in diameter, whose center shall be located on the imaginary parallel located 1.9 unit from the shield's vertical axis and 5.7 units from its upper edge.
XVII - Each spring is formed of six fesses wavy, in turn white and azure (blue), the upper fess white.
XVIII - The shield's outline sable (black) shall be 0.1 unit in width.
[...]
XX - The shield's charges and the flag's field shall have bright colors:
a - vert, matching Veronese green or a similar color
b - yellow, matching cadmium yellow or a similar color
c - azure - matching ultramarine blue or a similar color.

https://leismunicipais.com.br/a/sc/s/santo-amaro-da-imperatriz/lei-ordinaria/1986/66/659/lei-ordinaria-n-659-1986-dispoe-sobre-a-forma-de-apresentacao-da-bandeira-do-municipio-de-santo-amaro-da-imperatriz
Leis Municipais database

The coat of arms of Santo Amaro da Imperatriz is prescribed by Municipal Law No. 657 promulgated on 8 October 1986.

Article 1.
The coat of arms of the municipality shall have the following blazon:
- An Iberian shield vert, a fess wavy argent superimposed with a fess wavy azure in base three springs in chief between two crosses crosslets argent a lozenge fimbriated or per pale vert a fess or charged with a fess azure superimposed with a star argent and azure a fleur-de-lis or.
- A mural crown or filled gules with four towers port gules.
- The writing "Santo Amaro da Imperatriz" argent on a scroll vert.

Appendix.
The field vert (green) symbolizes the resources of the municipality and of the valley of river Cubatão, mostly agricultural, and the various annual crops that contributed along years to its greatness and constant progress.
The fesses wavy argent and azure (blue) represents the municipality river basin, especially river Cubatão, so notable in the region that is named was given to several places that progressively became the municipal territory and its settlements.
The springs, represented in their characteristic, unmistakable heraldic shape, stand for the "caldas", hot springs famous in whole Brazil and for ages attracting visitors; in the 19th century, establishments of therapeutic baths were built, which are still active, such as Caldas do Sul and Caldas do Cubatão.

The two white crosses, of elegant profile, with arms ending with smaller crosses (crosslets), represent the chapels erected in the 19th century to honor St. Ann and St. Amaro; associated with the river represented by the fesses wavy, they recall the early settlements of Sant`Ana do Cubatão and Santo Amaro da Cubatão.
The lozenge located between the crosses and above the springs includes allegoric figures representing the third Empress of Brazil, official patron of the Caldas do Cubatão hospital, which she visited in 1845.
The lozenge is of the usual shaped for women's arms. Here it is vertically divided in the center into two equal fields, the first charged with the arms of the husband, the second with the arms of the father. Dexter, the green and yellow field and the white star are extracted from the arms of the Brazilian Empire, alluding to Emperor Pedro II, husband of Tereza Cristina. Sinister, the golden fleur-de-lis on a field azul recalls the arms of the family of Tereza Cristina as the arms of the Kingdom of Two-Sicilies, where the princess was born on 14 March 1822.
Accordingly, the lozenge represents Empress Tereza Cristina in a dual way: associated to the springs, it recalls the name given for years to the famous springs of the municipality, Caldas da Imperatriz (the Empress' Hotsprings); and, with the cross alluding to the first parish and municipality's patron saint, it represents the official name of Santo Amaro da Imperatriz.

The golden mural crown filled gules (red) that surmounts the shield is the proper and consecrated emblem, in Brazil, of administrative autonomy granted to municipalities by the Constitution; it represents the town proper, seat of the municipality, constituted on the model of medieval towns, surrounded by protecting walls. The four towers are represented in compliance with heraldic perspective, that is, one in the center and a half-one on each side, the fourth tower being concealed.

https://leismunicipais.com.br/a/sc/s/santo-amaro-da-imperatriz/lei-ordinaria/1986/65/657/lei-ordinaria-n-657-1986-dispoe-sobre-a-forma-e-a-apresentacao-das-armas-do-municipio-de-santo-amaro-da-imperatriz
Leis Municipais database

The flag was amended by Municipal Law No. 1,157 promulgated on 4 December 1996.

Article 1.
The flag of the municipality shall have the following heraldic description. Gyronny vert and white, charged in the center with the municipal coat of arms outlined black.
The arms of the municipality, established by Law No. 657 promulgated on 8 October 1986, shall be reproduced in the center of the flag, with a mural crown and a scroll.

https://leismunicipais.com.br/a/sc/s/santo-amaro-da-imperatriz/lei-ordinaria/1996/115/1157/lei-ordinaria-n-1157-1996-altera-disposto-da-lei-n-659-86
Leis Municipais database

Photos
https://www.facebook.com/PREFEITURASAI/photos/1008338172855050
https://www.facebook.com/PREFEITURASAI/photos/1474323056256557
https://www.facebook.com/PREFEITURASAI/photos/1416348235387373
https://www.facebook.com/PREFEITURASAI/photos/1048838545471679
https://www.facebook.com/PREFEITURASAI/photos/999190157103185
https://www.facebook.com/PREFEITURASAI/photos/937238639965004
https://www.facebook.com/PREFEITURASAI/photos/937184726637062
Ivan Sache, 7 November 2021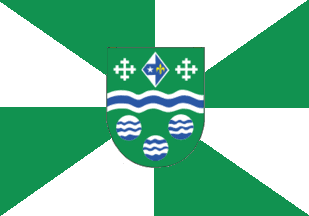 image by Ivan Sache, 7 November 2021
The first flag of Santo Amaro da Imperatriz was prescribed by Municipal Law No. 72 promulgated on 17 November 1967.

Article 2.
The flag of the municipality is composed of horizontal yellow, green and red stripes, with three white geometric figures in the center.

Article 3.
A complementary Law shall give the meaning of the colors and of the respective figures.

https://leismunicipais.com.br/a/sc/s/santo-amaro-da-imperatriz/lei-ordinaria/1967/8/72/lei-ordinaria-n-72-1967-estabelece-a-bandeira-do-municipio-e-da-outras-providencias
Leis Municipais database

The original Law was rephrazed as Municipal Law No. 593 promulgated on 14 December 1094.

Article 1.
The flag of the municipality of Santo Amaro da Imperatriz, prescribed by Law No.`72 promulgated on 17 November 1967, is composed of three horizontal stripes, yellow, red and green, charged with the coat of arms of the municipality established by Law No. 174 promulgated on 23 September 1971.

Article 2.
A complementary Law shall give the meaning of the colors of the flag of the municipality.

https://leismunicipais.com.br/a/sc/s/santo-amaro-da-imperatriz/lei-ordinaria/1984/59/593/lei-ordinaria-n-593-1984-dispoe-sobre-a-bandeira-do-municipio
Leis Municipais database
Ivan Sache, 7 November 2021