This page is part of © FOTW Flags Of The World website
Itaiópolis, Santa Catarina (Brazil)
Last modified: 2021-12-11 by ian macdonald
Keywords: santa catarina | itaiópolis |
Links: FOTW homepage | search | disclaimer and copyright | write us | mirrors

---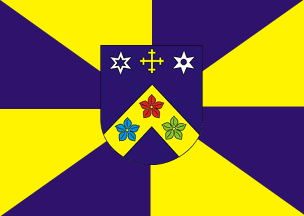 image by Dirk Schönberger, 23 June 2012
---
See also:
---
Municipality
The municipality of Itaiópolis (21,669 inhabitants in 2019; 129,531 ha) is located 360 km north-west of Florianópolis.

Itaiópolis was settled in 1889 by the families of Joăo Reichardt, José Wiergenawski and Joăo Becker, who were soon joined by 5,000 Polish immigrants coming from Rio Negro (Paraná). The Federal Colony of Lucena, established in 1890, was elevated in 1903 to a district. The municipality of Itaiópolis was established on 18 March 1909, separating from Rio Negro, and inaugurated on 1 July 1909.
On 7 September 1917, the area was incorporated to Santa Catarina; the district of Itaiópolis was established, within the municipality of Mafra, by Law No. 3 promulgated on 2 October 1917.
The municipality of Itaiópolis was re-established by State Law No. 1,120 promulgated on 28 October 1918 and inaugurated on 1 January 1919.

https://www.itaiopolis.sc.gov.br/
Municipal website
Ivan Sache, 3 November 2021
---
Description of the Flag
Gyronny of yellow and blue, with the municipal shield centred.
Official website at http://www.itaiopolis.sc.gov.br
Dirk Schönberger, 23 June 2012
The flag and arms of Itaiópolis are prescribed by Law No. 9 promulgated on 17 April 1996.

Article 1.
The municipality's new flag has the following heraldic description: Gyronny azure and yellow, charged in the center with the municipal coat of arms in full colors and outlined gules.
$1 - The outer ornaments of the municipal arms - the towered mural crown and the scroll - shall not be represented in the flag's center.
[...]

Article 2.
Thr features of the municipal flag, which is of rectangular shape, shall obey the following rules.
I - The flag's width is 20 units.
II - The flag's length is 28 units.
III - The flag's rectangular field shall be composed of eight triangles, or gyrons. To form this gyronny field, the rectangle shall be divided by four right lines that crossed each other in the center: one vertical, one horizontal and the two other connecting the quadrilateral's angles.
IV - The first triangle, or gyron, placed at the flag's upper dexter side, shall be azure (blue), the second yellow, and so on.
V - The field of the shield shall be composed of a rectangle of 5 units in width on 7 units in length united in base by a semi-circle of 3.5 units in radius.
VI - The shield's vertical axis shall match the flag's one.
VII - The shield, outline excluded, shall be distant of 6 units from the flag's upper edge.
VIII - The rays of the star and of the mullets shall be inscribed within two imaginary, concentric circumferences, the outer of 2 units in diameter, the inner of 0.8 unit in diameter.
IX - The star's empty center shall be inscribed within an imaginary circumference of 0.7 unit in diameter, its profile being parallel to the star's one.
X - The empty space surrounding the mullet shall be of 0.4 unit in diameter.
XI - The center of the circumferences delimiting either the star or the mullet shall be located at the intersection of two imaginary right lines, one parallel to the shield's upper edge and distant from it of 1.4 unit, and the other parallel to the shield's sides and distant from it of 1.3 unit.
XII - The cross crosslet shall be inscribed within an imaginary square of 1.8 unit in side and whose center shall be located on the shield's vertical axis and distant from its upper edge of 1.4 unit.
XIII - The chevron's upper angle shall be located on the shield's vertical axis and distant from its upper edge of 2.7 units. It shall be composed of two right segments running from a point located on the imaginary right line extending downwards the shield's sides, at a distance of 6.5 units from its upper edge.
XIV - The chevron shall have a uniform width of 2.1 units.
XV - Each cinquefoil shall be inscribed within an imaginary circumference of 1.8 unit in diameter.
XVI - The center of the imaginary circle delimiting the central cinquefoil gules (red) shall be located on the shield's vertical axis and distant of 4.4 units from its upper edge.
XVII - The center of each imaginary circle delimiting the two other cinquefoils shall be located on the intersection of two imaginary right lines, one parallel to the shield's vertical axis and distant of 1.6 unit from it, the other parallel to the chevron's upper border and distant of 1 unit from it.
XVIII - The shield's outline , gules (red), shall have a uniform width of 0.1 unit.
XIX - The two sides of the municipal flag shall be equivalent [...)
XX - The elements composing the coat of arms and the flag's gyronny field shall always have bright colors.
a) Azure is matched by ultramarine blue, or an equivalent color.
b) Gules is matched by light red, or an equivalent color.
c) Vert is matched by Veronese green, or an equivalent color.
XXI - The chevron and the cross crosslet, which should be represented in gold, could be represented in yellow, using cadmium yellow or an equivalent color.
XXII - The star and the mullet, which should be represented in silver, could be represented in white.

https://leismunicipais.com.br/a/sc/i/itaiopolis/lei-ordinaria/1996/1/9/lei-ordinaria-n-9-1996-dispoe-sobre-a-forma-e-a-apresentacao-da-nova-bandeira-do-municipio-de-itaiopolis-e-da-outras-providencias
Leis Municipais database

The first flag and arms of Itaiópolis were prescribed by Law No. 7 promulgated on 28 May 1975.

Article 2.
Description
A Samnite shield argent surmounted by a mural crown composed of eight towers argent port and windows sable. In chief a portion of the TPE (Tronco Principal Sul) railway and of the BR116 road sable, sinister an eagle's head armed gules crowned or, in the center, the Morro do Taió hill and Brazilian pines on a field vert. The shield surrounded by branches of yerba mate and fruits, a maize and a wheat plant. Beneath the shield a scroll gules inscribed with "Itaiópolis" sable. The flag argent with a stripe or charged with the coat of arms of the municipality.

Rationale.
The Samnite shield used to represent the coat of arms of Itaiópolis was the first style of shield introduced in Portugal by French influence. The crown argent surmounting it has eight towers or assigned to towns, and shall be designed in compliance with heraldic norms, that is, with 8 vertical units and 7 horizontal ones.
The coat of arms shall have the following symbolic meaning:
The eagle's head gules crowned or is a symbol of the Slavic (Polish, Ukrainian and Czech) predominant origin of the local colonization and development. The railway and road portions symbolize the two important national ways of communication that cross the municipality.
The Morro do Taió was the municipality's namesake.
Yerba mate and fruits are among the most important native sources of income for the municipality. Maize and wheat are the symbols of the rural predominance of the hinterland.

https://leismunicipais.com.br/a/sc/i/itaiopolis/lei-ordinaria/1975/1/7/lei-ordinaria-n-7-1975-iinstitui-o-brasao-e-bandeira-do-municipio
Leis Municipais database

Photos
https://www.sc.gov.br/noticias/fotos/noticias/itaiopolis-aniversario-escola-odir-zanelatto/aniversario-odir-zanelatto-28121
https://www.facebook.com/prefeituraitaoficial/photos/2145198389116344
https://www.facebook.com/prefeituraitaoficial/photos/2145196092449907
https://www.facebook.com/prefeituraitaoficial/photos/2145195182449998
https://www.facebook.com/prefeituraitaoficial/photos/2138584683111048
https://www.facebook.com/prefeituraitaoficial/photos/2121846511451532
https://www.facebook.com/prefeituraitaoficial/photos/2105578376411679
---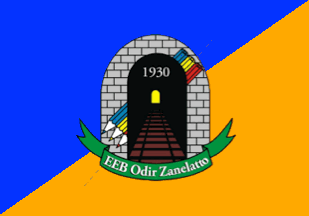 image by Ivan Sache, 3 November 2021
The flag of EEB Odir Zanelatto, a school located in Itaiópolis, is divided blue-orange by a diagonal running from the lower fly to upper hoist, charged in the center with the school's emblem.

Photos
https://www.facebook.com/prefeituraitaoficial/photos/2145204085782441
Ivan Sache, 3 November 2021