This page is part of © FOTW Flags Of The World website
Irani, Santa Catarina (Brazil)
Last modified: 2021-12-11 by ian macdonald
Keywords: santa catarina | irani |
Links: FOTW homepage | search | disclaimer and copyright | write us | mirrors

---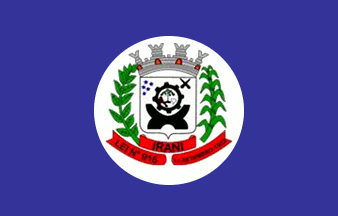 image by Dirk Schönberger, 22 June 2012
---
See also:
---
Municipality
The municipality of Irani (9,534 inhabitants in 2010; 32,156 ha) is located 480 km west of Florianópolis.

Irani is named for the river that waters the municipality, meaning in Tupi-Guarani "Old Honey".
The municipality of Irani was established by State Law No. 916 promulgated on 11 September 1963 and inaugurated on 12 January 1964.

https://www.irani.sc.gov.br/
Municipal website
Ivan Sache, 3 November 2021
---
Description of the Flag
A blue field with the municipal arms centred on a white disk.
Official website at http://www.irani.sc.gov.br
Dirk Schönberger, 22 June 2012
The coat of arms of Irani is prescribed by Law No. B0 promulgated on 15 July 1974.

Article 1.
The coat of arms of the municipality of Irani has the following heraldic description:
A Samnite shield surmounted by a three-towered crown. On a field argent, in the shield's center a circumference representing a cogwheel framing a bovine's head, a pig's head, an araucaria and a wheat plant. In the shield's upper left part the Southern Cross, in the upper right part two crossed muskets. On the right flank, a maize plant, on the left flank, a yerba mate plant. Beneath the shield a scroll gules inscribed with the toponym "IRANI", surrounded by the number of the Law and the date of emancipation of the municipality.

The coat of arms shall have the following symbolic interpretation:
1. The Samnit shield used to represent the coat of arms of the municipality of Irani was the first style of shield introduced in Portugal by French influence; it was inherited by Brazilian heraldry to evoke the colonizing race and main builder of the nation.
2. The mural crown surmounting the shield is the universal symbol of domains' arms; argent with three towers, it classifies the town as of third rank, that is a municipal seat.
3. Argent (silver) is the heraldic symbols of peace, friendship, work, prosperity and purity.
4. The cogwheel sable (black) symbolizes industry, one of the municipality's main sources of income.
5. The araucaria, the wheat plant, the bovine and pig's heads, as well as the maize and yerba mate plants, symbolize the sources of income of the municipality: agriculture, animal breeding, and extraction industry.
6. The two muskets symbolize the Contestado War, which was fought from 1912 to 1915; the ultimate fighting that led to the defeat and death of the rebels led by João Maria was fought on the fields of Irani.
7. The Southern Cross symbolizes the separation from the municipality of Joaçaba, then known as Cruzeiro do Sul (Southern Cross).
8. Gules is a symbol of patriotic love, dedication, audacity, intrepidity, courage, valiance.
9. The shield's upper part features the crossing in Irani of two main asphalted roads of West Santa Catarina, BR282 and BR153.

https://leismunicipais.com.br/a/sc/i/irani/lei-ordinaria/1974/8/80/lei-ordinaria-n-80-1974-cria-brasao-de-armas-do-municipio-de-irani-sc
Leis Municipais database

Article 1.6 was rephrased by Municipal Law No. 1,208 promulgated on 5 December 2002 as follows:
6. The two muskets symbolize the Contestado War, which was fought from 1912 to 1916; the first fighting was fought in Irani, causing death and destruction, under the command of José Maria and João Gualberto de Sá Filho.

https://leismunicipais.com.br/a/sc/i/irani/lei-ordinaria/2002/121/1208/lei-ordinaria-n-1208-2002-altera-a-redacao-do-art-1-da-lei-n-80-de-15-julho-de-1974
Leis Municipais database

Contestado was a territory disputed between the states of Santa Catarina and Paraná; the Contestado War was a social conflict opposing landlords and officers, supporting by the government, to smallholders, ranchers and laborers. Raised in Taquaruçu by the priest José Maria, a group of people persecuted by the police of Santa Catarina, marched to the west, entering the disputed territory; the Paraná authorities soon considered them as Santa Catarina invaders. Accordingly, the Paraná police attacked the group in Irani on 22 October 1912; 11 invaders, the priest included were killed, while 10 soldiers were killed, including João Gualberto Gomes de Sá, Commander of the Paraná Security Regiment.
The rebels expected the "return" of José Maria; one year after his death, a 11-year old girl named Teodora had the vision of the priest ordering all his supporters to gather in Taquaraçu. This resulted in the establishment of several "holy towns" in Caraguatá, Santo Antônio, Caçador Grande, Bom Sossego, Santa Maria, Pedra Branca, São Miguel and São Pedro. The revolt was eventually suppressed by a troop of 7,000 federal soldiers, assisted by the Paraná and Santa Catarina police. The number of people who died in fighting and in epidemics favored by the unrest was probably higher than 10,000.

The earlier version of Article 6 erroneously quotes João Maria as the leader of the rebellion, which he was not. The genuine monk João Maria exerted a kind of popular prophecy in a vast area spreading from Sorocaba (São Paulo) to Santa Maria (Rio Grande do Sul). The monk was no longer seen after the 1860s, but several people pretended to be him in the next decades. Soon "canonized" as St. João Maria, the prophet was reported to respect all forms of life and the natural environment, and to have been able to detect water sources, known as "holy water" or "monk's water". José Maria did not claim to be João Maria but connected his own practices to that of the "saint".
The Contestado War was not the only uprising claiming João Maria's legacy. Similar groups were repressed by the authorities all over southern Brazil, such as the Santa Maria concentration (in Campestre, Rio Grande do Sul, in 1846 and 1849), the Canudinho de Lages (Santa Catarina, 1897); the Pinheirinho monks' movement (Encantado, Rio Grande do Sul, 1902), the Fabrícios and Palhamos movements (Concórdia, Santa Catarina, 1924-1925), the bearded monks' movement (Soledade, Rio Grande do Sul, 1935-1937), and the Timbó Grande movement (Porto União, Santa Catarina, 1942).

http://www.ihu.unisinos.br/entrevistas/514385-guerra-do-contestado-os-reflexos-cem-anos-depois-entrevista-especial-com-paulo-pinheiro-machado
IHU On-Line, 15 October 2012

Photos
https://www.oestemais.com.br/politica/2020/09/17/irani-chega-a-tres-candidatos-a-prefeito-com-encerramento-de-convencoes/
http://www.radiorural.com.br/noticias/40605-8203em-irani-novo-prefeito-ja-definiu-foco-para-infraestrutura-e-desenvolvimento-economico
https://www.facebook.com/prefeituradeirani/photos/1106651943111816
Ivan Sache, 3 November 2021